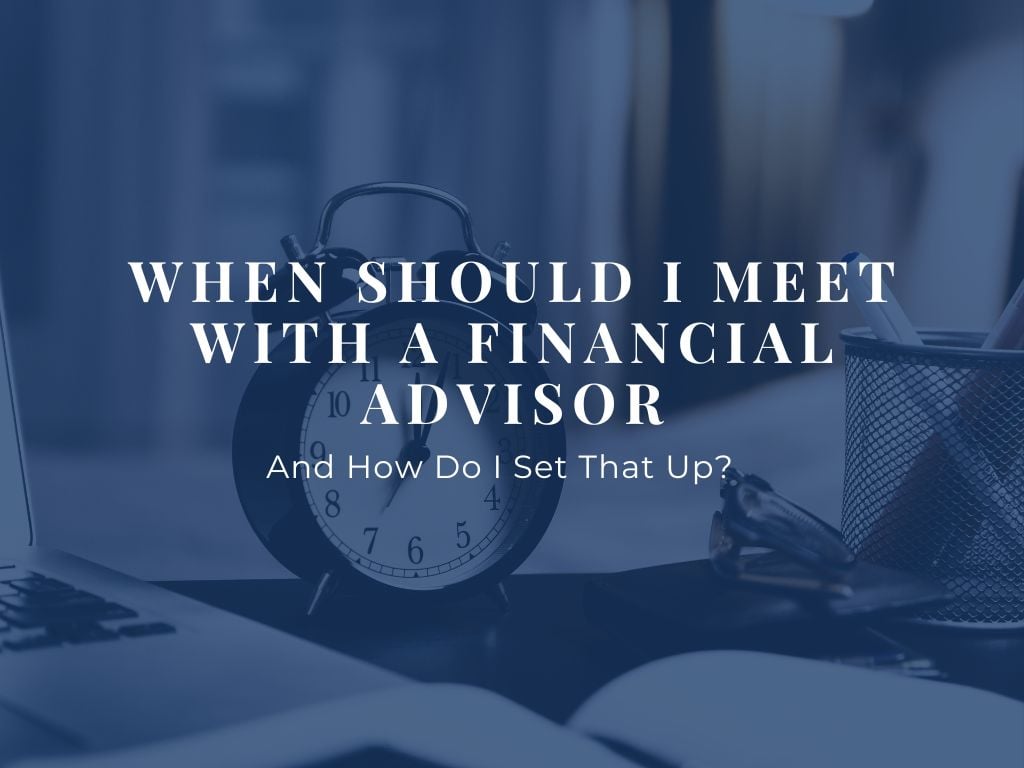 Wherever you are on your financial journey, there are certain times you may want to meet with a financial advisor for their professional insight and recommendations. Working with a trusted fiduciary advisor can help you plan your future, manage investments and provide guidance on tax preparation, retirement planning, estate planning, insurance, and other important matters. See when and why you should meet with a financial advisor — and how to get started today.
When to Meet With a Financial Advisor
Financial advisors play a vital role in helping investors navigate through the complex world of investing. They can help you identify the best type of investments for your portfolio and help you manage your risk exposure.
In addition to helping you understand how to invest your money wisely, some advisors can help with aspects of financial planning to reach your goals and provide guidance when you experience a major life change. You may be more inclined to seek professional financial advice if one of these situations applies to you:
Approaching retirement age and want to make sure everything is on track
Inherited a large sum of money and want to invest it
Recently married and need help managing finances as a couple
Recently divorced or widowed and need help navigating finances
Recently became a parent and want to make sure your child is provided for
Taking care of aging parents and need help managing expenses
Beginning to build wealth through career growth
At some point, we all need to develop a long-range financial plan that includes considerations about retirement, paying off a house, funding college educations, etc. Whatever your goal or situation, a certified financial planner will help you get through it with a personalized strategy.
What Is a Fiduciary Financial Advisor?
Not all financial advisors always work in their clients' best interests. Some advisors can steer you towards strategies that are more profitable to them. That's why you should partner with a fiduciary financial advisor, such as a Registered Investment Advisor (RIA), because they're legally and ethically obligated to put the client's interests above their own.
Benefits of Working With a Financial Advisor
Creating a financial plan on your own can be overwhelming. There are several reasons why you should hire a financial advisor to build a robust strategy that fills you with confidence. Some of them include:
Saving time and effort. A financial planner or advisor saves you from having to research and analyze information on your own while also simplifying the planning process. While your advisor works to grow your wealth, you can focus more on what you love in life.
Help with reaching your goals. Fiduciary financial advisors will provide recommendations based on your personal financial situation and work to help you achieve your goals. Get a financial plan that outlines steps to save for college, home buying and other important milestones in your life.
Improving your investments. Working with an experienced investment advisor will increase your likelihood of financial success. They have access to expertise, research and historical data that will help identify profitable opportunities for clients.
Minimizing tax burden. Without a fiduciary to watch out for your best interests, you may be paying more taxes than necessary. Financial advisors can help you find ways to reduce your taxes, lower your monthly payments and protect your assets.
Managing risk. An RIA has experience managing risks associated with investments to minimize losses while maximizing gains. This includes identifying potential risks, analyzing them and taking action to mitigate those risks.
Get Started With a Trusted Financial Advisor
The financial services industry has grown tremendously over the last decade. As a result, clients now have access to a wide range of financial options. This means that they can choose from a variety of financial advisors, each offering a unique approach to helping clients meet their financial goals. However, it's crucial that you work with an experienced fiduciary to ensure your best interests are being put first.
Due diligence is key when it comes to finding the right financial advisor. Here are some questions you should ask before hiring a professional:
Are you a fiduciary?
How do you get paid?
What are my all-in costs?
What are your services?
What are your qualifications?
How will our relationship work?
Do you have experience working with clients like me?
What's your investment policy?
Now that you have a better understanding of what to look for in a financial advisor, the next step is to set up a consultation. Book an appointment with Carnegie Investment Counsel to explore financial strategies that support your goals.
Need a Financial Advisor?
If you are currently looking for help with financial planning, contact us. We are happy to schedule an introductory meeting at your convenience.