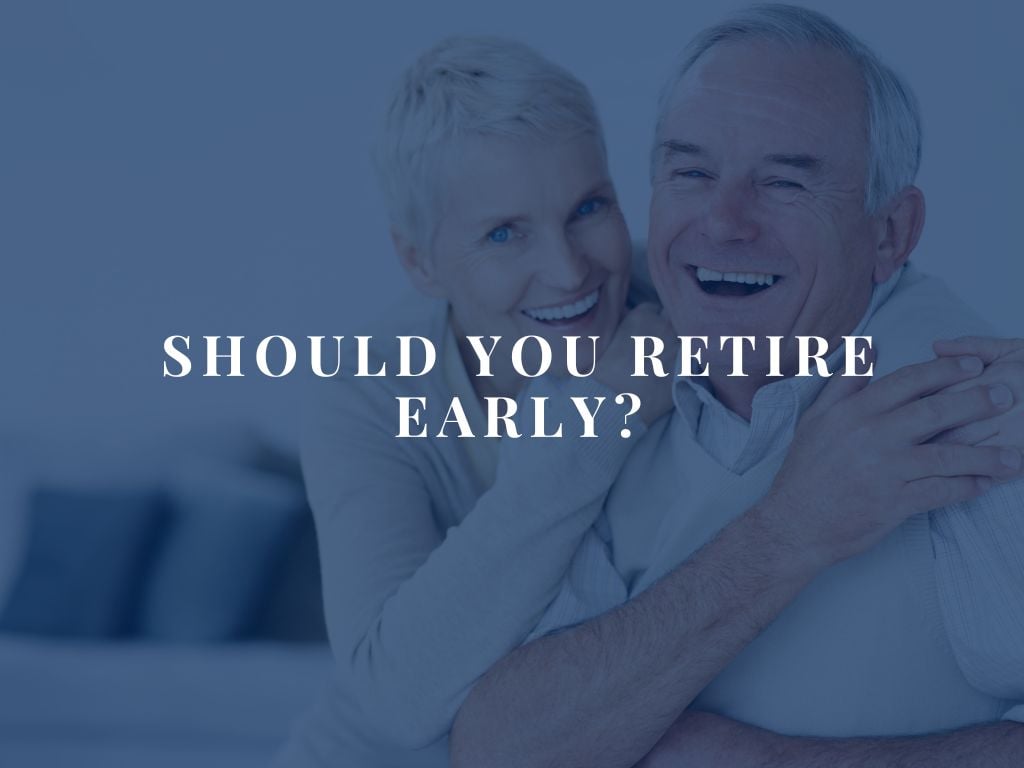 Early retirement can be an enticing idea, but it requires careful consideration and planning.
Retirement…the golden phase of life that many of us aspire to achieve, where we can bid farewell to the daily grind and embrace the freedom to pursue our passions. Yet there is a lot to consider before making the leap, even if you have the financial resources available.
Assessing Financial Readiness
The first step in contemplating early retirement is to assess your financial readiness. There is no one amount that will work for everyone, since how much you need will depend on the lifestyle you plan to lead throughout your retirement as well as the state of your various investments. There are myriad aspects to consider, including longevity, tax burdens, your current investment portfolio and income sources in retirement.
Consider enlisting the expertise of a financial advisor who can help you navigate the complexities and develop a comprehensive retirement plan tailored to your needs. They can assist you in estimating future expenses and lifestyle choices, helping to ensure that you have ample resources to maintain your standard of living.
Financial Strategies for Early Retirement
If you know you want to retire early, your retirement planning may look slightly different than that of someone who plans to retire at the full retirement age (FRA). Of course, building a substantial retirement nest egg and maximizing tax-efficient withdrawal strategies is essential, but you may have additional factors you'll need to consider. For example, many retirement savings accounts charge some form of penalty for withdrawing funds prior to FRA. You also won't have full access to some retirement income sources, such as Social Security.
In short, retiring early may add an additional level of complexity to your financial planning, which is why a skilled financial advisor can be invaluable. An advisor can devise tailored strategies to optimize your financial position, minimizing tax burdens and ensuring your wealth grows in the most efficient manner possible.
Alternative Income Sources
Retiring early doesn't necessarily mean giving up on earning altogether. Many individuals explore alternative income sources to supplement their retirement savings. Part-time work, freelancing, consulting or even starting a new entrepreneurial venture can keep you engaged and contribute positively to your finances.
Another avenue worth exploring is passive income streams. Investing in real estate, dividend stocks or businesses can generate ongoing revenue with minimal effort on your part. Passive income can act as a safety net, providing additional financial stability during your retirement years.
Health and Lifestyle Considerations
While financial preparedness is vital, health and lifestyle considerations also play a crucial role in the early retirement decision-making process. Retiring early could impact your healthcare costs, as private health insurance premiums may increase as you age. To mitigate this, you may want to explore various health insurance options and consider setting aside a portion of your retirement funds to cover potential medical expenses.
Planning for long-term health and well-being is equally important. Adopting a healthy lifestyle and investing in preventative healthcare measures can enhance your quality of life during retirement.
Social and Emotional Factors
Retirement is not solely about financial security; it also involves your emotional and social well-being. Especially if your work has served as an important source of purpose and fulfillment, retiring early might be a major adjustment. The first few weeks or even months you may luxuriate in the slower pace, but before long, most people find themselves in need of a routine and a purpose.
The best way to prepare for retirement to ensure your social and emotional needs remain met is by identifying your passions and hobbies outside of work. Engage in activities that bring you joy and satisfaction. Additionally, consider how you will manage potential social isolation and boredom that may arise during retirement. Maintaining social connections and nurturing relationships with family and friends can significantly enhance your life in retirement.
Key Takeaway
The decision to retire early is a significant life choice. Early retirement can be a liberating phase of life that allows you to pursue your passions and enjoy the fruits of your labor. While financial readiness is crucial, it's not the only component; you'll also need to account for health and wellness: both physically and mentally.
By seeking professional advice for your unique circumstances, a comprehensive plan can be tailored to help you make informed choices throughout your early retirement journey.

Are you considering early retirement? We're happy to answer any questions you might have. Contact us today.