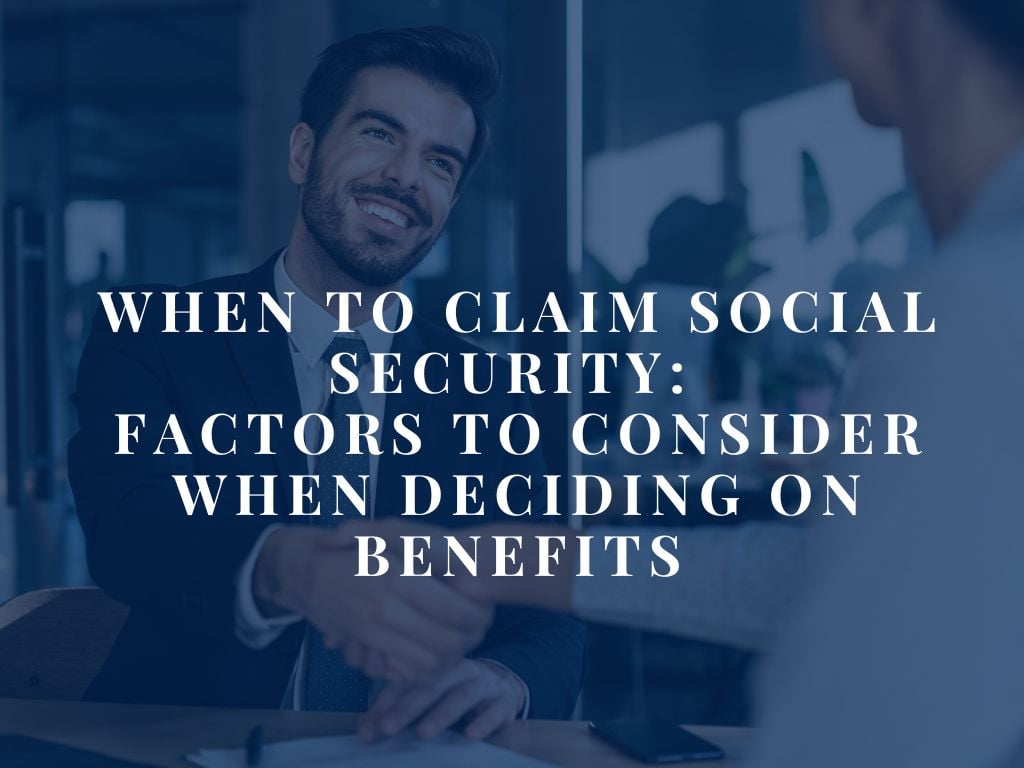 Social Security benefits play a crucial role in retirement planning, and deciding when to claim them can have a significant impact on your financial future. Making an informed decision requires careful consideration of several factors. So, how do you know the optimal time to claim Social Security benefits?
Utilizing the Social Security Website
The Social Security Administration's website provides valuable resources and tools to help you make informed decisions regarding Social Security benefits. The Social Security Benefits Planner available on the website allows you to estimate your benefits based on different claiming ages and scenarios. It can also provide insights into how working while receiving benefits might affect your overall income.
Furthermore, the website provides access to publications, FAQs, and other relevant information to deepen your understanding of the Social Security system.
Options for Claiming Social Security Benefits
When it comes to claiming Social Security benefits, individuals have several options to consider. Each option has its own advantages and considerations, and the right choice for you will depend on factors such as your age, financial needs, health, and retirement goals.
Early Retirement (Age 62)
You can claim social security benefits as early as 62. However, claiming benefits before reaching full retirement age (FRA) results in a reduction in the amount of your monthly benefit. If you choose to retire between 62 and FRA, your benefits will be permanently reduced by a certain percentage each year before your FRA.
Full Retirement ( Age 66-67, depending on DOB)
Your FRA depends on the year you were born, ranging from 66 to 67 years old. For those born between 1943 and 1954, the FRA is 66. The FRA increases by two to four months per year for birth years from 1955-1959. Finally, for those born in 1960 or after, the FRA is 67. Claiming benefits at your FRA ensures you receive your full, unreduced benefit amount as determined by your earnings history. This is a popular option for individuals who want to avoid reductions to their monthly benefits.
Delayed Retirement (Age 70)
For those who can afford to wait, delaying Social Security benefits until age 70 offers significant advantages. By delaying benefits past your FRA, your monthly benefit amount increases through what's known as "delayed retirement credits." These credits can increase your benefit amount by up to 8% per year, resulting in a higher monthly income when you eventually claim.
Goal-Based Planning
With so many factors to consider, deciding when to claim Social Security can prove difficult. One of the best ways to help you make the decision is to use goal-based planning. Goal-based planning takes into account various factors such as desired income, lifestyle, healthcare expenses, and legacy considerations. What do you hope to achieve during retirement? Are you planning to travel, start a business, or downsize your home? Understanding your goals can help you determine the optimal claiming strategy.
For instance, if you have sufficient retirement savings and prefer an early retirement lifestyle, claiming benefits at the earliest eligible age (62) may be suitable. However, if you anticipate a longer lifespan (hopefully, all of us do) or have limited retirement savings, delaying benefits until full retirement age or even later can significantly increase your monthly benefit amount.
Spousal Benefits
If you're married or divorced but were married for at least ten years, you may be eligible for spousal benefits. Spousal benefits allow you to receive a portion of your spouse's or ex-spouse's Social Security benefits based on their earnings record, even if you never worked or had lower lifetime earnings.
Timing is crucial when it comes to spousal benefits. Depending on your situation, it may be helpful to coordinate the timing of claiming benefits with your spouse to maximize your combined benefits. By strategizing together, you can potentially optimize the total amount of Social Security income received over your lifetimes.


The Importance of a Knowledgeable Advisor
Choosing when to claim Social Security benefits is not a decision to be taken lightly. It involves understanding complex rules, regulations, and various claiming strategies that can significantly impact your lifetime benefits. Consulting with a knowledgeable financial advisor who specializes in retirement planning and Social Security can be immensely valuable.
A competent advisor will take the time to understand your unique financial situation, goals, and preferences. The better they know you, the better they can advise you on the best claiming strategy for you. Factors such as your health, life expectancy, income sources, and retirement savings should all be considered to optimize your Social Security benefits.
The Takeaway
Deciding when to claim Social Security requires careful consideration of several factors. By taking advantage of all the resources available to you, including working with a knowledgeable advisor who understands your unique situation, you give yourself a better chance of claiming Social Security in the way that best supports your retirement goals.
About Doug Warzinski, CFP®, CIMA®
Doug Warzinski, CFP®, CIMA®, is a Senior Retirement Advisor with Carnegie Investment Counsel. He helps corporate clients and retirement plan participants with their qualified retirement plan and wealth management needs.