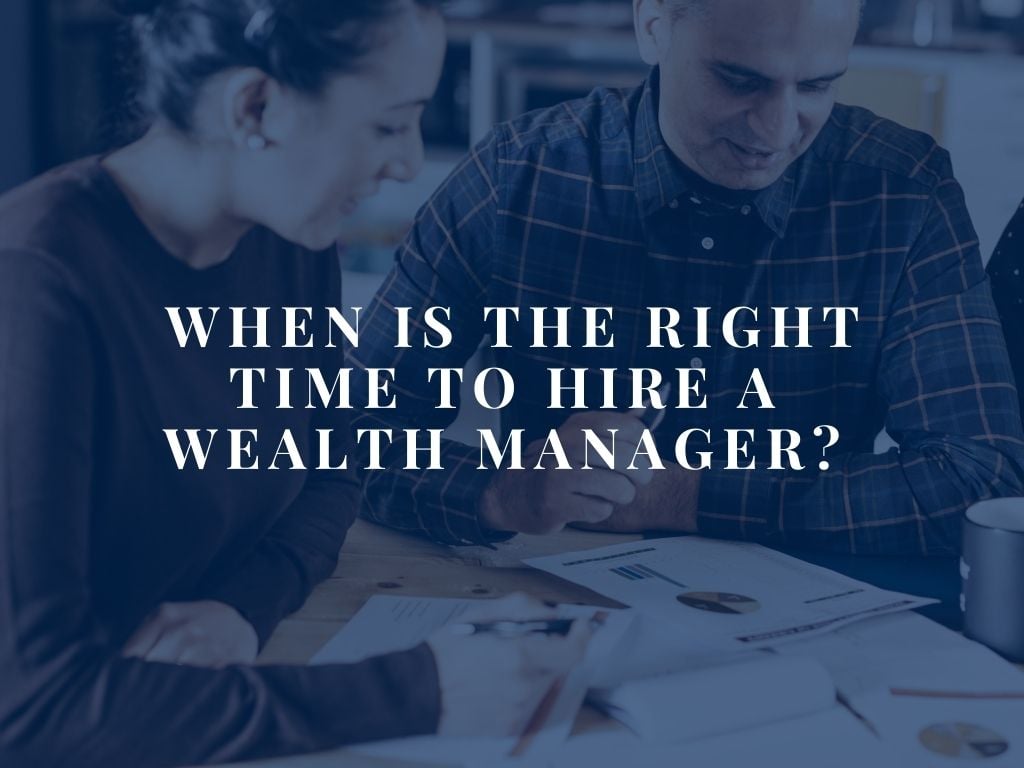 In a perfect world, nearly everyone would work with a financial advisor, but in the real world, this isn't always possible. The right time to hire a wealth manager is when your financial situation reaches a level where not working with an advisor could actually cost you more. Here are five signs you've probably reached that point.
You Can Save 20 Percent of Your Income
If you've reached the point where you can save 20 percent of your income, it's probably time to work with a wealth advisor. Saving at this level requires long-term planning, which is exactly where a financial advisor can help. How much should you put toward retirement? Where should you put your money? How can you save for both short- and long-term goals? These are all questions an advisor can help you answer.
You Want a Personalized Investment Strategy
How you invest is just as important, if not even more so, than how much you invest. Every financial situation is unique, which is why every investment strategy should also be unique. For example, you'll need to create a portfolio with an appropriate risk tolerance based on your age, time horizon, goals, accounts, etc. Of course, your risk tolerance is only one aspect of creating a personalized investment portfolio. You'll also need to consider tax implications, strategies across different accounts, saving for various goals, your time horizon, your financial legacy and much more. A wealth advisor has the time and knowledge to create a portfolio that takes all these factors into account.
You're Getting Serious About Retirement
Saving for retirement is complicated. Different accounts come with different tax incentives, contributions limits, distribution rules and tax implications. And there is no one-size-fits-all "best" retirement plan, account or timeline. In short, retirement planning is a major endeavor. Without a deep understanding of all the rules and regulations, which are always changing, you risk leaving money on the table.
Your Taxes Have Become Complicated
No one likes taxes, but for some, the process is especially arduous. As your financial situation becomes more complex, an advisor can assist in making strategic decisions that can help you avoid paying more in taxes than you need to. And taxes aren't something to only consider as April 15th approaches. The more complex your financial situation, the more likely taxes will impact any decision you make. How will charitable donations or gifting impact your taxes? What about capital gains? Buying a home? Selling a home? Retiring? The list goes on and on.
You're Making Emotionally Charged Investment Decisions
Whether it's the financial legacy you wish to leave behind, the dream home you imagine raising your family in or simply a day-to-day existence free from financial stress, emotions impact financial goals and decisions. If you're in the midst of making some especially emotionally charged financial decisions, such as how you wish to divide up your estate or what home you can afford, working with a financial advisor can provide an outside perspective, offer accountability, and help you keep in mind your long-term goals.
When Is the Right Time to Hire a Wealth Manager? The Takeaway
The right time to hire a wealth manager is when your financial situation becomes so complex that managing your own money costs you more in missed opportunities. Once you reach this point, working with a financial advisor can save you time and make the most of your money. Contact us to start the conversation about your personal financial goals.
Additional Resources:
Money.usnews.com, "Should I Get A Financial Advisor?"
Investopedia.com, "When Should You Hire a Financial Advisor?"
SEC.gov, "Financial Navigating in the Current Economy: Ten Things to Consider Before You Make Investing Decisions"
Investor.gov, "Financial Planners"
Indiana MoneyWise, "Establishing Financial Goals"
Need a Wealth Manager?
If you are currently looking for help with wealth management, contact us. We are happy to schedule an introductory meeting at your convenience.