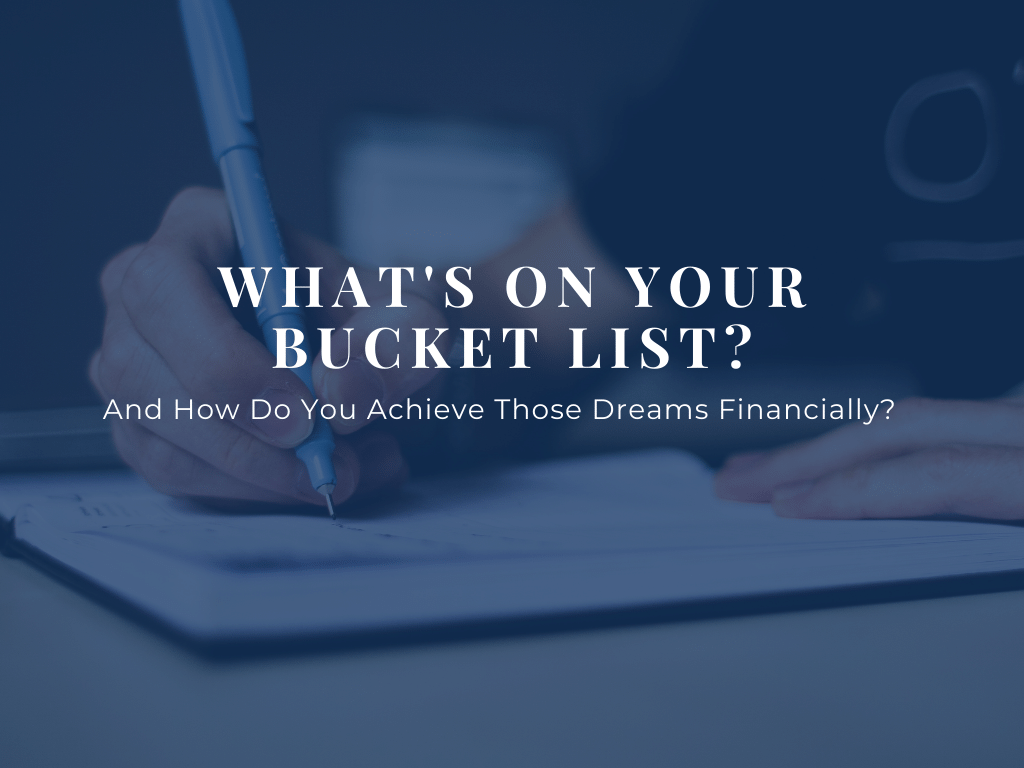 Do you have a personal bucket list or a roster of things to do before you die (or "kick the bucket")? What's the value of such a list? Why do many people create an inventory of things to accomplish during their lifetimes? How do you conceive a bucket list for yourself or with your loved ones?
Today, some people begin creating their bucket list earlier in life, possibly merging their list or revising it with a spouse in later years. Others do not even begin considering their lifetime goals until middle age or as retirement beckons. In recent months, the pandemic has made exotic travel even more of an aspirational future dream but still bucket-list worthy.
Your bucket list can take many different forms, but the underlying design will always revolve around your aspirations and subsequent achievements. Here we also provide advice on how to plan for your bucket list items financially.
Bucket List Categories to Consider
The most common experiences that show up on personal bucket lists tend to involve adventure or travel or both. Maybe something as simple as walleye fishing on Lake Erie (someday when the pandemic has passed). Or maybe it's something entertainment oriented like attending the Indianapolis 500 or the Kentucky Derby. Travel dreams should continue to inspire us even as they may seem far off right now.
Taking it a step further, maybe you could take an Alaskan cruise or an RV trip to as many U.S. national parks as possible. For a really extraordinary journey, contemplate hiking in the Himalayas or going on a safari in sub-Saharan Africa. The only limits are your imagination and the costs associated with your list, which we will address below.
Consider also another category for your list: relationship building. What kind of satisfaction would you get from making someone else's life a little better? Volunteering your time to a charity or other worthwhile outfit can certainly make the cut for a bucket list. Maybe there are different activities in your workplace that will allow you to develop new social connections.
Another approach might be to take steps to improve your own skills. Learning a new language would be a perfect example. Leadership, motivation and communication skills could all easily make your list.
Create Your Bucket List
Take the time and effort to formalize your bucket list. Recording your list in some way will take it beyond a random mental inventory of goals. Common sense indicates that writing down your aspirations will make it more likely that you will actually convert the ideas to actions.
Creating a bucket list can bring a sense of accomplishment to your life by providing attainable goals that allow you to move beyond the mundane everyday occurrences of daily life. Inspire yourself!
Set some time constraints on realistic goals that you can achieve. Maybe set goals for one-, three- and five-year increments. You could consider broader lifetime goals for big ticket items.
How to Fund Your Bucket List
Some of the experiences described above will require little or no cash outlay on your part. Volunteering or improving your own lot in life or that of someone in need will probably be modest in financial terms. But most of the really big and adventuresome escapades will require some advance planning and likely a decent amount of money.
The most obvious answer for funding your list is old fashioned savings. If you are serious about samba dancing during the Carnival in Rio de Janeiro, then you will need to have a disciplined plan in place on the financial front. I suggest a separate account that is strictly earmarked for these experiences. Regular set-asides in addition to any lump sum payments you receive should do the trick.
If the timing of your list item is in the medium term, say under two years, and you are really committed to a particular event, you might make installment payments. This can be done through a third-party travel company that would likely include a required deposit. Some vacation resorts or tour operators in addition to cruise operators may operate in this fashion. You will want to conduct some due diligence on the company to ensure that your funds are secure.
Another means to achieve your goals may be through group travel. Or you may be able to partner with friends or another couple to reduce expenses. Either way, be opportunistic.
Through careful planning you may also be able to use travel rewards to make your goals a reality. Some combination of credit card and airline or hotel rewards may allow you to extend your horizons and achieve a travel goal you thought might be out of reach. Be open-minded and flexible on travel details and you will have a better chance of fulfilling those ambitions.
Funding Your Bucket List Adventures Conclusion
Set a realistic budget and determine some attainable goals and you will be on the path to making your bucket list dreams an actuality. Approach your list as a fun experience that will get you closer to some of life's goals, some of which you may have been considering since you were a child!
As always, your financial advisor wants to know about your goals big or small and how we can help you get there.
About Our Author Gary Wagner
Gary Wagner is Principal and Chief Operations Officer. He also works directly with clients to provide investment and strategic wealth advice. Gary sits on Carnegie's Investment Committee and also manages the firm's strategic initiatives and operations.
Looking for a Financial Advisor for You?
If you are currently looking for help with financial planning, contact us. We are happy to schedule an introductory meeting at your convenience.
The opinions and recommendations expressed herein are those of Carnegie Investment Counsel. For information about Carnegie Investment Counsel and its investment advisory services and fees, please see the firm's Form ADV on file with the SEC at www.adviserinfo.sec.gov