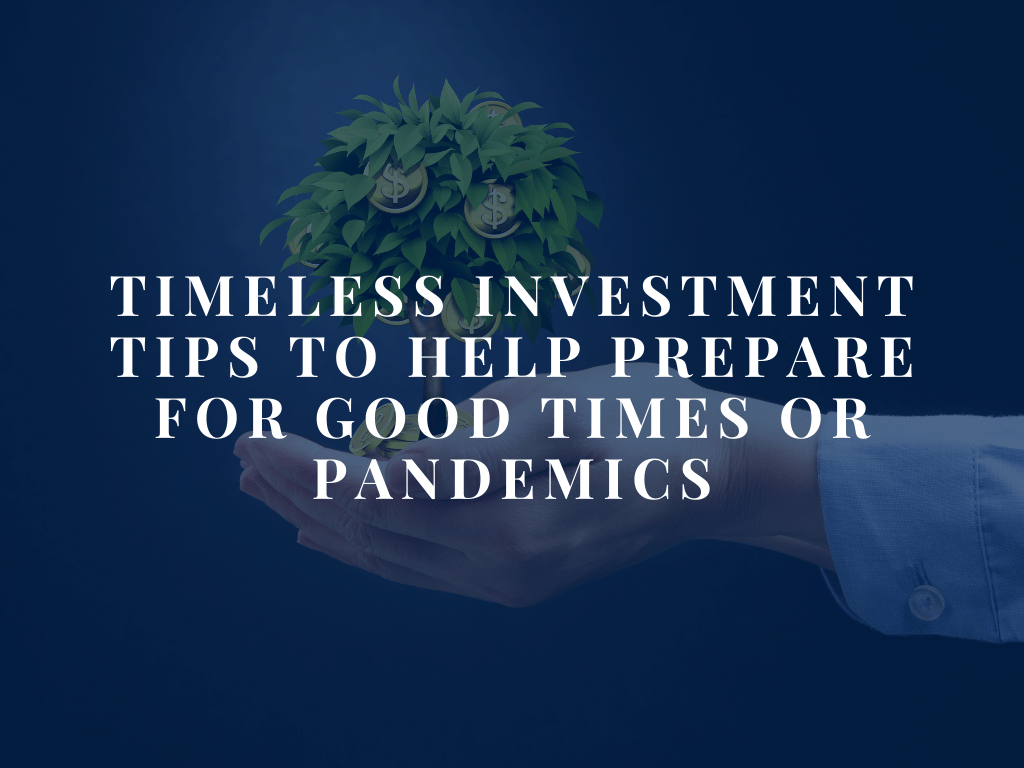 In their most recent study about stress in America, the American Psychological Association found that 72 percent of people felt stressed about money. Finances can be a constant stressor for some, no matter what significant events influence it. Still, it's no secret that the pandemic transformed the workforce rapidly and wreaked long-term havoc on the economy in 2020. Many people experienced food insecurity due to the unexpected impact of financial loss, and according to a survey published in November, 2020, about 63 percent of Americans had been living paycheck to paycheck since the start of the pandemic.

Times have most certainly been challenging of late, but there are important lessons we can glean from them. Financial pearls of wisdom about emergency funds and rainy-day savings have proven themselves especially poignant, and understanding those lessons can help us avoid them in the future. The same can be said of investing: Putting your money to work during the good times can pay off when life throws curveballs—preparing yourself when you can makes navigating the challenging times hopefully easier.
Let's take a look at what we already know about investing.
Your money grows through compound interest. Founding father Ben Franklin explained it best: "Money makes money. And the money that money makes, makes money." Ideally, investing leads to returns, increasing your balance, which would then continue to increase with more returns, which would continue to grow and grow.
Investing can keep you ahead of inflation. Stocks typically average a return of 10 percent every year, which is higher than the average rate of inflation. Attempting to stay ahead of inflation is considered by many to be a savvy and responsible financial move.
The earlier you invest, the better. Investors, by and large, will advise that you start investing at the youngest age possible — even at birth. That's because you have more time to risk loss and recover from it. When you hold off on investing until later in life, you have fewer sound options at your disposal.
Investing can pave the way to financial independence. With a healthy balance of saving (which, ideally, provides interest) and investing (which can produce dividends and capital gains), you should eventually outpace the sum of your annual living expenses. That outcome would free you up to lead a lifestyle that depends on your own choice and no one else's.
Now, let's take a look at the long-term impact of investing from a holistic perspective.
It can help prepare you for the unexpected. Few of us anticipated the toll of such urgent events as a global pandemic. But unexpected situations can happen to any of us at any time, from medical emergencies to the death of a loved one to job loss. Investing well and consistently can help erase the worry of wondering how you'll recover from financial loss. It can provide you a safety net in times of uncertainty.
It can grant you financial stability. Preparing your finances in the good times through investing can help offset the sting of the bad times — and there will inevitably be bad times. When you're not financially stable, you have fewer options at your disposal, which can greatly impact your quality of life. Financial instability can force you to work past your desired retirement age, take a toll on your mental and physical health, reduce your time and availability with family and friends, and even put future generations at a financial detriment.
It begets more financially sound decisions. Investing can help afford you more financial freedom. With more freedom, you can enjoy the luxury of choice. You may not need to finance big-ticket items (which can save you from paying loan interest and may allow you to own property outright), you can hopefully pay off debt faster and more efficiently (which can drastically improve your quality of life and your overall well-being), and, ideally, you can keep the cycle of investment earnings going (as in: money makes money, which makes money).
It helps you support future generations. The benefits of investing will hopefully mean you have greater means for supporting your family — even after your passing. Remember that investors recommend we all begin investing as early as possible, and you can make that a reality for future loved ones, setting them up for a lifetime of stability. Purchasing stocks on their behalf and bestowing investment lessons from an early age could help secure a legacy of financial security, wisdom and peace of mind.
Investing can be significant in helping ensure proper financial health. Diversifying your portfolio and investing with the guidance of a fiduciary financial advisor can grant you incredible peace of mind. The earlier you begin, the greater stability you give yourself and your loved ones. Rest assured, unexpected events are bound to happen, both individually and collectively. A great gift you can give yourself when you have the means of doing so — a gift to give yourself in the good times — is investing. Our advisors are ready to help you begin.
References:
Speaking of Psychology: https://www.apa.org/research/action/speaking-of-psychology/financial-stress
CNBC Survey, 63% of Americans Have Been Living Paycheck to Paycheck since Covid Hit: https://www.cnbc.com/2020/12/11/majority-of-americans-are-living-paycheck-to-paycheck-since-covid-hit.html
My Money Blog: https://www.mymoneyblog.com/ben-franklin-compound-interest.html
TheBalance.com: https://www.thebalance.com/stock-investing-for-the-individual-investor-3306182
NJ Herald: https://www.njherald.com/lifestyle/20170521/seven-positive-side-effects-of-saving-and-investing
Need a Financial Advisor?
If you are currently looking for help with financial planning, contact us. We are happy to schedule an introductory meeting at your convenience.