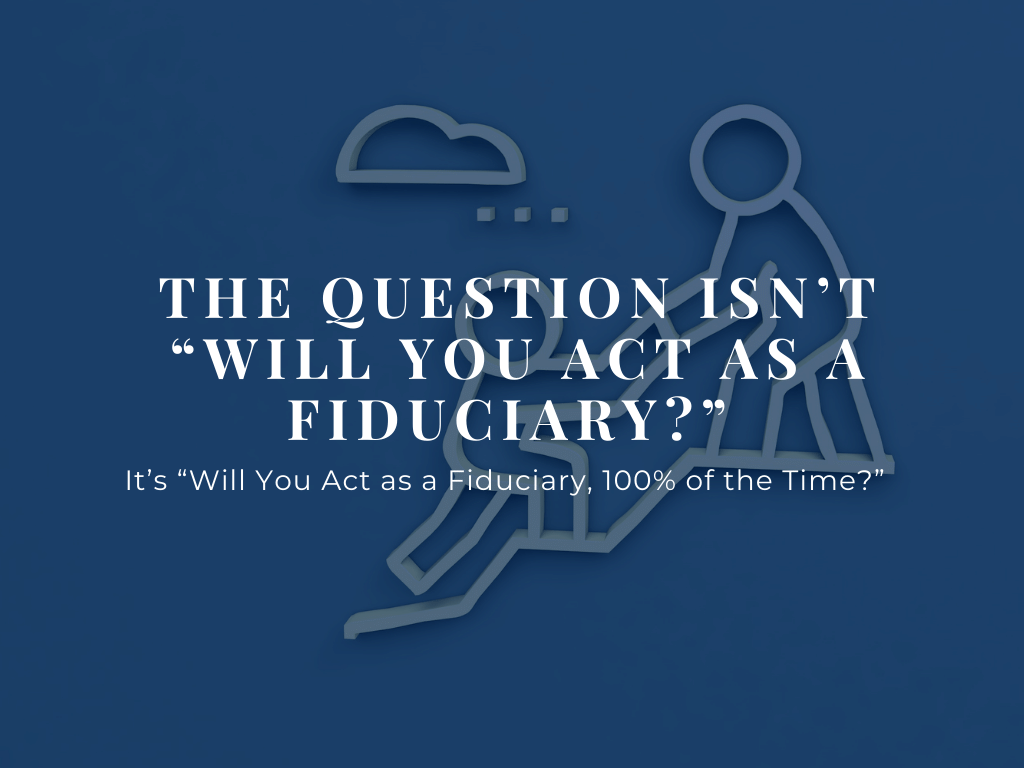 The word fiduciary has evolved from some obscure financial terminology rarely uttered at the neighborhood cocktail party to the in-vogue standard. If your financial person doesn't meet the standard, you might be deemed a rube.
The term fiduciary seems so commonplace that you might be tempted to take it for granted. Surely, your advisor wouldn't stoop to anything less than being a fiduciary: a professional who always strives to work in your best interest, even after you are invested. You can check that box. Right?
Well, I hate to break the news, but your financial person may not always be a fiduciary. Sure, if you ask these professionals if they are fiduciaries, they may be honestly able to answer yes. Then they simply direct you to those products that qualify; mainly those that are structured under the umbrella of a Registered Investment Adviser (RIA). As representatives of an RIA, they are permitted to sell its services, but when they are operating as a representative of a broker dealer, they are held to a different standard which may only require them to act in a client's best interest at the time of the recommendation
So, what if you were to dig a little deeper and ask, "You mean you act as a fiduciary 100 percent of the time?" The response you get might be, "Uh, er, well, no," particularly if the advisor is part of a large traditional brokerage firm, whose name we will not reveal. (Think large, testosterone-laden form of a cow, for example.)
So, what do these answers tell you? That not all of these fiduciaries' clients are always worthy of having their best interests put first; for instance, after their funds are invested? Or that they just did not know enough to ask? Neither of those responses pass the smell test and surely wouldn't be admitted by such upstanding members of the community.
Uncovering the Truth
Look, if you've fallen for this masquerade, don't be hard on yourself for being duped or misled. Wall Street has a rich history of working in its own best interest and not that of the investor, so you walk in the shoes of many before you.
The good news is that it's not too late to make a change. There are many advisors who abide by the true-blue fiduciary standard 100 percent of the time*. You can discern who these advisors are by asking simple and direct questions. Click here to download my free guide Top 4 Questions to Ask Before Hiring a Financial Advisor.
It's important to feel comfortable and confident with your portfolio manager. At Carnegie Investment Counsel, we dedicate much time, energy and resources to customizing strategies that match our clients' financial needs and goals.
Here's the main takeaway: Only Registered Investment Advisers (RIAs), such as Carnegie, can say they will abide by the fiduciary standard 100 percent of the time*. Period.
* In the SEC's interpretation of the investment advisers' fiduciary duty, it states that "An investment adviser's fiduciary duty under the Advisers Act comprises a duty of care and a duty of loyalty… the duty of care requires an investment adviser to provide investment advice in the best interest of its client, based on the client's objectives. Under its duty of loyalty, an investment adviser must eliminate or make full and fair disclosure of all conflicts of interest which might incline an investment adviser— consciously or unconsciously—to render advice which is not disinterested such that a client can provide informed consent to the conflict." (https://www.sec.gov/rules/interp/2019/ia-5248.pdf; pages 6-7)
Being "registered" does not imply a certain level of skills, training nor does it imply SEC sponsorship or approval.
Need a Financial Advisor?
If you are currently looking for help with financial planning, contact us. We are happy to schedule an introductory meeting at your convenience.