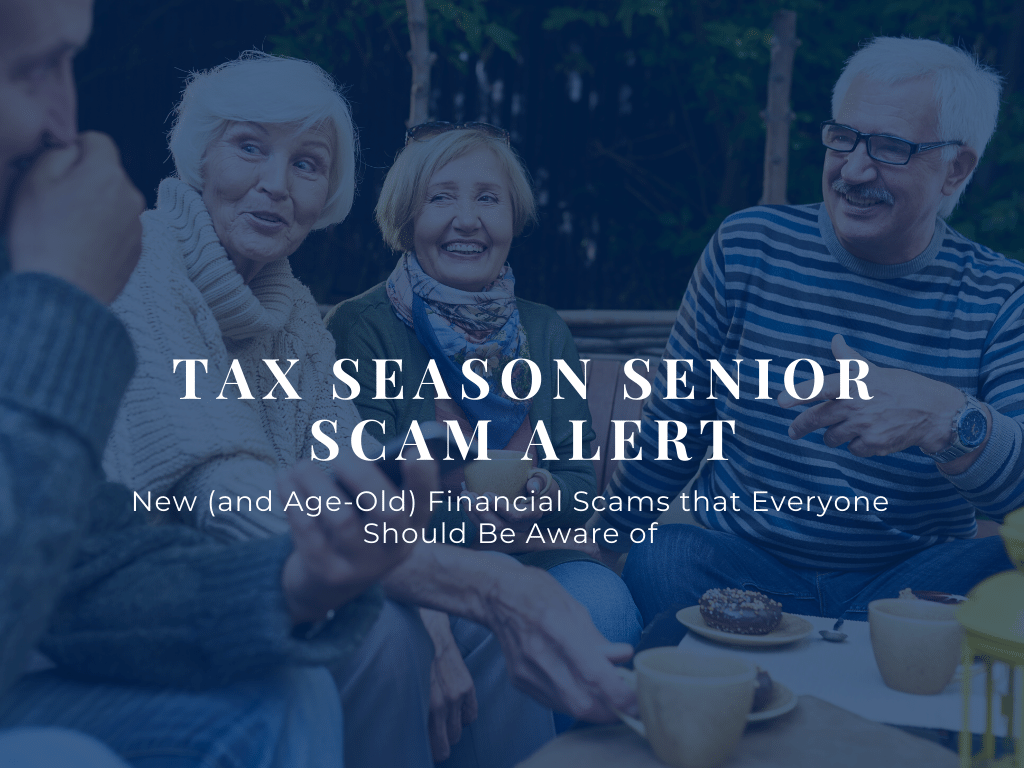 Sadly, tax season is a prime time for scammers to target senior citizens. Here are eight common scams making the rounds this year. Please share them with older relatives, friends and everyone else: Awareness is a primary component of stopping these threats.
1. IRS unpaid debt scam
These scams often involve an unsolicited telephone call, text message or email from an imposter IRS agent. In this situation, the perpetrator tells the targeted individuals that they owe money to the IRS and threatens that they will be arrested if payment is not made immediately. Often they will request payment with gift cards. You can visit the IRS website to determine if a call is legitimate.
2. The grandparent scam
In this financial scam targeting seniors, the person receives a phone call or message from someone claiming to be a family member who is in desperate need of money, possibly to be bailed out of jail. The scammers often rely on information found on social media for nicknames and information such as where the grandchild goes to college. If any of the information sounds plausible, it is best to hang up and call your grandchild directly.
3. Investment scams
Because seniors may be planning for retirement or managing their savings once they finish working, many investment schemes target seniors, offering ways to safeguard their cash for their later years. These can range from pyramid schemes like Bernie Madoff's to fables of a Nigerian prince looking for a partner to claim inheritance money, to complex financial products. Be on the lookout for any investment that sounds too good to be true.
4. Homeowner financial scams
In this scam, homeowners may receive personalized letters purporting to be on behalf of a county assessor's office. The letter would identify the property's assessed value and offer the homeowner, for a fee, to arrange for a reassessment of the property's value and therefore, the tax burden associated with it. If you receive a letter like this, call your local assessor's office to verify its validity.
5. Tech support scams
In this tech support scam, cybercriminals pose as tech support professionals trying to gain access to your personal or financial information. Then, when they gain access, they will add malware that infects your computers or spyware so they can get information in the future. Real tech support companies don't proactively reach out to consumers.
6. Sweepstakes and lottery scams
In this scam, fraudsters tell clients that they have won a large sum of money. However, to collect the prize, they need to pay upfront processing fees or taxes. The caller is initially friendly but may become threatening if the targeted person isn't interested.
7. Pop-up virus scan
On the internet, pop-up browser windows may simulate a virus-scanning software. This visual will trick the victims into downloading a fake anti-virus program (at a substantial cost) or an actual virus that will share the client's information with the scammers.
8. Romance scams
Just like the age-old scams of someone professing love to access cash, this scam is made new with social media. In this scenario, scammers create fake profiles on dating sites, apps or social media and then contact their targets through social media. The scammers will often say they're living or traveling abroad. Typically, they will profess their love quickly and claim to need money for emergencies and ask that you wire the money to them or send gift cards.
How do you know when someone in your life is a victim of financial abuse?
IRS scams are only one of many ways that seniors, people with developmental disabilities or anyone may become a victim of financial exploitation.
Sadly, the scammers may be members of the person's own family or perhaps a friend or service provider. In the financial services industry, the protection of senior investors is a top priority. Sometimes mental capacity may decrease as people age. If you're concerned that someone may have fallen victim to financial exploitation, look out for sudden unwillingness to talk about finances frankly, abrupt changes in wills, strange questions about money, evasive answers about money, changes in addresses or uncharacteristic nervousness or anxiety.
Ready to Meet With a Financial Advisor?
Schedule an appointment today to learn more about how Carnegie can help with financial planning and wealth management.