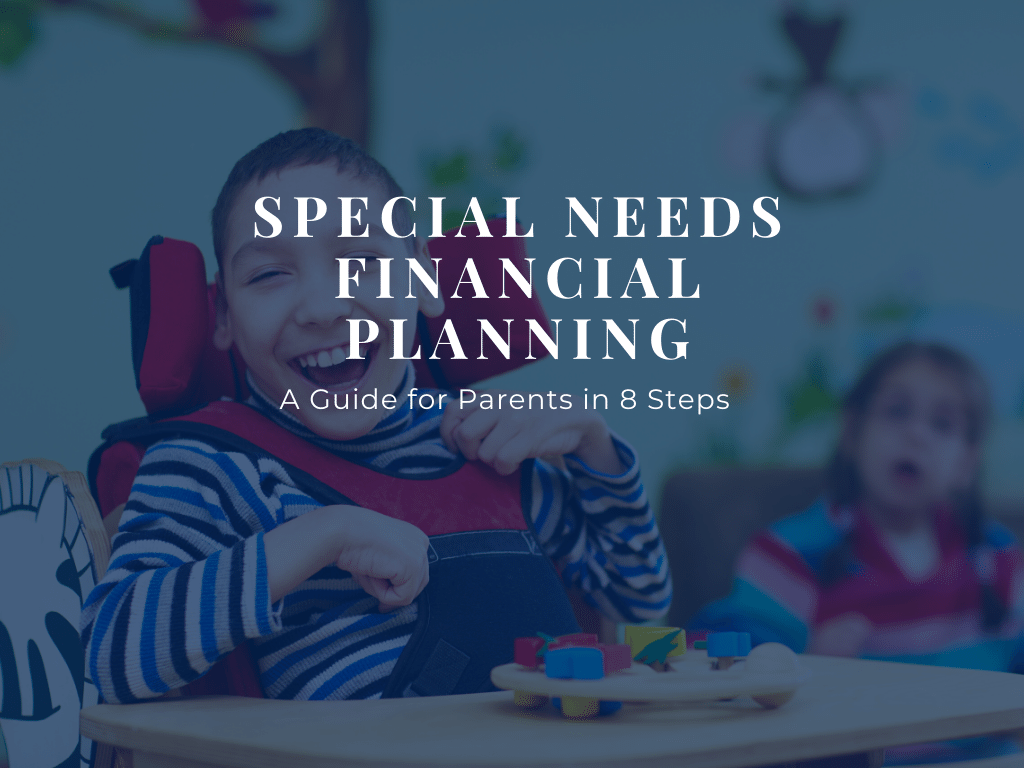 Raising a child with special needs has its own rewards. Someone once said, it's like taking a trip and arriving in Copenhagen when you thought you were going to Paris. Copenhagen has its own joys, but they may not be what you imagined about Paris. The milestones you dreamed of before becoming a parent may be different now.

Special needs financial planning can seem daunting for parents. There may be medical expenses today and planning for your child's care when you no longer can. Here are eight steps to break the process down into manageable chunks.

1. Define your long-term dreams and goals.
Take an hour to envision the future you want for your child and yourself with a notebook and a pen. Having goals for the future will provide the best opportunity for your child with special needs to live a fulfilling life. Do you picture your child having stable employment? An independent life with a place to live near friends and social activities? The financial freedom to go out to dinner and enjoy life's little rewards? Write down the things you want for your child.
Now, also define your goals for your life apart from your child when they are starting to be more independent. Like taking trips abroad, building the house of your dreams and other ideas. Your goals are possible, too. Special needs financial planning will help you lay the groundwork to ensure the most financially stable future for your child.


Tip: At the end of this hour, consider taking a moment to schedule a meeting with one of our financial planners.
2. Take stock and start to design.

Now is the time to start gathering your records. Work with our Financial Advisor Meeting Checklist to get started. Gather your financial documents into a folder. If you start now, this should only take an hour or so.
Ready. Set. Go.


3. Hold a preliminary meeting with a financial planner, like Carnegie Investment Counsel (Us!)
With your documents in hand. Meet with us to get started laying out a special needs financial plan. Don't worry that you must have all the steps in place at the outset. During our discussion, we can help ensure you have access to the pros you need.


4. Determine if a special needs trust should play a part in your estate plan.
A special needs trust is a foundational element for protecting government benefits and providing assets to fund the life you envision for your child with a disability. Supplemental Security Income (SSI) and Medicaid-funded comprehensive services are two important government benefits to preserve. SSI provides income support for your family member with special needs after the age of 18. It also provides access to Medicaid, which covers healthcare and Medicaid-funded comprehensive services. These services support the nonprofit organizations that work with people with special needs. A special needs trust can be established by an estate attorney. Research terms like "special needs estate planning attorneys," or during a one-on-one meeting with us, we can provide assistance in choosing a reputable attorney.


5. Start an ABLE Act account for your child with special needs.
Another essential element to protecting benefits for your child with special needs is an ABLE Act account made possible by the federal Achieving a Better Life Experience (ABLE) Act. In Ohio for example, ABLE Act accounts are called STABLE accounts and are in fact open to people from any state. According to the Ohio.gov website, STABLE accounts allow individuals with disabilities to save and invest money without losing eligibility for public benefits programs. Earnings in your STABLE account are not subject to federal income tax, so long as you spend them on "qualified disability expenses." STABLE accounts are not checking or savings accounts, but more like investment accounts or 529 college savings accounts.


Tip: In many states, such as Ohio, for example, 529 college savings plans can be transferred to ABLE Act accounts. Ask us for more information. We are happy to help.


6. Learn about Federal Social Security benefits.
Depending on your child's special needs, he or she may qualify for government assistance programs such as Supplemental Security Income (SSI). When your child is over 18 and possibly working to become independent, these programs will help your child have more stability if job fluctuations occur. While these are not our expertise areas, this is an important step and you can learn more on the Social Security Administration's website. Your county's department of disability services can also provide expert assistance in these areas.


7. Create a financial plan to get out of debt, fund your retirement and fund your special needs trust upon your death.
Sounds easy right? With a clear special needs financial plan, it can be easier than not having a plan. Creating a financial plan is about setting aside money to fund the goals we established in step one.


8. Communicate with your family members.
Helping your child with special needs to live a fulfilling life will take a village and a lot of communication, too. Your family members will be glad to learn more about your plans and their role in helping your child succeed in life. Reach out and share your thoughts and all your work to set them up for success.
Tip: Be sure to let family members know that if they are planning to make any of your children beneficiaries, your child with special needs should not be named directly, but this may be a case where a special needs trust may be needed instead.

Several of our team members specialize in special needs financial planning. Call us today to speak to a financial planner.