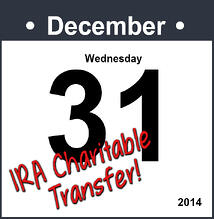 Last night, the Senate passed a one year extension on a number of tax items. One of them is an extension to individuals 70 1/2 years of age the ability to donate to a charity directly from an Individual Retirement Account (IRA), without triggering taxes on such a donation as a withdrawal from the IRA. This exemption retroactively covers any such gifting done earlier in 2014.
But don't delay! This charitable transfer expires January 1, 2015. The President has indicated that he will sign the bill before leaving on his family vacation.
If you wish to proceed with such a gift, please let us know as soon as possible considering many custodians are already processing year end paperwork on a best efforts basis. Frustratingly, we will likely need to wait until next year to see if this is again renewed for 2015 giving.
Read full article here