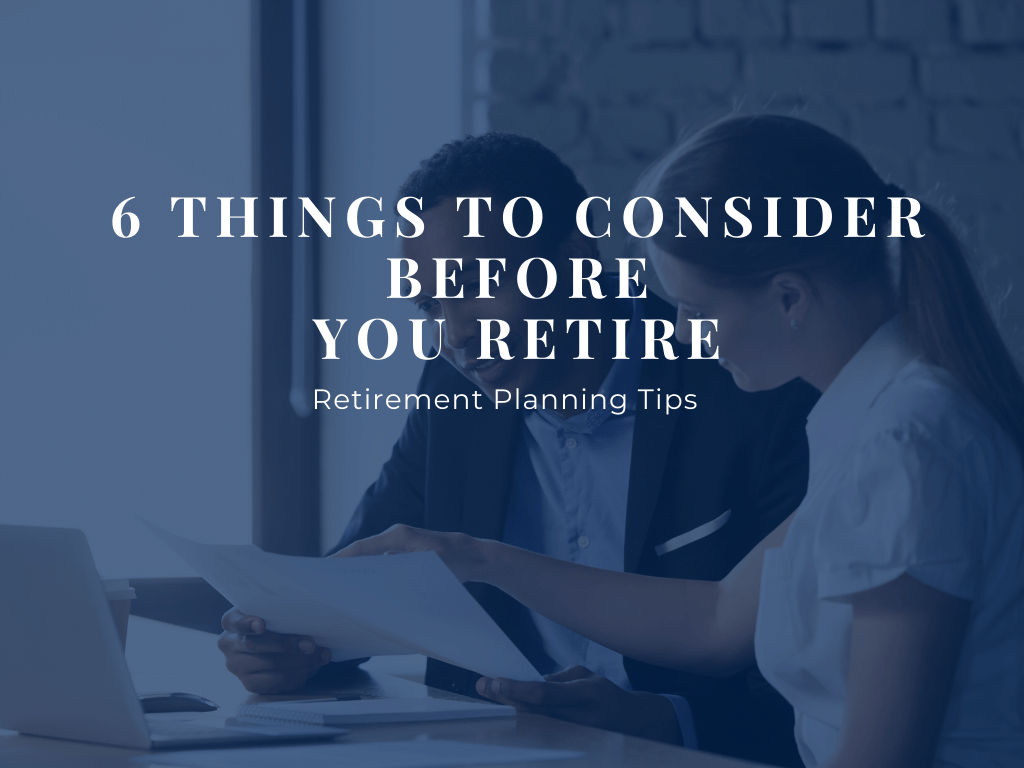 As you approach your retirement years, you probably have questions or concerns about how your retirement will look. Creating some certainty by reducing the number of potential surprises can go a long way toward alleviating those concerns.
Here are six things to consider before you retire:

1. When will you retire?

According to a 2017 survey conducted by the Society of Actuaries, over 70 percent of pre-retirees plan to continue working until at least the age of 65. But the same survey shows that the median retirement age in the U.S. is 60.

This vast difference between expectation and reality is the by-product of any number of unexpected events. Job loss due to corporate restructuring, deteriorating health or the need to care for older family members are typical reasons for early retirement.


Tip: Don't think of your retirement date as etched in stone. You may find yourself exiting the workplace earlier than you assumed.
2. How much will it cost to retire?

Retirement planning companies like ours will tell you that expenses in retirement may be more significant than you originally calculated. It can be difficult to determine how you will spend money once you retire accurately. Rising health care and potential long-term care costs can be daunting. An additional unanticipated expense to consider might be any financial assistance that your children may require even after they have left your household.


Tip: A well-designed financial plan can go a long way toward identifying the expenses that you will incur and will give you comfort around spending. Consider it a critical step as you start thinking about retirement, and schedule an appointment with an advisor as soon as possible.


3. Will I have enough money in retirement?
Many pre-retirees fear running out of money. According to the Society of Actuaries survey, fully 70 percent of pre-retirees are either somewhat or very concerned about depleting all their savings. Forty percent worry they will leave no assets for children or other heirs.

One conservative approach to withdrawals from retirement savings is known as the 4 percent rule. The basic premise is that if you limit drawdowns to 4 percent of the balance in your savings, then you will primarily be living off interest and dividends. This strategy better allows the principal to continue producing a steady income stream throughout your retirement.


Tip: Your ideal withdrawal rate is a function of many factors. It is best determined by working on a full retirement plan with a Registered Investment Advisor.
4. Should I pay off all my debts?

Retiring debt-free may sound ideal. Still, there are pros and cons to debt elimination, especially when it comes to mortgage debt. Many people find that the peace of mind that comes with paying down debt is very attractive. Debt can be viewed as a threat, and if you are on a fixed income, reducing interest expense can make good sense.

However, paying off your mortgage can significantly reduce your liquidity and financial flexibility.


Tip: It is essential to consider the tax implications of lowering your debt. If you are using a withdrawal from a tax-deferred retirement account, you need to consider the consequences of triggering a taxable event carefully.


5. How will I spend my time?
We've talked about spending money in retirement; what about spending time? You should anticipate a significant change in the fabric of your daily routine when you're no longer working every day. The structure that full-time employment provides for many people will typically upend upon retirement. In addition to providing you with a steady income, the traditional workplace also offers built-in social connections that you have most likely developed over time. Maintaining that network can be challenging.

Additionally, an abrupt change in the pace of your lifestyle can be unsettling. You may need to map out how a typical day will look. Old activities that were designed to relieve the stress of work can be suddenly lacking.


Tip: Consider a volunteer position or some form of continuing education. Think outside the box, if needed. Now's the time to pursue those "maybe someday" interests.

6. Will I have a sense of accomplishment?


How will you continue to motivate yourself in the absence of the goals and objectives that your job used to provide? Can you still feel "productive" without the incentives, financial and otherwise, that a job inherently delivers?

There are different ways of maintaining or re-discovering that sense of purpose in retirement. For some, it will be part-time work. For others, it is a chance to spend time with grandchildren or other family members. For still others, a new hobby, a return to an activity that has languished or a new business venture fills the potential void. Plus, look for things like SCORE mentoring opportunities in your town.


Tip: Take part in activities that lead to a set goal to provide a feeling of accomplishment.


Ready, Set, Plan!

Now's the time to create a vision of your life after full-time employment. Keep your answers to these questions in mind as you work with a retirement planning company (like Carnegie Investment Counsel). Your dreams may have financial implications that can be accounted for today to reduce worries about tomorrow.