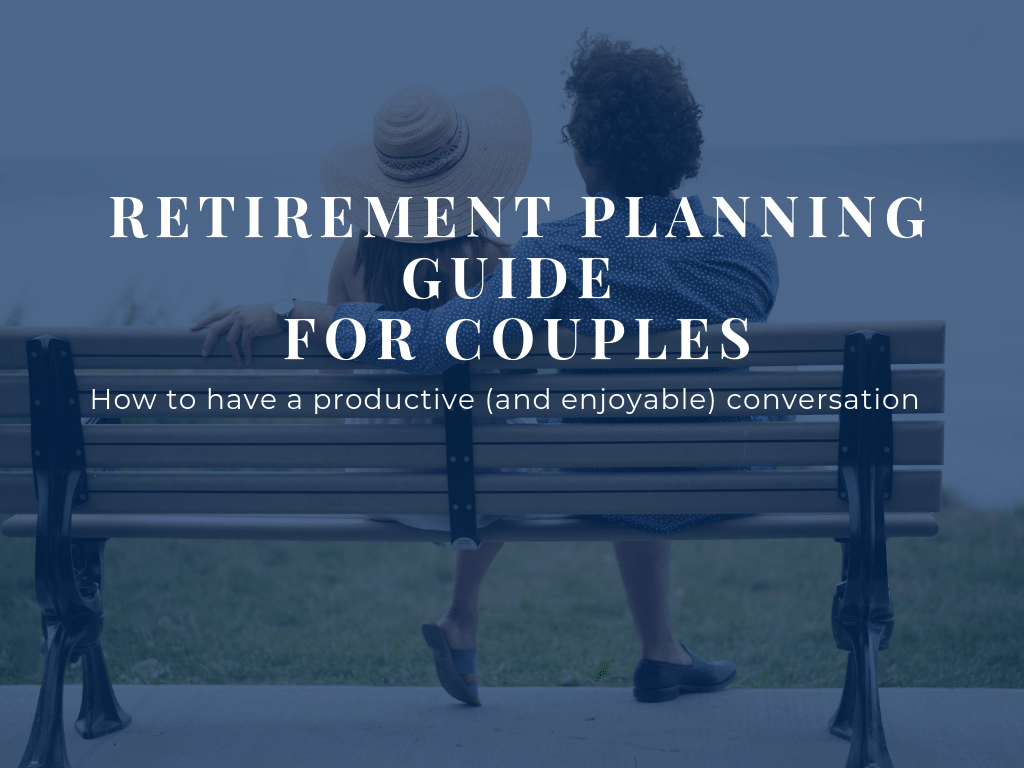 Are you and your spouse preparing for retirement? Have you had a candid conversation about what that retirement will really look like? Here are some steps as a retirement planning guide to help you have a productive discussion as a couple.
Watch the Video: How to Have a Productive Conversation About Retirement


Step 1: Set aside a block of time.
An important first step is to set aside quality time to make the conversation productive and enjoyable. Your goal is to create a game plan for your post-employment years. While this will be an ongoing process, holding that initial conversation is critical.
Find a block of time where you can compare personal aspirations and goals without distractions. Plan quiet time at your home or go to a coffee shop or restaurant to keep it fun. Try not to make assumptions about how your significant other views life in retirement. Plus, be willing to compromise to reach consensus.
Step 2: Align on your target dates for retirement.
To start your retirement planning guide discussion, consider employee benefits like pension and healthcare. Many pension plans offer multiple selections regarding how and when to receive the benefits. This will impact your target date.
Also review options related to government programs like Social Security and Medicare. Take into account possible age differences between you and your spouse. Align on how to bring those divergent paths together. Will one spouse retire first?
Step 3: Discuss strategies for unplanned events.
It is also a good idea to agree on a plan for an unanticipated retirement trigger. What is your plan if either of you have an unexpected employer buyout, medical disability or outright job loss?
Step 4: Develop a shared vision of where you will live.
The most important part of this conversation revolves around developing a mutual vision for your retirement. The underlying purpose is to properly align expectations about that future. Will you stay in your current community or will you look to completely change up the geography? Do you both want to live in a popular retirement area like Arizona or Florida? What about emerging locales outside the U.S., like Panama or Costa Rica? Will it be multiple locations?
Step 5: Plan for fulfillment.
How will you continue to find purpose, inspiration and new connections in retirement? Use your collective imaginations to plan the most fulfilling future retirement you can imagine. Dream as a team to create this plan. Is it desirable for one or both of you to remain employed on a part-time basis or look for consulting opportunities? Is it appealing to devote a certain amount of time to volunteer activities? Have you considered giving time to organizations like SCORE for business people or philanthropic activities?
Step 6: Dream up a travel bucket list.
Between raising a family and work commitments, you may have had few opportunities for excursions. Produce a collective list for retirement that takes into account all the dreams and aspirations of both partners.
Step 7: Figure out a rough budget together.
As you prepare for the transition to retirement, it's a good idea to understand the financial challenges that lie ahead. Determine a projected budget for all the basic expenses you will still have in retirement, regardless of location. Plus, take into account the travel itineraries and leisure activities on your wish list. Will you have to make lifestyle changes to support your plans? Do some research on living expenses in your dream locales. Additionally, consider other potential financial requirements such as children or grandchildren with special needs or funding an education or weddings.
Step 8. Assess if you need help and explore all your resources.
Decide as a team if you want to go it alone or explore professional help from a financial advisor. Building a comprehensive plan with a Registered Investment Advisor (RIA) can help you feel comfortable about meeting those challenges. A financial advisor can also help you estimate the asset levels required, proper asset mix and risk levels to get you there. After all, you don't want to run out of money. For both spouses, it is worth your time as a team to explore if professional help is an option for you.

Plus, don't forget, an RIA will help you with properly organizing what can be a far-flung list of 401(k) accounts, pension assets and other investment vehicles. He or she can explain how to make the most of your U.S. government social programs, including disability and survivor benefits. Perhaps most importantly, an RIA can assist you in maximizing investment income while still managing risk within your portfolio.
See our team bios to find an advisor near you.