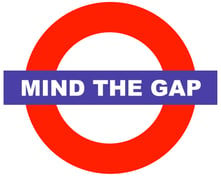 While this sign is designed to remind riders of the tube in the UK to "mind the gap" between the platform and the train, it is apropos for the investor undertaking estate planning as well.
Trusts are a fiduciary relationship in which one party, known as a trustor, gives another party, the trustee, the right to hold title to property or assets for the benefit of a third party, the beneficiary, which can successfully protect your assets during your lifetime, and be structured so as to deliver these assets upon your demise where you choose, while minimizing tax, probate costs and confusion.
While you can make every good effort to execute what you believe to be a sound estate plan, in many cases these fail to be completely executed. Execution is not just about signing your will, trust documents, and/or powers of attorney. Execution also involves titling your assets properly so as to properly reflect the intention(s) of your estate plan.
IRAs and other retirement plan beneficiary designations must also be synchronized with your plan. Because you have signed a trust does not necessarily mean your assets are held by the trust. They must be officially titled as belonging to the trust. Foregoing this step can leave the assets susceptible to the costs and confusion of probate court.
If you don't know with certainty that your assets are titled as per your estate plan, now is the time to review this. Any deficiency can be remedied quickly and without cost.
A very large gap that is often overlooked in estate planning, beyond traditional financial assets, is tangible personal property. Without these assets being properly titled (and with values in certain areas of jewelry, art and collectibles now in the stratosphere) someone could inadvertently end up with substantial assets going through the costly, and very public, probate process.
Additionally, without these assets being held by a trust, they can be exposed to liability and divorce claims while someone is still alive. There are relatively easy ways to avoid this and "mind the gap".
If you would like us to review your titles and beneficiary designations to be sure they are in keeping with your current plan, give us a call. Additionally, if you would like information on the titling of personal property to discuss with your estate planner we will be happy to assist with that as well.