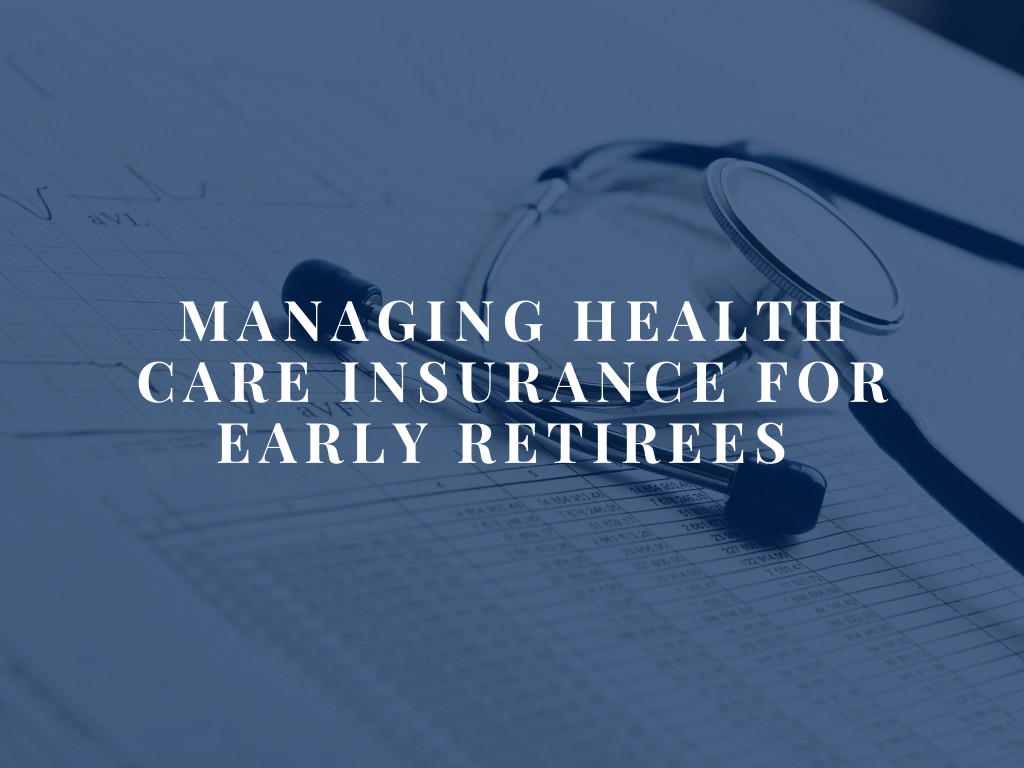 Beginning in the 1930s, and accelerating in the decades that followed, employer-sponsored healthcare became one of the benefits American consumers have come to rely upon. Facilitated in part by changes in government policies during World War II, private employers began to offer health insurance as part of an overall compensation package for their workforce.

However, this system's evolution left many retirees without any medical insurance, which was often terminated when they left the labor force. This shortcoming was addressed in 1965 when Medicare and Medicaid were signed into law, giving tens of millions of Americans affordable access to hospitals, clinics and a network of physicians.

Accordingly, most Americans today have some form of health insurance, either through their employer or after they have retired. However, unless they are disabled, participants in Medicare must have reached their 65th birthday.
So what if you want to retire before age 65?
Medical Insurance Options
Everyone needs the ability to schedule routine medical checkups, arrange required medical procedures and obtain prescription medications at a reasonable price. If you lack some form of medical insurance, the costs of these services can be overwhelming or even unbearable, especially if you have significant health complications.
Before seeking out what plans are available from outside providers, make inquiries about the following:
Insurance through your former employer. Some companies offer retiree coverage.
Continuation of health coverage (COBRA). This option is usually available to employees for up to 18 months after they leave a position. If COBRA is an option, you would retain your prior health benefits, but would be responsible for paying the premiums yourself.
Spousal coverage. Your spouse's employer might allow a conversion to a family benefit.
If you are unable to secure coverage through the means above, there are other channels. Most early retirees have two options for obtaining insurance: either through the Health Insurance Marketplace or through a short-term plan offered by a private insurer.
The Marketplace
Although it has been politically controversial since it was enacted in 2010, the Health Insurance Marketplace is the primary place where people without healthcare insurance can obtain coverage. As the cornerstone of the Affordable Care Act (also known as Obamacare), the Marketplace became operational in January of 2014. Its major facets:

The Marketplace gives individuals the ability to compare health plans on an apples-to-apples basis.
The cost of coverage is subsidized for middle- and low-income families who receive tax credits that cover a significant portion of premium costs.
People with pre-existing health conditions cannot be denied coverage.
With the plan's essential health benefits, there are 10 categories of services health insurance plans must cover. To learn more, visit https://www.healthcare.gov/coverage/what-marketplace-plans-cover/
People in most parts of the U.S. apply for and enroll in health coverage through Healthcare.gov, except for 16 states that manage the process for their own residents. To find out more about your state, go to www.healthcare.gov/marketplace-in-your-state/
Limits on Subsidies for Marketplace Plans
Premium subsidies are available if your household income doesn't exceed 400% of the federal poverty level. For 2021, the income cap is $51,040 for individuals, $68,960 for a married couple, and for a family of four, it is $104,800.

So, many Americans who find themselves using Marketplace plans to obtain coverage will receive federal subsidies to make their coverage more affordable. However, a growing number of consumers are forced to pay for the full premium cost of the insurance without assistance.
Premium Costs Under ACA
According to ehealthinsurance.com, a private online marketplace for health insurance, monthly premium costs for ACA plans have moderated in recent years but are significantly higher than in 2014, the first year of the Marketplace. For unsubsidized individuals, the average monthly premium in 2020 was $456, up from $271 since 2014. More telling though, was the average premium for the age group 55-64, which was a whopping $784 last year. The average monthly premium for unsubsidized family coverage was $1,152 in 2020.
Short-Term Medical Insurance
Short-term plans, also known as term health insurance, can be a viable alternative to the Marketplace plans that are managed by federal and state governments. These plans are offered by private insurance companies and are designed to appeal to a certain segment of the populace. The target audience is generally in transition:
For those in-between jobs or who have otherwise lost employer-sponsored healthcare
People waiting for the open enrollment period of ACA
People categorized as pre-Medicare coverage
Basic Features of Short-Term Plans
Unlike Obamacare, you must qualify for this insurance, which will likely mean filling out a questionnaire and disclosing your past medical history. Individual insurance companies underwrite these policies, and as such, you may be denied coverage based on pre-existing conditions. Also, short-term plans do not guarantee any of the essential health benefits and protections inherent in ACA plans. In other words, you need to be aware of the limitations of your specific coverage.

As of January 2019, Congress eliminated the individual mandate component of Obamacare that penalized the uninsured for not participating in the program. This repeal, combined with the relaxation of some other regulations, has made the short-term option more appealing to consumers, especially a group like early retirees.

For many consumers, the premiums associated with short-term plans are significantly lower than comparable ACA plans. So, if you are unable or unwilling to purchase an ACA-compliant plan, the coverage afforded by a short-term plan may be appropriate for you.

You need to be aware of the differences in state laws related to these plans. A small number of states (New York and California as of 2020) completely prohibit short-term medical insurance. Other states may limit the maximum term.
Conclusion
Some of our clients mention that they would like to retire early but are reluctant to do so because of the loss of healthcare coverage. Although these are valid concerns, please realize that there may be options out there that would allow you to retire early and have affordable healthcare. You can find out more by contacting an insurance broker who specializes in healthcare coverage for individuals and families. These brokers understand the pros and cons of today's insurance offerings and can get you covered with the best plan for you and your family.
Need a Financial Advisor?
If you are currently looking for help with financial planning, contact us. We are happy to schedule an introductory meeting at your convenience.