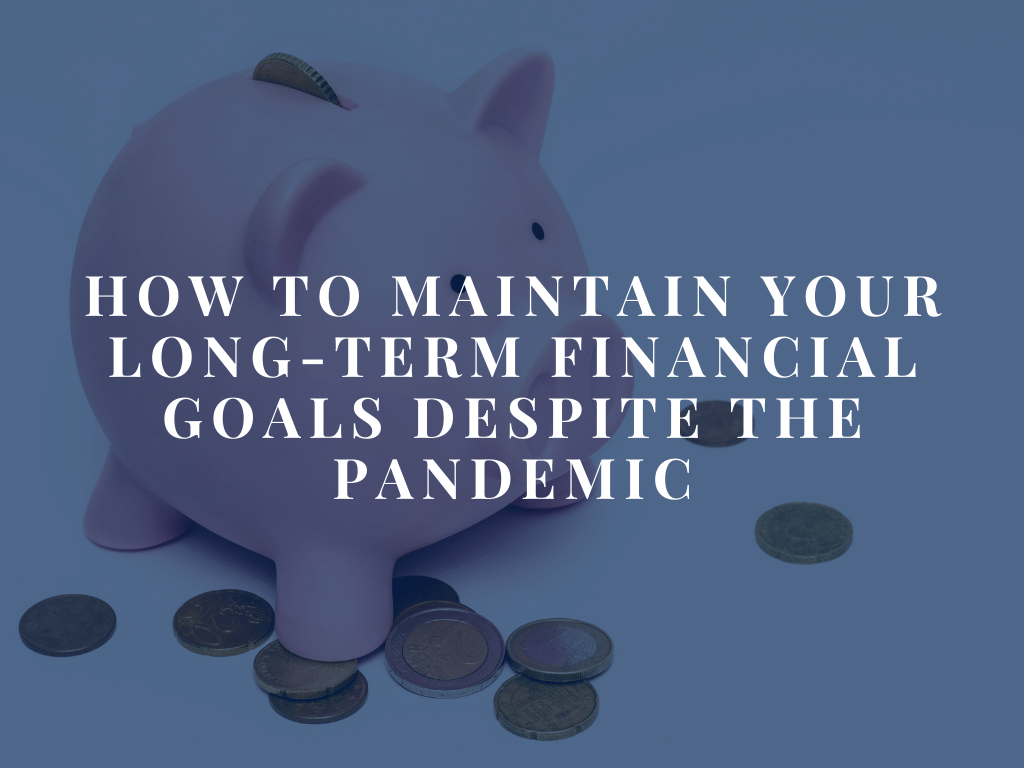 After nearly a year of dealing with the fallout from the Covid-19 pandemic, most of us have come to the realization that our lives will be forever altered in some way. Aside from the challenges to public health and the social disruptions involved, Americans' economic impact has ranged from modest to devastating. Here are tips to help you and your loved ones stay on track with long term financial goals:
Take Advantage of This Time to Take Stock
Many people are experiencing extraordinary stress levels during this time, and economic uncertainty is a prime cause. Despite these challenges, this is a great time to take a moment to assess your financial goals and how well they are being met. You might have more time on your hands and fewer distractions, so it is a perfect time to revisit your financial targets.

While the pandemic may have altered your approach in the near term, it is essential you maintain steps that will give you and your family long-term financial security.
Short-Term Actions
The following are common sense actions you can take now that may pay dividends down the road.

Revaluate family cash flow projections to reflect your current financial position. Review both sides of your budget. Has your income been significantly reduced? What expenses can be curtailed or eliminated? If you are now working from home, your transportation costs are probably lower. If so, redirect those funds to savings. This is just one example of performing a budget reconstruction. Ensure that the expenditures that remain still line up with your income level and meet your longer-term objectives.

Prioritize putting aside a rainy day fund. For some Americans, sudden and unexpected job loss has highlighted the need for a personal emergency or "rainy day" fund. While it may be impossible for some to begin this process now, take time to assess your readiness in this area. Financial planners typically recommend that you have at least three to six months' worth of everyday expenses on hand.

Reassess your real estate position. Suppose Covid-19 has negatively impacted your income and you have a home mortgage. In that case, your lender will likely be able to offer a forbearance agreement or an interest-only arrangement to give you some short-term relief. Home mortgage rates are still near record lows. Would it be beneficial to refinance? In a broader sense, are you still able to afford your mortgage in the long run? Should you consider downsizing or possibly renting your residence?

Review your insurance coverage. Insurance costs are a significant line item on the cost side of your budget. When was the last time you reviewed your coverages? Maybe it is time to consider a new quote for auto or home premiums. If you are already in or nearing retirement, does it still make sense to carry life insurance?
Longer-Term Actions
Beyond the preceding steps, there are other actions you can accomplish over many months or years. If possible, try not to let the pandemic alter your financial game plan regarding these items.

Effectively manage your overall debt. If you have managed to accumulate considerable credit card or other revolving debt, reducing or refinancing that debt can help your long-term financial position. If you are amenable to a home mortgage refinance and have a decent level of equity in your home, a cash-out may work for you.

Set aside 20% of your income for retirement savings. This is a worthwhile goal promoted by many investment advisors. This decision would include saving in a qualified retirement plan like a 401(k) and 403(b) account and other tax-advantaged accounts like traditional or Roth IRAs. Brokerage accounts that contain equities, mutual funds, and money market funds would also be part of this total.

Maintaining Long-Term Goals Conclusion

We recommend that everyone have a set of concrete financial or retirement goals to guide their day-to-day monetary decisions. Maintaining the above tips' financial discipline may have a "payoff" of better peace of mind. A well-constructed financial plan can be the key to providing a comfortable retirement.

Does this all feel overwhelming? We are available to guide you. Carnegie Investment Counsel can review your unique circumstances, then tailor a financial and investment plan so that you may have confidence for the future.
Looking for a Financial Advisor?
If you are currently looking for help with financial planning, contact us. We are happy to schedule an introductory meeting at your convenience.
Disclosure: This was prepared by Carnegie Investment Counsel ("Carnegie"), a federally registered investment adviser under the Investment Advisers Act of 1940. The information is provided as of the date indicated and believed to be reliable. Carnegie assumes no obligation to update this information, or to advise on further developments relating to it. This is prepared for informational purposes only and should not be construed as personalized tax or investment advice. Carnegie does not provide tax advice or services.