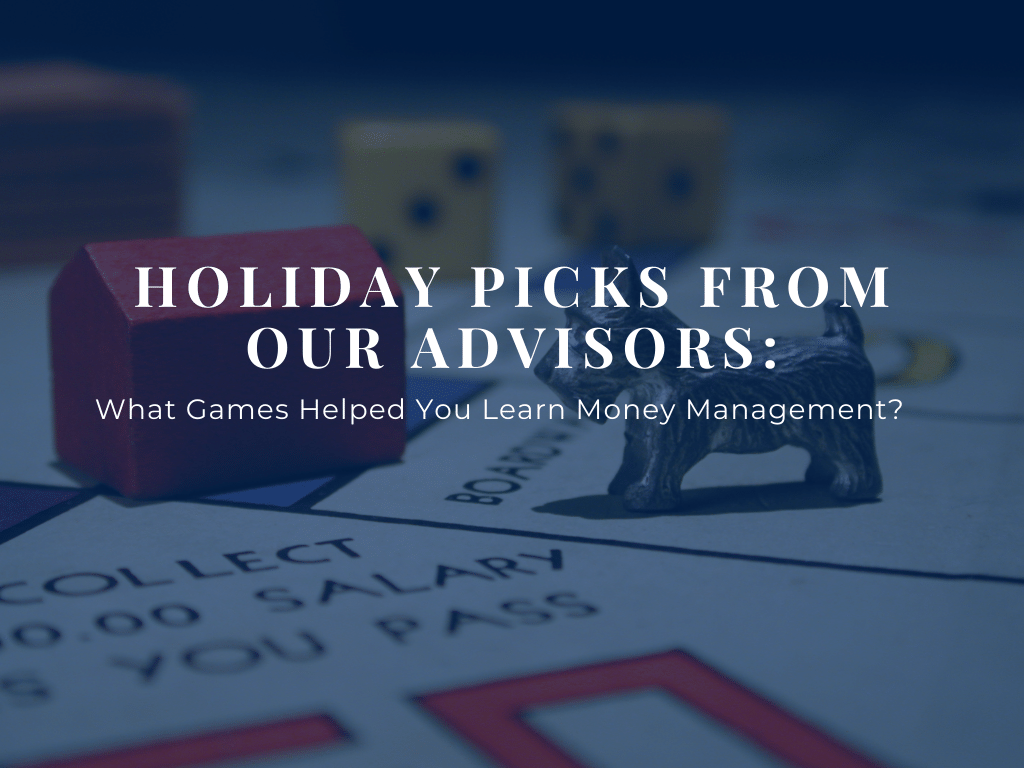 The Thanksgiving holidays provide a time for gathering with family and friends, whatever that looks like for you in 2020.
We asked our team members about games they played with family around the holidays that helped them learn money management. Below our financial advisors share their holiday favorites.
Holiday Games:
"I used to play gin rummy with my grandma and the older ladies in her apartment building for pennies. Somehow I always won. LOL."
- Gary Wagner, AIF, Principal and Chief Operations Officer
"Video games like Runescape, Grand Theft Auto and Skyrim come to mind. There are a variety of video games I played as a kid that really taught me the benefits of saving your money and spending it wisely."
- Jake Steffens, Portfolio Management Associate
"Monopoly was a popular game to play but the actual games would go on for hours!"
- Doug Pease, Trader and Portfolio Manager
"I enjoyed playing Monopoly with family and friends. It was always a struggle as to who would be the bank, because everyone wanted to be the bank!"
- Greg Halter, Director of Research
"For me, we didn't really have TV, so I had to make up games. I liked numbers and patterns, so the stock market was a natural interest. Starting at age 12, I created a mock stock portfolio. Every Sunday, I would scour through the thousands of stocks on the Plain Dealer business pages. I based my decisions solely on a handful of statistical measures. I kept this going into college. That's how I learned about the stock market."
- Brent Luce, Senior Portfolio Manager
"I always enjoyed 'owning' the Monopoly board as a kid. We would play with friends, but I did not really learn about finances until college."
- Stephanie Bush, Chief Compliance Officer
"My favorite game was Life. It really does teach about life and how decisions you make can impact you both financially and as a person. This game touches on education, family, living expenses, investing. When I play this with my kids now I use it as a way to discuss many of the major life decisions that they will encounter throughout their lives."
- Meg Halloran, Senior Portfolio Manager
"The game that helped me learn finances was Monopoly and the person was my dad. He was a doctor who was also a businessman. We had our own brand of rice in Brazil. He would take me with him to the general store on Saturday to buy supplies for the farm and he would pick different items in different quantities and make me do the math before the salesperson would calculate. He wanted all of us to be good with numbers. Later, when I went to college, he taught me the concept of budget and bookkeeping. He was very generous but I had to review it with him monthly, otherwise no money!"
- Isabel Pedrosa, Portfolio Manager
"RISK!"
- Richard Alt, Chief Investment Officer, Principal and Portfolio Manager
Looking for a Financial Advisor for You?
If you are currently looking for help with financial planning, contact us. We are happy to schedule an introductory meeting at your convenience.
The opinions and recommendations expressed herein are those of Carnegie Investment Counsel. For information about Carnegie Investment Counsel and its investment advisory services and fees, please see the firm's Form ADV on file with the SEC at www.adviserinfo.sec.gov