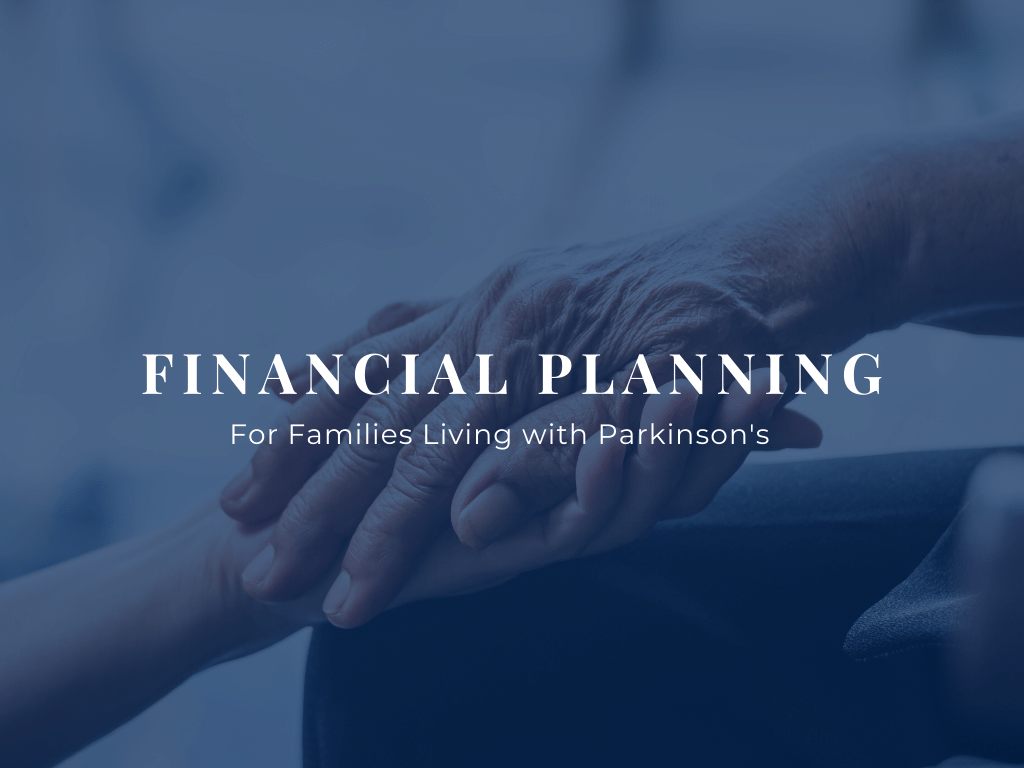 How It Happened: My Personal Parkinson's Story as originally published in the Parkinson's Journal
It was a bright sunny Florida day on the outside but not so on our insides. The inside of our minds, our hearts, our full being had suddenly become overcast.

I traveled with my wife of 43 years on that 2½-hour drive east, where sunglasses were the preferred eyewear. We arrived and strode through the tastefully decorated lobby and up the elevator to the third floor. The door opened onto the Neurology Department of the Weston, Florida, complex of The Cleveland Clinic. It all seemed like a routine visit to a physician's office until it happened.

"You know you have Parkinson's," she said, looking at my wife. "NO, we didn't know," my inner voice quickly shouted. Those certain words coming from the mouth of the Cleveland Clinic neurologist seemed to echo in the room.

I hardly remember the drive back across the miles of everglades sawgrass to the west side of the state. I am not sure if I even had my sunglasses on because between the recognition discussions the two of us were having; my thoughts kept turning to, "what now?"

I was supposed to be the "expert planner," a Certified Financial Planner (CFP®) for three decades. I flashed back to those many meetings with families where I provided my list of "to do's" for them to accomplish to be prepared for various possible unforeseen future events that only God can predict. Now, on that drive back, I was mentally checking off that "to do" list while looking, not into the eyes of a client but, into a mirror in my mind. Was I the cobbler with no shoes or had I followed my own financial planning advice in my own life? One of those unforeseen events of life had just happened, to my wife... to us.
Financial Planning Steps When You Receive the Parkinson's Diagnosis
Once you receive that diagnosis of Parkinson's, you need to prepare your own "to do" list. Here are the items that you need to consider:
1. Prepare Legally
This should be quite high on your list, probably even number one. Do not put it off; the sooner, the better. Your legal preparation should consist of various documents that will lay out your plans now that Parkinson's is in your family health mix. In addition to a will and maybe a trust, it is important to have a durable power of attorney and a designation of health care surrogate in place to avoid guardianship. This fact was reminded to me by my estate planning attorney friend. This whole group of legal documents is frequently called advanced directives. Planning for Medicaid benefits might also warrant attention.
These documents will lay out the foundation of your estate plan, which is an orderly plan for your family into the future. Do not rely on older legal documents to be correct. State statutes change, and your documents need to be updated to comply with any state statute changes and the new health reality of your life. Maybe you are considering changing your state of residence due to the Parkinson's in your family or perhaps an upcoming retirement. Seriously consider having your legal documents drawn in your intended eventual state of residence. Much of your planning will be specific to that state, especially legal documents.
Here is an example I have run across many times: The person now diagnosed with Parkinson's was previously named to be a legally responsible party, like a trustee or maybe custodian of a child's education fund. With the new diagnosis, this responsibility may better be transferred to another person.
2. Appraise Your Financial Situation
List in detail, all your things of value that you and your family own or in which you have any financial or legal interest. This list includes all investments, real estate, retirement accounts, business interests, hobbies of value and automobiles — note who is the legal owner of each. I will bet there are many items that you do not remember who the owner is. I have found that most families do not remember who even owns the house in which they live. Locate the deed. Do not trust your memory.
Locate all insurance policies. This includes life, disability, long-term care, homeowners and auto (also known as property and casualty). Do not forget that general liability or "umbrella" liability policy, if you have one.
Now here is a difficult question: Who or what owns the policies? Yes, most insurance policies have owners, and it is critical to know who the owner is. The owner has control of the policy.
Now in that same vein, who or what is the beneficiary of those policies? This piece is probably one of the most overlooked financial planning issues. Are the beneficiaries (and the owners) appropriate now that you have the diagnosis? Also, know that most insurance policies have a person you can designate to be notified if premiums are not being paid. It is probably a good idea to implement this service.
Getting back to investments: Your retirement plans require special attention. Why? Because they have distinct and unique rules and tax ramifications. Beneficiary designations are of particular importance here and don't forget to name contingent (secondary) beneficiaries.
3. Prepare-Prepare
As a start, do the following:
[] Gather all your individual and family original legal documents (or at least copies).
[] Prepare that detailed list of all things you have of value along with the ownership information.
[] If you and your health care team have prepared a healthcare plan, have a copy available.
[] Have all your various insurance policies collected together.
[] Prepare that list of current beneficiaries of all retirement plans and insurance policies.
[] Tell your executor or a trusted friend or family member how and where to access this information. Be sure to advise them of all passwords necessary to get inside any computers, internet sites and cellphones.
4. Build Your Financial Care Team
I know that all this seems like a monumental task to organize, coordinate and administer. Just as people living with Parkinson's need a team of medical and care professionals to have the best outcome, this same concept applies to your financial planning. You should consider a team of financial care partners to assist you.
Who should you consider to be on your financial team?
Your financial team should include the following relationships:
Accountant (I prefer a Certified Public Accountant, CPA)
Attorney (I prefer one who specializes in estate planning)
Financial planner (I prefer a Certified Financial Planner-Professional, CFP®)
Investment advisor (many times this is also the CFP®)
Insurance agent (I prefer a Certified Life Underwriter, CLU)
Share your honest concerns with those professionals on your team who probably have years of experience assisting families in your situation. Now, someone on your team needs to be the coordinator of all these professionals. This part is crucial because these disciplines overlap and contribute to your personal estate plan. Of the professionals I have suggested, the CFP® is most likely to have the overall training, experience and background to be your "quarterback." Often, if you start with a CFP®, he or she can refer you to the others, if necessary.
5. Trust That You Can Do This
Yes, I know this all sounds like a lot of work, and it is. However, once you get organized and develop a plan with your financial care partners, you will feel peace of mind that is well worth it. The goal here is to get your entire financial house in order, simplify your financial life and make smart money decisions. That way, you can focus more on things you enjoy doing to live well today.
Leverage Online Financial Planning Parkinson's Disease Resources
Here are some online resources I recommend for planning for families with Parkinson's disease:
An excellent source for planning information is the National Institute on Aging: https://www.nia.nih.gov/health/publication/getting-your-affairs-order
Five Wishes: https://fivewishes.org/shop/order/product/five-wishes
Aging with Dignity: https://agingwithdignity.org/
Donald L. Haisman, CFP® is a Certified Financial Planner and Managing Director of Carnegie Investment Counsel in Fort Myers, Florida, and can be reached at DHaisman @ CarnegieInvest.com
Ready to Meet With a Financial Advisor?
Schedule an appointment today to learn more about how Carnegie can help with financial planning and wealth management.