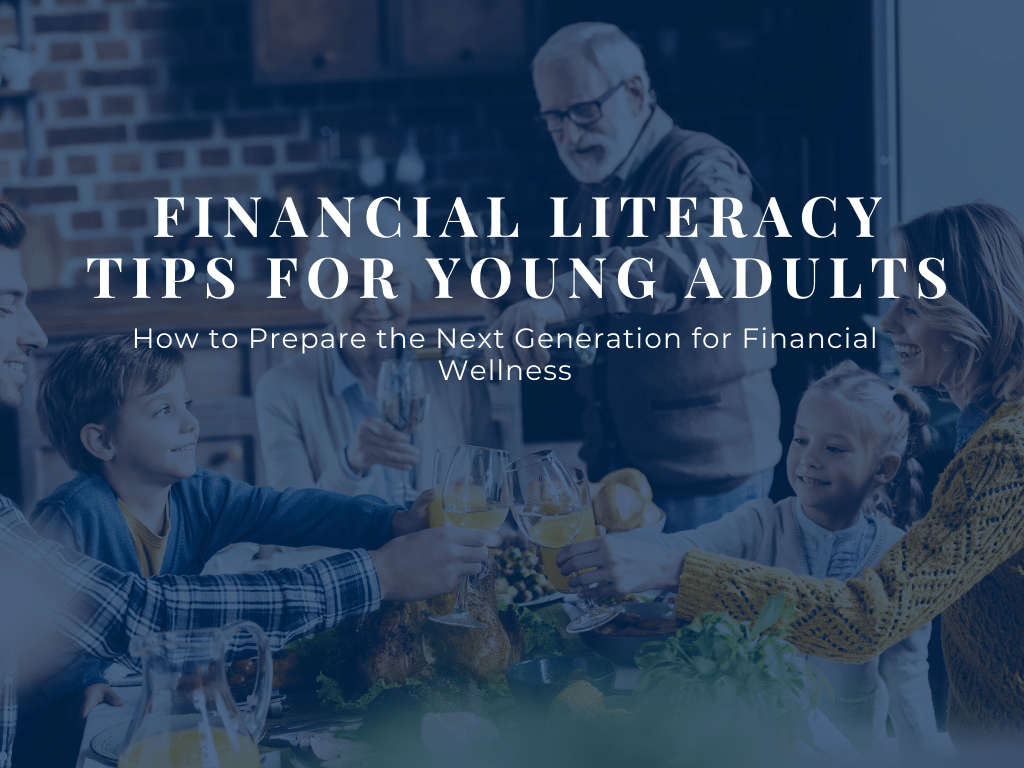 The upcoming holidays are a great time to share financial wellness tips with the young adults, grandchildren and young relatives in your life. As families gather, it is important to pass on stories and traditions. So why not the traditions of financial literacy as well? With accelerating college debt, the young people in your life may be most in need of guidance.

Here are some healthy financial practices to share this season:
1. Get rich slowly.
The majority of millionaires get their money over a long period of time. Sure, some make it big working for an internet start-up or winning the lottery, but don't count on it. Also, having a comfortable amount in savings doesn't just happen by accident. Most people start out with little or no money and began saving a little bit at a time. As their income grows, so does their savings. Don't expect to live large, but it's OK to live well. Enjoy what you do, make smart decisions. The rest will follow.
2. Share the wisdom of the quote by Zig Ziglar, "Rich people have big libraries and small TVs. Poor people have small libraries and big TVs."
Share with your family members the wisdom of continuing to invest in yourself with books and education, rather than flashy things TVs. Knowledge will make you more valuable and always in demand. If you are in demand, you will always be able to make a good living. We all have a limited amount of free time. Choosing to spend your time wisely is more important than any financial investment you can make.
3. Give the gift of your favorite financial book.
Share some financial wisdom by giving a financial book that meant a lot to you. The Millionaire Next Door: The Surprising Secrets of America's Wealthy by Thomas J. Stanley or The Broke Millennial: Stop Scraping By and Get Your Financial Life Together by Erin Lowery are two we suggest that bust some of the myths around wealth and some practical approaches towards financial wellness.


4. Set short- and long-term financial goals.
Setting goals and WRITING them down can be an effective approach towards achieving financial success. Help your child, grandchild or other young adult create these goals based on what you know about his or her situation.
Tip: Make goals measurable and realistic or they are not likely to be achieved. Also, include rewards as part of the goals such as a nice vacation or trip.
5. Encourage savings in a Roth IRA.
In the days before you had a mortgage, remember how far those first paychecks went? Encourage young adults to set up a Roth IRA. In most states, that can be done when your young adult is age 18, but in some states the age requirement is 19 or 21. If they are minors, you or another adult may have to open a custodial Roth IRA account for them. Custodial Roth IRAs are similar to standard Roth IRAs, but the minimum investment amounts may be lower.
6. Provide a matching incentive to encourage savings!
Like an employee wellness plan, consider providing an incentive to your young adults to reach their savings goals. Perhaps match their savings or round it up if they keep a certain balance in savings (or their IRA) for over a year.
7. Introduce your young adult to your financial advisor.
We are happy to meet with you and your relatives to share how savings and growing your money through proactive management works. For a teenager, we can talk about how the stock market works. For young adults, we love to share case studies of people who have done well by living within their means and offer tips for starting early.
We hope your holiday season is filled with warm conversations and helpful educational moments.