A recent survey indicated that the average person's digital estate included assets valued at over $65,000. Actor Bruce Willis has been reported as being in litigation with Apple over his ability to leave his daughters his 60,000+ selection iTunes Library. (Apple's policy has been that the music is licensed to you rather than owned by you so that after your death the library is extinguished). While this is extreme, your digital assets typically can include: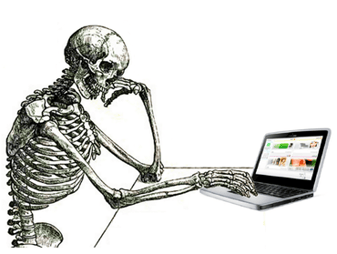 Downloaded Music & Videos

Frequent Flyer and Credit Card Points

PayPal and ApplePay Balances

Bitcoin

Personal Photographs, Videos, Scanned Images of Documents, Emails and Blogs

Prepaid Balances

Game Accounts

E businesses
Additionally, paper records are quickly becoming a thing of the past with on-line banking, on-line investing, and on-line bill paying. Imagine your family trying to deal with these issues after your death or disability without an up-to-date list of your accounts, User Names, ID's, and passwords. Photographs and important records of communication with loved ones could be lost forever.
There are also some things that you might not want accessible to your family or others.
For a very good compilation of policies to deal with the social media accounts of the deceased click here. The length of the list, differing requirements between firms, and the level of bureaucracy involved really demonstrates the frustration and amount of time involved in dealing with this task.
Open accounts of deceased individuals are often hijacked creating not only financial, but emotional problems. There are a lot of predators lurking on the web.
Is There an App for Online Death?
Yes. There's an app for that. Heretofore, the traditional advice was to create and keep an up-to-date a list of all your accounts, User Names, ID's, and passwords. The physical or digital vault copy of this list would be accessible to your executor. This person would be entrusted with dealing with saving or copying items for family and friends, deleting other items and dealing with accounts and bill paying.
What was once a short list, requiring a few hours of work, is now often a very involved and time consuming task. There have also been threats of legal action regarding items deleted by "digital executors" acting with good intentions but without specific written instructions (i.e. an executor that deleted digital collections that potentially had economic value to the heirs). There have also been cases also where parents have had to take legal action against such firms as Yahoo! and the like to preserve content of their deceased children's accounts.
There is a nascent industry of "digital undertakers" who, for a one-time or annual fee, will guide you through the formation of a plan for the disposition of your digital assets and presence. The largest of the firms are SecureSafe, Perpetu and DigitalUndertakers.com. All of these firms provide:
A guided online questionnaire that takes you through the construction of a thorough inventory of all online assets including accounts, User Names, ID's, and passwords.
Designation of what is to be deleted, who is to receive airline miles, who is to receive digital copies of photographs, etc.
In addition to your password to the site, an ID and password are created that you can include in your will or formal letter of instruction to your executor and/or heirs.
When your digital executor logs in with the special id and provides proof of death, the service can, as per your set instructions:
Notify by email anyone that you have asked to be told of your death (think of all the people that you may not have seen in years or never met in person but communicate with via text or email)
Copy and transfer photograph, document or email files from Facebook, Instagram, etc. to anyone that you have asked
Delete online files you have designated
Close or transfer to "In Memory Status" Facebook and other social media pages
Provide your executor instructions, account-by-account, for your financial accounts in terms of access, transfer and closing procedures
Provide your executor with a list of automatic deposits and bill pays that need to be cancelled
There are several cautions when using these firms. This is a very new field and whether all of the firms will exist in fifty years cannot be assured and whether they will live up to all of their promises is unknown. Data security by the providers of this service is critical.
This is continues to be an evolving area including as it regards to individual state laws. Putting a plan together now is nonetheless prudent.


Learn More...
Each month Carnegie hosts learning events we call Carnegie College. In the month of September we are discussing "The New Rules of Estate Planning." Click below to receive the link to the session video. You will receive it in your email the week following Septemeber 16, 2015.
Contact us if you would like to learn more, or have further questions. We are here to help!