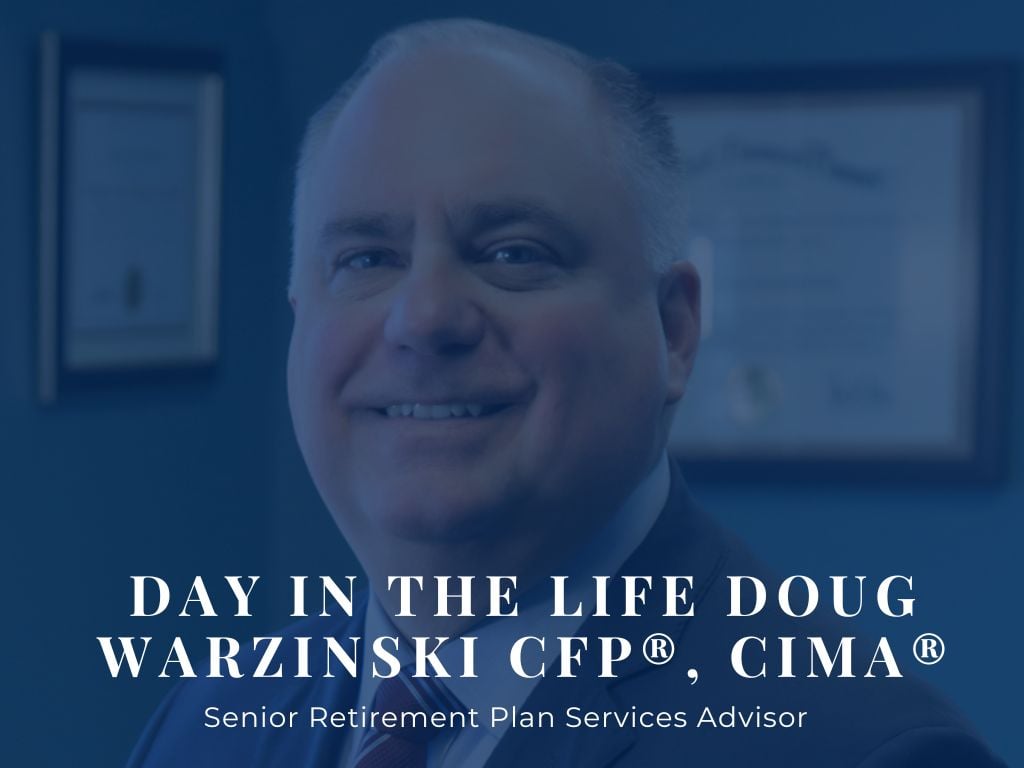 The retirement arena of the financial world can be tricky to navigate, for both employers and individuals. Retirement looks different for everybody, and plans provided by business owners come with plenty of fine-print details and considerations. It can seem daunting, to be sure, but retirement planning poses some of the most important decisions anyone can make. Doug Warzinski, CFP®, CIMA® is here to make it all connect seamlessly and responsibly as a Senior Retirement Advisor.
Here's more about Doug Warzinski, his background and what it's like to work with Doug on retirement plan services.
With 20 years of expertise in retirement plan design and wealth management services, Doug Warzinski helps corporate clients and retirement plan participants address their various financial needs. He's worked at Carnegie Investment Counsel since 2021. Doug earned his bachelor's degree in business administration with a marketing major from Ohio University, and he later attained the Certified Investment Management Analyst® designation and CERTIFIED FINANCIAL PLANNER™ designation.
When he's not at work, Doug enjoys spending time with his wife and their two daughters, coaching the girls' soccer teams and caring for the family Bernedoodle, Penny.
Simplifying the Process
Doug says one of the most rewarding parts of his job is seeing the weight lift from his clients' shoulders.
Retirement planning and wealth management are chock full of industry jargon, regulation and compliance requirements, and market interpretations.
"It's easy to get lost in the minutiae," he says. "Business owners tend to have a caring outlook over their employees and want to do right by them, but they don't have the retirement plan services knowledge. For example, how should they structure their plan? How can they ensure everybody benefits? How can they set up plans so that employees can help themselves?"
What Is a Typical Day for a Retirement Plan Services Advisor?
On a typical day, Doug helps provide counsel and assurance for his clients, the retirement plan participants and the business owners as well. He translates what's complex, makes it simple to understand, and helps support their decisions. Many days, he spends time with retirement plan participants directly, understanding their frustrations and locating pinch points that can be corrected. He also helps organization decision-makers connect the dots with their employees' needs for financial wellness, and, by extension, assists in the development of goodwill.
Keeping Business Owners on the Right Track
A key area of Doug's expertise is retirement plan compliance. He's well-versed in ERISA (Employee Retirement Income Security Act), which sets retirement plan standards for employers and ensures protection for retirement plan participants. He serves his clients by setting up plans so that they work properly, which, also, sometimes means cleaning up mistakes and overlooked details that other financial advisors have made.
Still, there are a number of additional concerns Doug tends to on behalf of his clients.
"I find there can often be frustration on the operations side," said Doug. "As I mentioned, the minutiae of details can diminish the excellent retirement plan benefits which should aid with employee retention and financial wellness. For example, challenges with payroll and reporting annual tax filings should be a seamless experience, but it can get bogged down without enough attention. We can help with that. There are a lot of ways we can help make everything more smooth."
Holding Steady, No Matter What
The job market is continuously shaped by a number of macro-developments and changes, felt on both individual and organizational levels. Doug stays engaged with and curious about his clients' needs and concerns. He cares deeply about how the decision-makers must contend with the ebb and flow of the professional population.
"It can be stressful," said Doug. "Now, more and more employers are competing for talent. Many employers don't fully realize how competitive their retirement plans and investments need to be until it's too late."
Despite changes in the job market, Doug focuses on holding the course. He helps employers design retirement plan services that are built to "absorb shocks," not unlike what we're going through today.
Retirement Plan Advice
Do you have questions about corporate retirement plans built for today's workforce? Contact us to schedule a consultation.
Need a Retirement Advisor?
If you are currently looking for help with retirement planning, contact us. We are happy to schedule an introductory meeting at your convenience.