Many of you from Northeast Ohio area are familiar with "Brady's Leap," if only from the eponymous Ohio Turnpike service plaza at mile marker 197. For those of you who are not native to the area or simply need a refresher of this legend, gather round.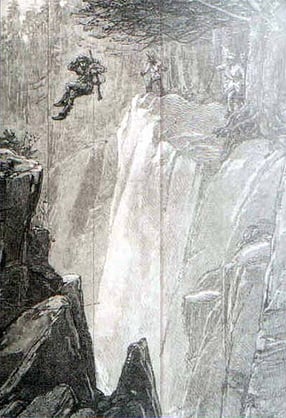 Captain Samuel Brady
Captain Samuel Brady came from a notorious family of American Revolutionary soldiers and fought alongside George Washington with his father and brother. Throughout the Revolution, the Bradys fought in every major battle. By 1778, the Bradys were deployed to man the frontier, then located in Central Pennsylvania as most of the country anywhere West of that was occupied by Indians. Many of the tribes throughout present day Ohio and Pennsylvania were aligned with the British and readily attacked settlers in the region. Gruesome attacks prevailed from both sides and Samuel's brother James and father John were killed by the hands of Indians in late 1778 and early 1779.
Samuel became the "Vengeful Indian Fighter" and spent the rest of the Revolution fiercely fighting Indians and spying on their activities in the treacherous region. Captain Brady's exploits were many, both heroic and horrendous depending on your point of view, but unarguably fearless as he balanced his need for revenge while rescuing victimized settlers from the hands of Indians.
His Capture
Ultimately, his fate was seemingly sealed when captured by a band of Sandusky Indians in Ohio after a failed ambush by Brady and his Rangers. Brady was kept alive so that the Indians could gather tribes to witness the death of their arch enemy. As legend has it, Brady was tied to a stake while small fires were kept in check around him so that his suffering would be great as his enemies arrived from all around to revel in his torture. His captors underestimated Brady's craftiness, and most certainly his resolve, as he broke free from the wrist restraints and to the surprise of his audience, seized the baby of a squaw and threw it into the fire as he bolted to the woods and made his escape.
His Escape
Being pursued through a "hundred miles of woods" by some very determined Indians, Brady dashed on, eating berries and roots as the chase continued. Finally, his flight led him to the Cuyahoga River near present day Kent, Ohio. As the story goes, Brady made his way to Standing Rock, the point where he could pass, but the Indians were there waiting on him. He changed directions reaching a point in the river where it narrowed to twenty to thirty feet wide but there, too, Indians awaited his arrival. He circled back into the woods to get a running start and gained speed head on towards the gorge. As he shot out of the woods, the startled Indians gazed in amazement as Brady bounded audaciously across the gorge. He reached the other bank, some 25 feet above the river bed floor, gathered himself and scrambled up into the woods, but not before being shot in the leg by a furious Indian. Brady's escape enabled him to widen the distance from his pursuers as he calculated his next move.
He was bleeding badly from the gunshot wound, leaving a trail of blood that would surely lead to his capture since his nearest safe haven was a good 100 miles away at Fort McIntosh in Western Pennsylvania. Knowing his choices were limited, he slipped into a nearby lake, now known as Brady's Lake, to hide. His lowered himself under some lilies and breathed through a hollow reed. The Indians tracked his blood trail to this point and waited and searched until they finally determined that he had drowned. Eventually they left; Brady emerged and made his way safely to Fort McIntosh.
The Adventure of Your Financial Life
While none of us (hopefully) will ever have to face anything as remotely dangerous as Captain Samuel Brady did, it reminds me of how challenging it can be to navigate our financial lives and what we can learn from his endeavors. Financial planning is not a one-time "set it and forget it" exercise. In fact, we think in terms of Living Advice whereby we assist you in terms of how your finances intersect with your life and your goals. It is a dynamic process that requires forethought, flexibility and sharing of information. Most importantly, it requires determination to succeed no matter what the markets, the economy or other external forces may present. Like Captain Brady, a prosperous and rewarding financial life is not so much about knowing your plan, it's about knowing your options.
Enjoy your Labor Day Weekend!