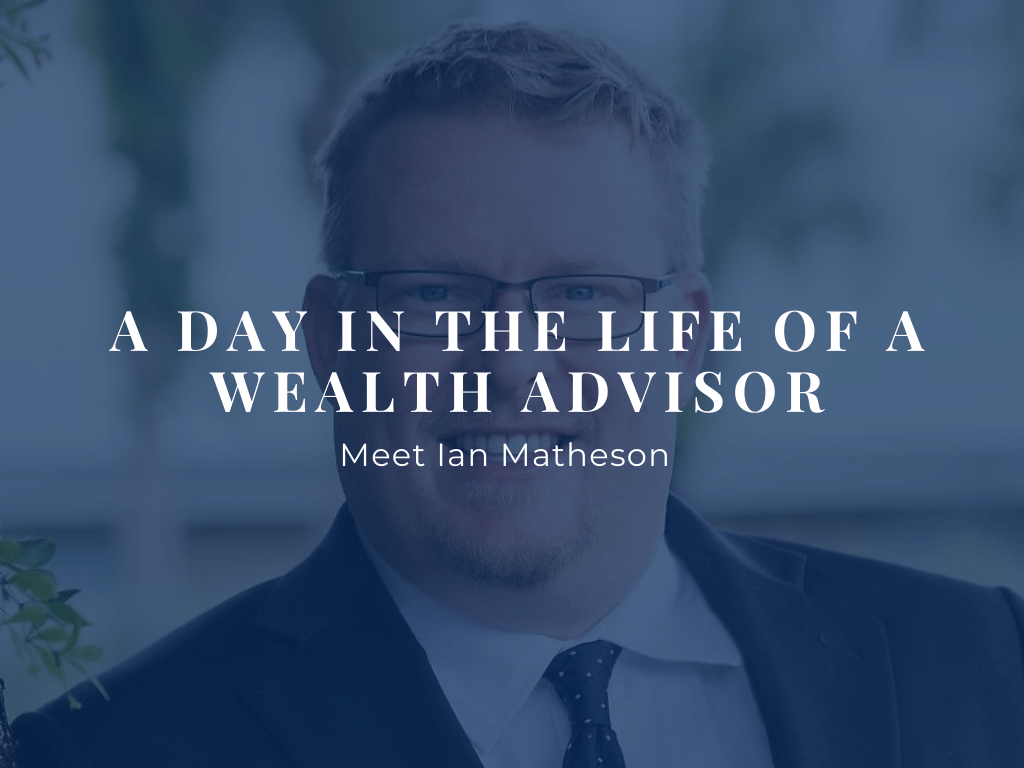 We continue our series profiling different financial advisors at Carnegie Investment Counsel with our wealth advisor, Ian Matheson at our Carnegie Investment Counsel office in Ft. Myers, Florida.

Pass Go and collect $200: Ian Matheson helps make it that easy to feel good about your investment strategy, with a little extra knowledge and dedication.

Ian Matheson grew up playing Monopoly, but he learned to work with real money at a young age. In fact, when he was in the eighth grade, he started competing with his father, Robert Matheson, to pick stocks and mutual funds. It's almost natural that he has been a wealth advisor for over 20 years now.
It's All in the Family
"I learned my love of the financial world from working with my father who was a CPA, Financial Planner and Investment Advisor," said Ian Matheson, wealth advisor at Carnegie Investment Counsel.

Matheson has looked up to his father and admired his financial work his whole life. He even credits his dad for taking him to his first financial class with Dave Ramsey at a very early age.

"We saw Dave Ramsey speak long before he was famous," Matheson said. "Following Dave Ramsey has been a big part of my success. I grew up reading Ramsey's books and listening to him on Sundays on the radio. I have completed the Financial Peace University and like to share the 'no debt' mantra with everyone I meet."

Learning at his father's side, Matheson always assumed he would work with his dad after completing his liberal arts degree. However, his father didn't make things easy for him. "My dad would not hire me until I proved myself elsewhere. It was quite a surprise. But, eventually I joined him in his firm and became a founding partner and CEO at Matheson Financial. Eventually, I decided to merge Matheson Financial with Carnegie in order to build upon their deeper resources. And I'm now proud to be a Wealth Advisor in Carnegie's Ft. Myers office."

Despite the long journey to get here, Matheson wouldn't change his degree if given the chance. He followed his passions at Bethany Lutheran College and recommends that young students get a degree they love. He is happy to have students shadow him. With hard work, he believes you can achieve any career.

Matheson's work style stems from the values his father instilled in him at a young age. "As my dad has always told me, you have to help everyone that comes to you with questions, no matter the money amount."
What Does a Wealth Advisor Do?
"I think people feel like we are here to sell them something," Matheson said. "But after I meet people, I hear a lot of great feedback that they love how I make it easy to understand finances and that we are obligated to put their needs above our own as RIA independent advisors. We are here to help and not sell them something. We want to help them reach their goals."

Matheson feels it is important to communicate that wealth advisors are not in business to profit from your losses or sell you something. "We want to help people who are trying to figure out how to save money, from college students to 84-year-olds. Advisors listen to their clients' financial goals and customize a plan to get them there."

Wealth advisors help educate people about finances as well, both in and out of the office. Matheson works with the Florida Gulf Coast University Financial Planning professors to help students understand the world of fiduciary investment advising. He also teaches Financial Peace University at his church.
Best Advice as a Wealth Advisor
Matheson gives this advice to anyone, regardless of where they are in life: "Do not buy something unless you have cash to buy it. The best way to save for retirement is to live under your means."

Ian recommends the book "Total Money Makeover" by Dave Ramsey. It gives an approach to living debt free. He says this is some of the best advice he has ever received. He is eager to point out that 93% of millionaires are self-made.

Thanks to his passion for helping others find financial peace, Matheson has become a wealth advisor determined to help people take control of their investments. With his experience, he has learned to dissect what is happening in a volatile market. "I advise clients to stay the course and focus on long-range planning, noting 'this too shall pass.'"

Outside of Carnegie, Matheson serves on his church's council and elder boards. He is the chair for Naples Germanfest, a member of the National Notary Association and a coach to local sports teams. He likes to fish, hunt and hike. Ian and his wife Laura have four young boys. He is one of the recommended Dave Ramsey SmartVestor Investing pros for the Fort Myers, Florida, area.
Looking for a Wealth Advisor for You?
If you are currently looking for help with financial planning, contact us. We are happy to schedule an introductory meeting at your convenience.