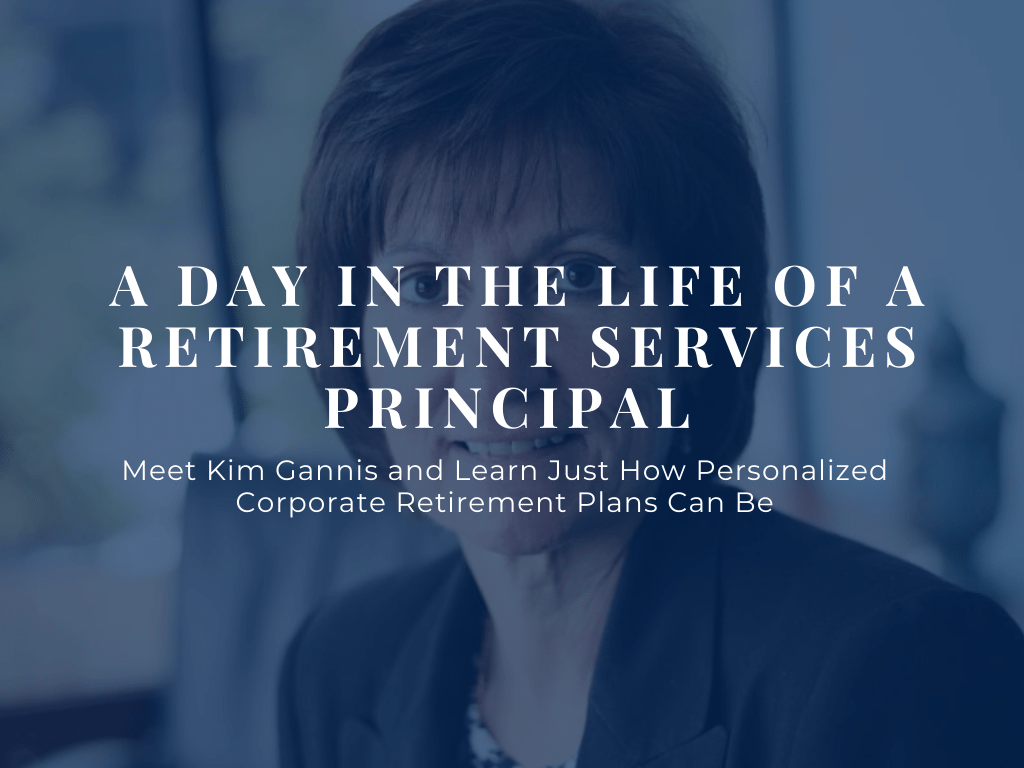 Kim Gannis, AIF®, is a Principal at Carnegie and Director of Retirement Plan Services and works in Carnegie's Pittsburgh office. She has been with the firm for six years. Kim earned her Bachelor of Science in mathematics from the University of Pittsburgh; she is also a designated Accredited Investment Fiduciary®.
"With my degree, I thought I was going to be a teacher coming out of school," Kim recalls. "I soon realized that I would rather poke my eyes out than be a teacher." She landed at Mercer as an analyst, then continued with positions at PNC Bank and American Century Investments. Her desire to understand the real side of money led to her move to Carnegie. She has been doing financial work all her life and plans to continue for the rest of her career.
Let's take a look at a day in the life of a principal and director of retirement plan services.
A Day in the Life
"My role is different from most of my peers on the retirement side as I work with large corporations," Kim notes. She deals one-on-one with employees, providing personalized corporate retirement plans; she estimates she serves about 1,300 employees. They call her with financial planning questions or specific 401(k) plan questions. She is able to help individuals make decisions with their best interest in mind.
"The most rewarding part of my job is working directly with employees at the companies we support," says Kim. "We are working together to 'secure a future paycheck' for the days when they will not have a paycheck coming in from their company. Our retirement plans are helping them to reach their goals to not have to work forever, or for longer than they want to, with that future paycheck.'"
Kim hopes that when people meet her for the first time, they understand she is there to help them. "There is nothing more rewarding than helping someone without an understanding of how finances and 401(k)s work, to help them understand. I really enjoy sharing information with people, helping to educate them if you will, and helping them be successful in retirement."
In a funny twist of fate, it is interesting to note that Kim ended up, in a way, being a teacher and educator after all.
Preparing for the Future
"One of the most prevalent concerns I help to alleviate when meeting with people is fear of investing because of market uncertainty. There is widespread fear that the market is going to tank, and stocks will go away after having been in a bull market for so long." She works to help clients understand what the market has done over the long perspective of the last 80 years, then she takes it back to products.
"I share with people, look at the products in your home. They are made by companies like Johnson & Johnson, or look at your bank where you bank. I reassure clients about these companies…that they provide products and services we use every day. And that investing in the market is investing in these companies."
When asked what the best financial advice she ever received, Kim shared, "Put money away. It's the best way to prepare for the future, even if the future can't be perfectly predicted."
Serving Others
The concept of compound interest is one of Kim's favorite principles to share. People starting at a young age can learn how it works in their favor. "When people say to me, 'I never thought I would have all that money in my 401(k) plan,' that feels very rewarding."
Debunking Myths
Kim feels the biggest mistake people make when it comes to finance and investments is not starting to save early enough. "Even saving just $10 or $20 out of each paycheck adds up," She said. "Start with a little and stay the course for the long run."
Kim is dedicated to bettering the lives of those she interacts with, in the office and beyond. In her free time, Kim enjoys golfing and spending time with her two young grandchildren. After opting for a career in finance over teaching, she gives many kudos (and wishes the best of luck) to the teachers that will educate her grandkids.
Carnegie's personalized corporate retirement plans don't end with management: Partners just like Kim dedicate their work to providing ongoing financial coaching to employees. Carnegie provides retirement services to a variety of industries, including business owners, foundations and religious entities. Contact Carnegie Investment Counsel today to get started.
Need a Retirement Advisor?
If you are currently looking for help with retirement planning, contact us. We are happy to schedule an introductory meeting at your convenience.