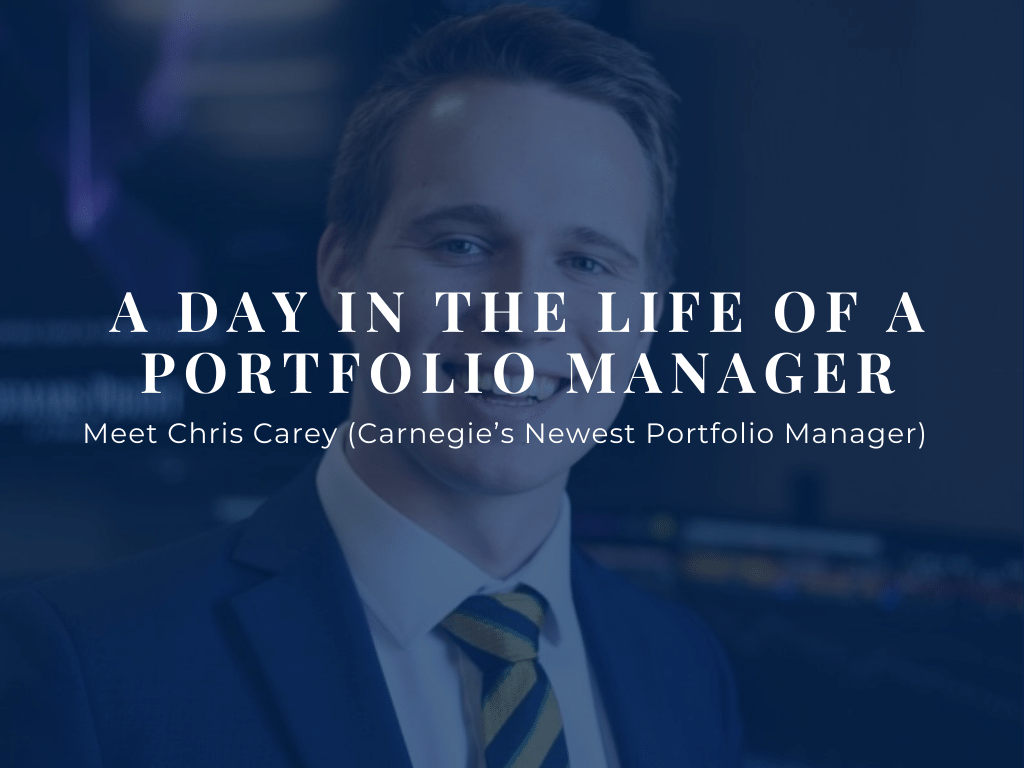 We continue our series profiling different financial advisors at Carnegie Investment Counsel with our newest portfolio manager, Chris Carey.

According to Chris Carey, portfolio manager at Carnegie Investment Counsel, the jobs you do in life may provide an even greater education than the theories you learn in school… even the internships and work experience you may do for free.

Carey didn't go to school with the intention of going into finance. He was interested in the food industry after working for an upmarket grocery store, Waitrose, in his hometown of London, England, during his time at high school.
An Uncommon Background for a Portfolio Manager
"In England, where I attended university, you have to declare your major on day one," Carey said. "If you change your mind, it means you have to start over. In my third year, I did a year-long internship at DLL (a subsidiary of Rabobank) and discovered my strong interest in finance. At that time, a professor also took me under his wing and helped me enroll in market related classes to change majors and to set me up for a career in markets, as well as help me get some great contacts in the industry."

During his time at university, Carey also received a Level 5 Advanced Diploma in financial trading from Divento Financials (a proprietary futures trading firm).

"I tell young people looking to get into this field that, of course, you do need the fundamental classes, but experience will teach you even more," Carey said. "When I wasn't at university, I would spend time during the holidays at the firm trying to absorb as much information as possible from the brilliant people I was surrounded by. This helped also make connections in the real world which served as a springboard. I advise people to go out and get the experience, paid or unpaid. Don't turn down unpaid opportunities, sometimes that is where you gain the best experience and knowledge."
What Does a Portfolio Manager Do?
In Carey's words, a "portfolio manager is someone who finds the best securities that fit within clients' risk tolerance to help them achieve their investment goals."

In a similar vein to doing extra work for experience, when Carey started working in investment management at Carnegie Investment Counsel, he noticed the need for a daily internal market update to keep everyone in the firm on the same page.

"Every morning, I look at the previous day's earnings reports, analysts' commentary, economics updates and business news about the companies we focus on," he said, "and I write a market recap which goes to everyone in the firm."

Carey feels this experience of jumping in as a new portfolio manager has helped establish his voice at Carnegie.

As a portfolio manager, Carey's day involves research, client meetings and discussing new ideas with the team as the newest member on the Carnegie Investment Counsel Investment Committee. As the backup equity trader and fixed income trader for the firm, his day also includes interacting with brokers, researching and buying fixed income securities for clients' portfolios.

"One thing I love most about this industry and my job is that it is constantly changing and you always have to adapt. Every day is day one," Carey said. "What's also deeply rewarding, beyond helping clients meet their goals, is meeting new clients and being around so many successful people. I always learn something new from every client conversation."
Best Advice as a Portfolio Manager
Carey offers a new and fresh answer to the question of when you should hire a financial advisor: "As soon as you start earning money, that's the right time to enlist the help of a financial advisor, specifically a financial planner, and at least have a conversation," he said.
"They say, 'The best time to start is yesterday, the second best time is now.' The steps you take in the first 10 years can help you be set up for life and have much better outcomes than if you wait until later in life or until you reach a particular life event or income threshold."

From his unique background, Carey has established a new millennial voice and brings a unique perspective to portfolio management.

As always, we welcome clients and their family members who would like to learn more about a day in the life of being a portfolio management, financial planning, research or other financial services professional to schedule a call with their advisor. We love to share what we know and to help increase the financial knowledge of all in any way we can.

Outside of Carnegie, Carey is the vice president of the British American Chamber of Commerce of Ohio where he seeks to promote and stimulate trade and business between the USA and the UK. He can also be found volunteering his time at Garfield Memorial Church, long distance running and drumming.
Looking for a Financial Advisor for You?
If you are currently looking for help with financial planning, contact us. We are happy to schedule an introductory meeting at your convenience.