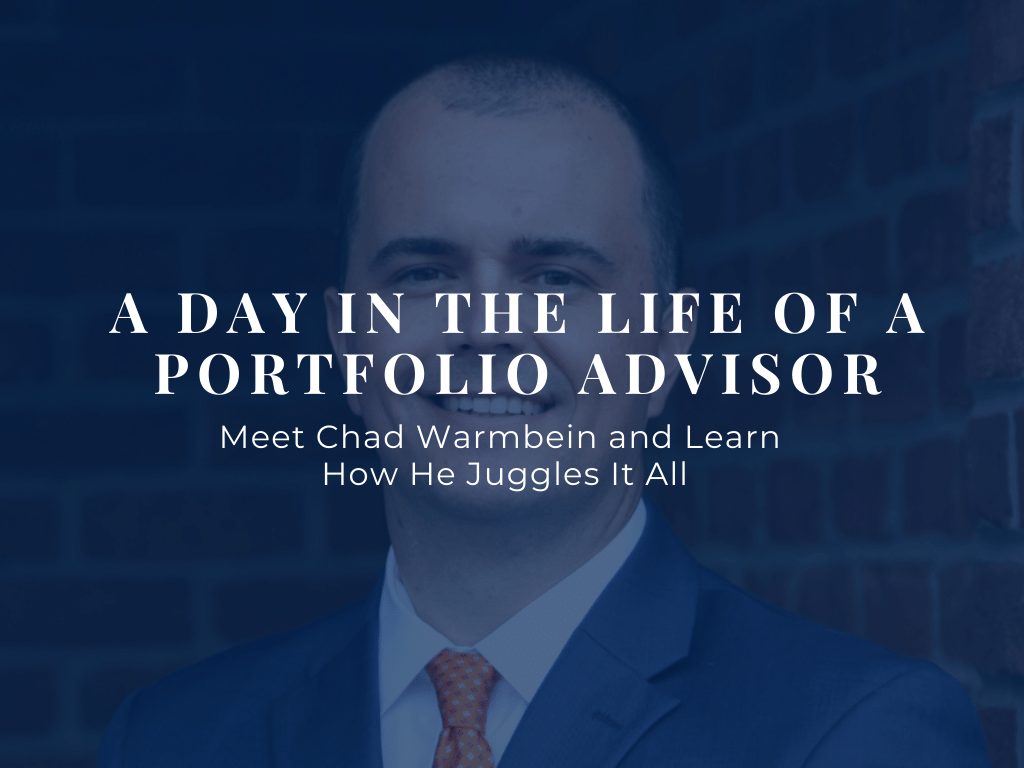 Chad Warmbein has been a Portfolio Advisor at Carnegie's Pittsburgh office for six years. He is passionate about helping clients create a customized financial strategy aligned to their financial goals. Plus, Chad helps work with prospective clients both for individual wealth management portfolios and retirement services plans. In this blog post, we meet Chad and learn about his Portfolio Advisor role.
Go Bobcats
Chad earned his Bachelor of Business Administration in finance from Ohio University and feels the school prepared him well by offering a variety of classes. "I have to credit my public speaking teacher for starting me on the path to being a public speaking pro," says Warmbein. "Today with engagements of five to 75 people in a typical week, I have to be ready to listen, understand and provide helpful information for many people. Who knew public speaking would be so important in a financial field?"
Even though accounting wasn't his favorite class, it was one of the most impactful in terms of preparation. "Both accounting and finance classes prepared me for the real world, both personally and professionally. Interestingly, back in 2009, while part of Ohio University's Integrated Business Cluster program, my team of peers and I were asked to solve the question, 'How would you change Blockbuster's business model?' That was a memorable challenge to which "Netflix" would have been a good answer. I highly recommend finance and accounting classes to any young person interested in this field."
What Advice Would You Give to Young People?
For a young person interested in the financial management field, Chad's advice is to study hard and get into the best business school. For an internship, he recommends finding a good mentor. He interned at an insurance company as well as later working alongside his father, Keith Warmbein. "To get the most out of the mentor relationship," Chad says, "listen closely to what they have to say and reflect on the advice from your own experience. Most of all, create good relationships with good people. This business has a lot to do with the relationships you create over the years."
Beyond Portfolio Advisor
Chad wears a lot of different hats in the office. He calls himself a "client service, relationship manager and portfolio advisor." On a day-to-day basis, Chad helps with relationship management, sales, onboarding new clients and client meetings with Director of Retirement Plan Services Kim Gannis. Every day, Chad works with individuals on their 401(k) as part of the Corporate Retirement Plan Services here at Carnegie. "When in-person functions resume, I look forward to in-person investment reviews and meetings with participants again. I also work a fair amount with retirees, dividing my time evenly between our corporate and individual retirement planning services here in Pittsburgh."
Along with his other duties, Chad is working toward becoming a CFP® (CERTIFIED FINANCIAL PLANNER™). The program can take a year or two, plus studying and preparing for the test. Wish him luck as he takes the test in July!
For the People
Chad says the most rewarding part of his job is helping people get the right financial advice and reach their goals.
"I enjoy helping people out the right way. We do things the right way. I was taught to treat people the way you want to be treated and getting results is rewarding."
With his work for corporations, he enjoys helping employees with investments, consolidating student loans and getting out of debt.
"When people go through significant life events they often turn to financial advisors and planners. I worked with a woman whose husband had passed away. The couple's retirement plan was disjointed and things were in multiple places causing unnecessary stress for the widow. Our team helped get everything in one spot and we still hear from her often. That's rewarding."
What Can a Financial Advisor Do for You?
Most people, Chad explains, turn to a financial advisor when they start their career and become part of a 401(k) for the first time.
Other people look for a financial advisor when they start planning to retire. "For some people it seems the five-year shot clock starts when they are five years from when they want to retire," Chad says. "A lot of people are worried they don't have enough money for retirement. A financial planner can help you decide how much to contribute to a 401(k) or IRA."
Other people first seek financial advice during an emergency. This could be physical damage to property, suddenly inheriting a 401(k), losing your job, dealing with volatile markets or even winning the lottery.
"In the past year and a half," he points out, "the market has been very volatile for many reasons. I help people 'stay the course,' and we also like to help people plan to save for a rainy day with rainy day funds.
"Also, many people don't know how to leverage the financial advisor resource that may come with their corporate retirement plan," Chad says. "I encourage people to leverage that resource fully."
Outside of Work Hours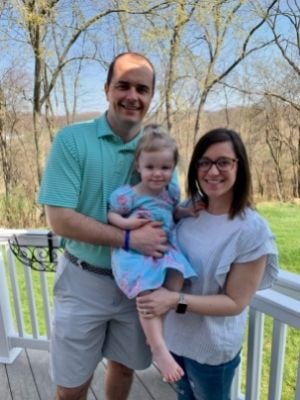 Outside of work, Chad and his wife Dana have a daughter and another child on the way in August of 2021. He enjoys playing golf when he gets the chance and traveling.

If you're ready to talk with a financial advisor, contact us for a quick and confidential consultation.
Need a Financial Advisor?
If you are currently looking for help with financial planning, contact us. We are happy to schedule an introductory meeting at your convenience.