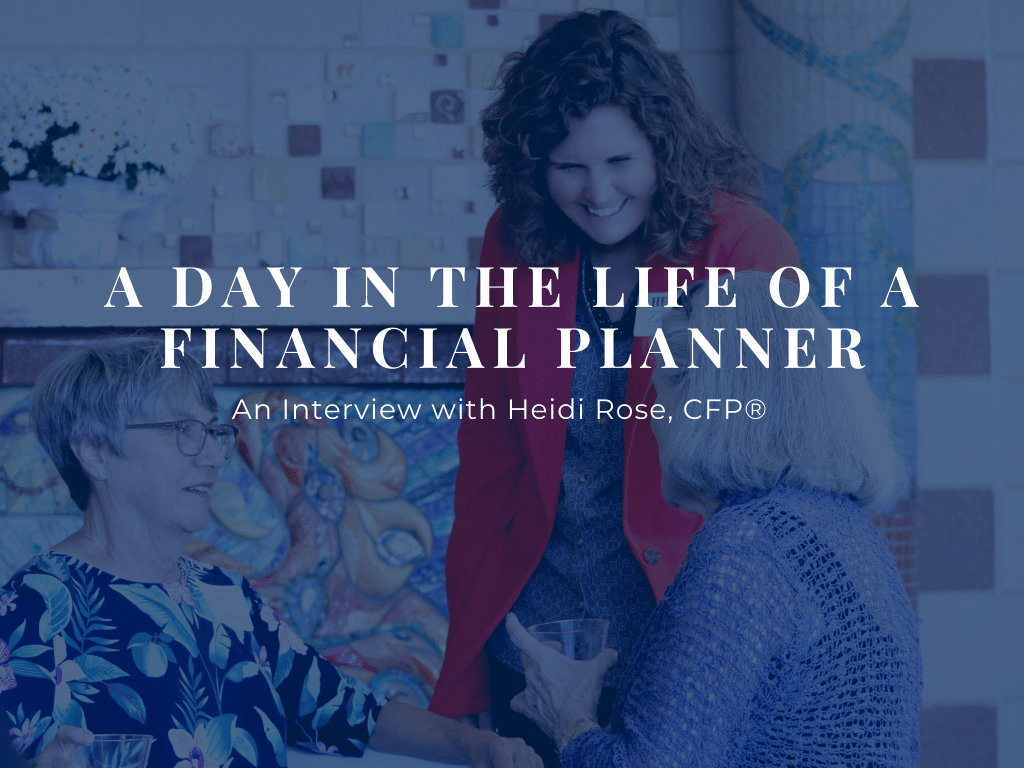 As part of a new series, we share more about our financial advisors. In this article, we interview Heidi Rose, a CERTIFIED FINANCIAL PLANNER™. At Carnegie Investment Counsel, every office location has access to a CERTIFIED FINANCIAL PLANNER™team member through virtual teams. Here is our interview with Heidi Rose:
"Everyone needs financial advice," says Heidi Rose, CERTIFIED FINANCIAL PLANNER™ with Carnegie Investment Counsel. "Whatever age or station of life, everyone needs an understanding of their goals and how to achieve them."
Finances are an area that requires continuous work throughout a person's life. A financial planner helps clients coordinate their investment portfolio with their big picture financial life. This often includes understanding or helping to develop retirement plans, estate plans, risk tolerance, taxes and insurance needs.
What Does It Mean to Take a 'Big Picture' Approach to Finances?
"Before we can help someone with their investments," Rose says, "We step back and understand the person we are working with; their needs, goals and priorities."
When Heidi Rose started working as a financial planner, she observed that "so much of our views about investments and money are rooted in psychology and past experiences. Each client is distinct, and their financial plans need to align with who they are. Money and investments are a tool, and the tool helps people achieve their goals."
More Than Dollars and Cents
"A common misconception people have about financial advisors is that it's all about the dollars and cents," says Rose. "People seem to naturally associate the work of a financial advisor with that of a broker, whereas, in reality, the jobs are different. Financial advising is not executing trades directed by a client. Financial advising is applying research and knowledge to help clients achieve their goals. It's often coordinated with an overall financial plan that coordinates a client's appetite for risk, retirement saving/planning, longevity planning, planning for legacies, taxes and insurance. The pieces come together like a puzzle, each piece should fit with the other pieces."
To account for all these factors, financial advisors cultivate very personal relationships with their clients. Rose explains that her favorite part of the job is working with clients and seeing them reach their goals over time. One of her clients has been with Rose for over 15 years, and she saw this client through planning her retirement, buying and eventually selling a vacation home, remarrying and relocating. Rose is now helping coordinate college savings for the client's grandchildren.
"Helping our clients achieve their goals in various stages of life is very rewarding," Rose says.
A Financial Advisor's Typical Day
"Each day is different," Rose says. She begins each day by taking in the market news. She stays in contact with clients through calls and emails. Her days are often filled with client meetings, portfolio evaluations, planning for retirement, long-term cash flow projections, working more in-depth on investments, spreadsheets, coordinating investment accounts with estate plans and helping clients plan for the next stages of life.
Even though COVID has changed so many aspects of our lives, the financial plans and the portfolios that help achieve these plans continue to need time and attention according to Rose.
"Although the market is currently volatile, the portfolios we create are made to weather the storms," she explains. "Our relationships matter-- especially in times of market volatility, when people need reassurance that the plans and portfolios we've developed expect bumps along the road."
Looking for a Financial Advisor for You?
If you are currently looking for help with financial planning, contact us. We are happy to schedule an introductory meeting at your convenience.