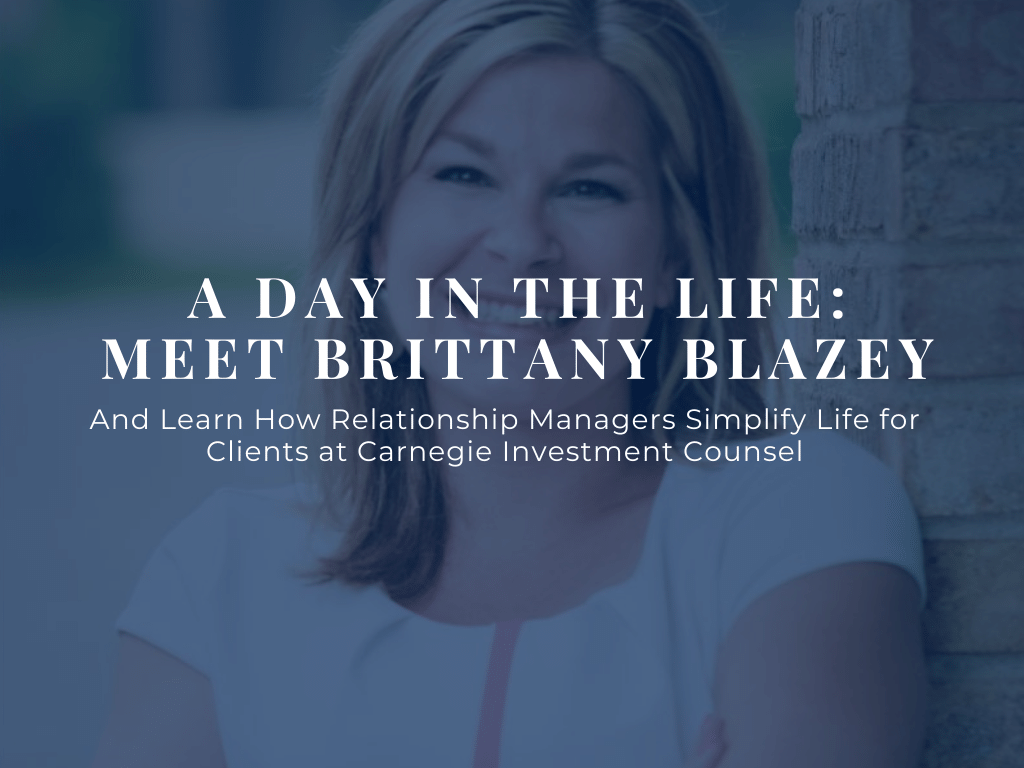 Brittany Blazey loves to think of ways to make her clients feel valued. Her role as the Relationship Manager at our Toledo Office is a perfect fit for a person with a heart for taking care of clients.
A Perfect Career Path
Before joining Carnegie, Brittany Blazey worked in retail and commercial banking for over ten years. Her experience in that field has helped her make our Toledo office more interconnected, with her deep understanding of how a portfolio manager helps clients accomplish their goals. Her knowledge on both sides of the industry helps bring value to her client relationships and the Carnegie team. "The right hand knows what the left hand is doing," Blazey explains.
What Does a Relationship Manager Do?
"As a relationship manager, I'm the first point of contact for the client and the liaison between clients and the portfolio manager," Blazey says.

Relationship Managers are tasked with three jobs: client support, client management, and client retention. Daily work may include:
Answering client questions.
Setting up meetings between clients and advisors.
Corresponding with clients regarding their investments.
Relationship Managers seek to connect the firm with ideal relationships while also addressing existing valued clients' financial needs. They must know their financial service industry inside and out. Particularly, they must be in tune with a portfolio manager's role and responsibilities. The client service manager or relationship manager must also be deeply aligned with the client's individual goals.

At Carnegie, Blazey is part of the client relationship from the very beginning conversations, all the way through supporting the client's financial needs and requests on a day-to-day basis. An essential part of her job is guiding clients through the transition to Carnegie and taking any stress out of the process.

"I make it as painless as possible to transition to Carnegie. We know it can be frustrating and time-consuming to change financial advisors," Blazey says. "But here we make it streamlined to onboard with us." She believes you should not need to feel overwhelmed to partner with a Registered Investment Advisor such as Carnegie Investment Counsel.

Her daily work with clients may involve requests to move or withdraw cash. "When people retire, they don't have that usual paycheck anymore," Blazey explains. "Some people like to set it up in retirement, so a certain amount of their savings or interest is deposited into their account each month in the same way as a paycheck of old. That's part of what we can take care of for them."

The Onboarding Process
The onboarding process is one place where Blazey especially helps people feel at ease. "Changing financial advisors can feel daunting," she says. "But as a relationship manager, we can make it streamlined for people and walk them through the process of changing financial advisors to Carnegie Investment Counsel."
How She Helps Clients
Brittany Blazey works tirelessly for the benefit of her clients. "To me, the client experience is the ultimate focus. I want them to know that I am here. I am their trusted relationship manager; when they pick up the phone, I will answer, and I will get back to them right away. I am available to help their experience continue without a hitch, whatever they need."

She is always on the lookout for ways to delight her clients. She knows the power of listening to build relationships based on trust and value. "Helping and serving my clients is most rewarding; knowing that they know that they can depend on me. It is really very simple."

Blazey and her family volunteer for numerous organizations throughout the Toledo area. Away from the office, she can be found cheering on her children at one of their family's many sporting events.
Looking for a Financial Advisor for You?
If you are currently looking for help with financial planning, contact us. We are happy to schedule an introductory meeting at your convenience.