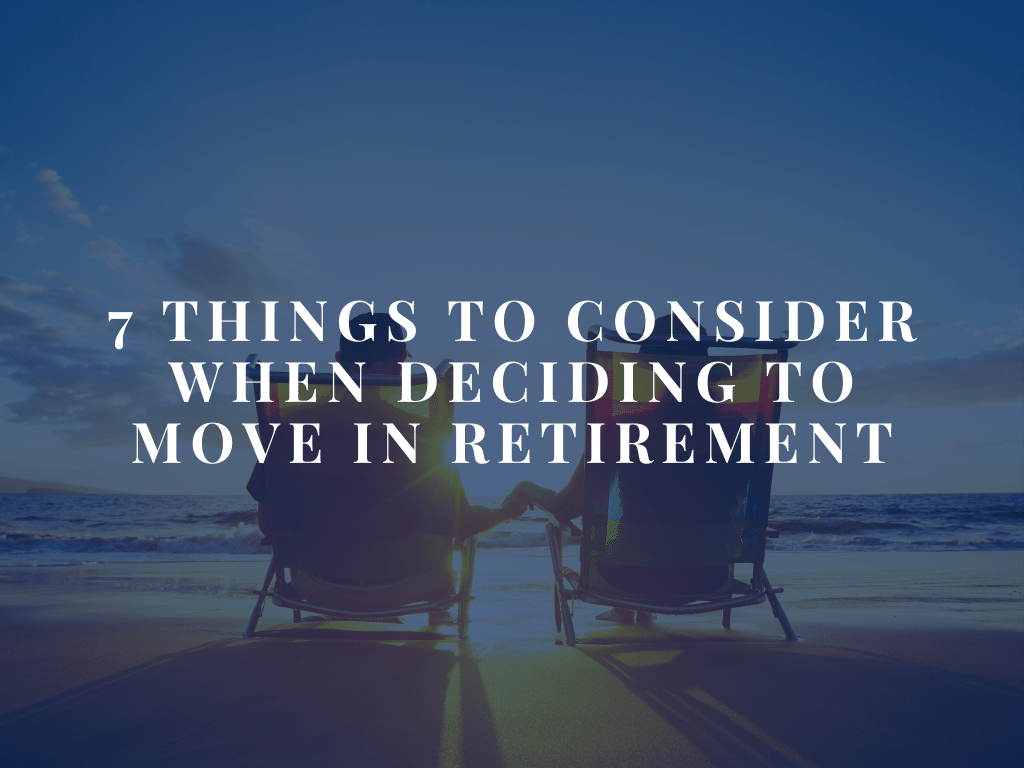 Smiling faces…sunny places. You've seen the pictures of those folks who appear to be in their 60s or 70s hanging out at the pool or walking on the beach. They live in a climate that the local chamber of commerce touts in all their advertisements. You wonder if this could be you in an ideal retirement scenario.

In general, family responsibilities and employment opportunities are the biggest determinants of where people live. As you approach retirement age, though, these factors may diminish in importance. In fact, retirement may represent a new level of freedom to choose your residence that you never had before.

But there are many questions you, or you and your spouse must answer before the moving truck arrives to haul all your worldly possessions to a new address.
What considerations should you ponder before you move? What factors will help guide your decision? Even when you conclude that a move to a new location is your best choice, what might hold you back?
Taking Stock and Setting Priorities
When deciding to move in retirement, a good starting point is taking an objective look at your goals and relocation options. If you have a spouse, have a frank discussion of your mutual goals in retirement. What do you like and dislike about your current location? Will all of the things that make you comfortable and content today be available at your new address?
Research conducted by a team at the University of Pennsylvania in 2016 identified seven priorities that are the most important to Americans heading to or already in retirement: health, home, family, leisure, work, giving, and finances.

Creating your own list of what is important to you and your significant other will lay the groundwork for your discussion on moving. One approach would be to divide the list above into two categories: quality of life and financial matters.
Quality of Life Considerations Before Deciding to Move in Retirement
Consider sitting down with a pen and paper over lunch and asking these quality-of-life questions.

1. Health: Are we healthy enough to contemplate a major move? How easy will it be to access quality medical care at a new address? How far will we have to drive to see our primary care physician or a specialist?
2. Home: What are our dream retirement locations? What are the pros and cons of those locations? Would we consider a move to another country? What does that healthcare landscape look like in our dream location? Suppose we are considering a location outside of the U.S. Would our medical insurance be accepted in Latin America or on a Caribbean island, for example? What about Medicare?
3. Family: Are we willing to depart from a large extended family if we have one near our current locale? How important is it to be close to children or grandchildren? Are occasional visits adequate (or maybe even preferable)? Will a potential move allow us to follow a family member to a desirable location?
4. Leisure activities: Will we be able to establish a new social network? What hobbies are important to us, and will they be available in a new environment? What are the cultural amenities? Nightlife? Would we consider a rural location?
Work, Giving, and Financial Considerations When Deciding to Move in Retirement
The largest consideration when weighing whether to move in retirement will be if you can afford to relocate. A thorough discussion with a financial advisor would be a great first step. Some areas to discuss will be the following.
5. Financial: What is our financial status with regards to housing and daily living expenses?
Do we need a more affordable home or one that is simply easier to maintain?
Some people will consider more expensive locations than their current arrangement. Other retirees may look to lower their housing costs and general living expenses with a move. Without a family to shelter and support, you may consider "downsizing" to a more modest residence. According to a 2018 study by Harvard University, 78.7% of households age 65 and over own their homes.
Would the gains from selling our home cover renting?
While many retirees appreciate the security of homeownership, some will find that their willingness to consider renting could make it easier to move to a new locale. Since Congress enacted the Taxpayer Relief Act of 1997, you can sell your primary residence exempt of capital gains taxes on the first $500,000 if filing jointly. This IRS treatment will allow many Americans to go from homeownership to renting with a minimum of financial pain.
6. Work: Reaching retirement age won't necessarily mean altogether leaving the workforce for everyone. Many wonder how they will remain engaged and productive when they walk away from their chosen profession. Job opportunities can be a consideration when scouting a new hometown. Will you need income? Will you need a challenge?
7. Giving: Retirement can be an ideal time to give back. From faith-based organizations to causes that you have been working on in your leisure time, giving can provide a great way to find fulfillment in retirement. Will your new retirement community offer ample opportunities to get involved in charitable causes or events? Will there be places where you can donate your time and energy? Searching out nonprofit organizations in your ideal community can be an important part of your considerations.
Conclusion
There are many issues to consider when it comes to retirement, including whether to relocate to a new address. Take the time to review all facets of a move, whether they are financial matters or quality of life questions. Make sure you have a candid discussion with your family in order to make a thoughtful decision that allows you to make the most of your newfound freedom.
Looking for a Financial Advisor?
If you are currently looking for help with financial planning, contact us. We are happy to schedule an introductory meeting at your convenience.
Disclosure: This was prepared by Carnegie Investment Counsel ("Carnegie"), a federally registered investment adviser under the Investment Advisers Act of 1940. The information is provided as of the date indicated and believed to be reliable. Carnegie assumes no obligation to update this information, or to advise on further developments relating to it. This is prepared for informational purposes only and should not be construed as personalized tax or investment advice. Carnegie does not provide tax advice or services.