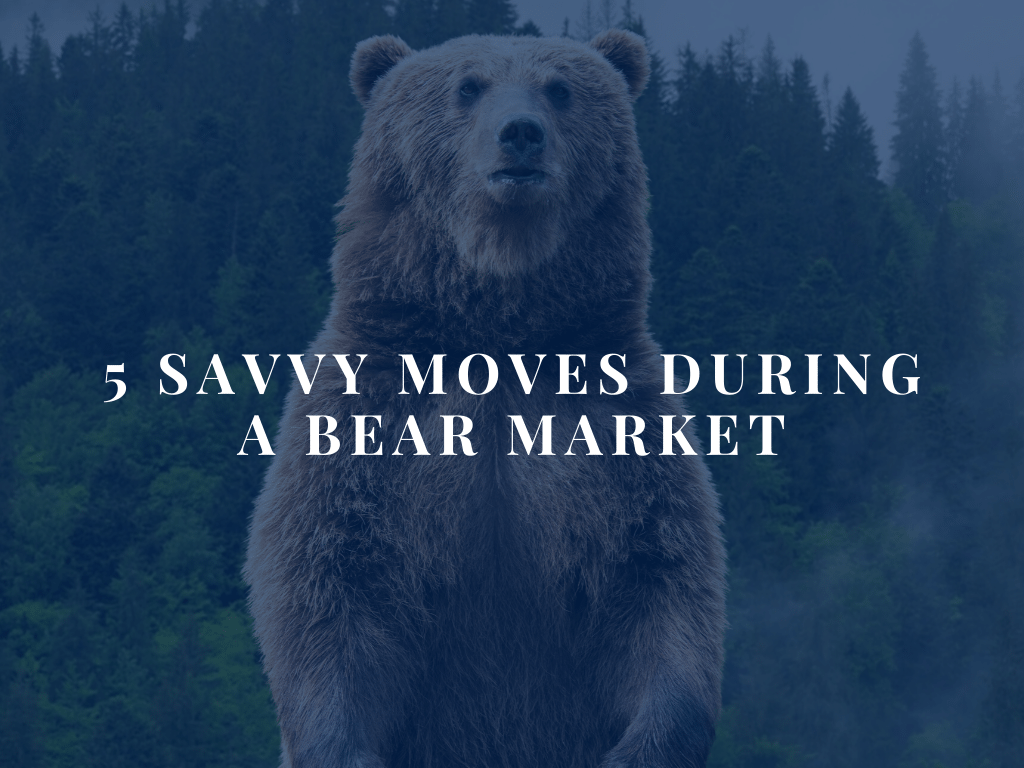 What should we do in a bear market? That's the question we've been hearing a lot these last few days. Here are five ideas for things you can do right now to set yourself up for success in the days ahead.
1. Convert Your IRA to a Roth IRA
As of the writing of this, the Dow Jones Industrial Average and the S&P 500 Index have both dropped since their highs earlier this year. Therefore, your IRA account is likely valued lower than it was just a short time ago. The good news is that if you convert your IRA to a Roth IRA now, your tax bite will be a lot less as well. The Roth IRA is a great gift from the government since it allows you to withdraw funds in the future tax-free, leave a tax-free inheritance to your heirs and you aren't subject to required minimum distributions like a traditional IRA. You need to take a few things into consideration, such as: if you have the money to pay the tax bill today, your current tax bracket and your expected future tax bracket. As always, consult a professional for advice on your situation.
2. Waive your Required Minimum Distribution for 2020

Due to the passing of The CARES Act, if you are subject to Required Minimum Distributions (RMDs) from your retirement accounts, you are permitted to forgo your Required Minimum Distribution for Tax Year 2020 in what is being called an "RMD holiday." If you turned 70.5 years old in 2019 and have not yet taken your 2019 distribution, you can waive the 2019 distribution as well. Also, if you have already taken a distribution for 2020 and would like to waive it, you may be able to return the funds to your IRA as long as the distribution is returned within 60 days from when it was taken in what is called an indirect rollover, and provided you have not made any other indirect rollovers in the past year. However, if you are a retiree who depends on your retirement account withdrawals for basic needs, the "RMD holiday" is not something you need to worry about.
3. Tax Loss Harvesting
Market pull-backs are a good time to realize tax losses on taxable accounts. Whether you are rebalancing your asset allocation or pruning losers, you can use those losses to offset current or future gains. You can reinvest the proceeds in a different security so you remain invested and do not miss appreciation that might occur along the way. It's critical to take into consideration the "wash sale rule" which limits the ability to take the loss if you trade the same or very similar security within a 60-day window.
4. Consolidate Accounts and Reduce Fees
Fees and convenience always matter. However, this seems to be more obvious during a recession. Check your brokerage account for fees, especially hidden ones that might not be obvious. Unnecessary commissions, hidden mutual fund charges, IRA account fees and fees for other transactions typically can be reduced or eliminated by moving your account to a national discount brokerage. Also, consolidating accounts offers more convenience and an easier way to assess your overall net worth and asset allocation.
5. Increase 401(k) and HSA Contributions
While this might be tough for some, if you are able to increase your 401(k) contributions you are likely buying more shares at lower prices. Also, if your employer offers a match, you instantly benefit. If your employer offers a health savings account (HSA) and you haven't been using it, now might be the time. Contributions to an HSA are pre-tax and withdrawals are tax-free as long as they are used for qualified medical expenses.
Need to Meet With a Financial Advisor?
Schedule an appointment today to learn more about how Carnegie can help with financial planning and wealth management.