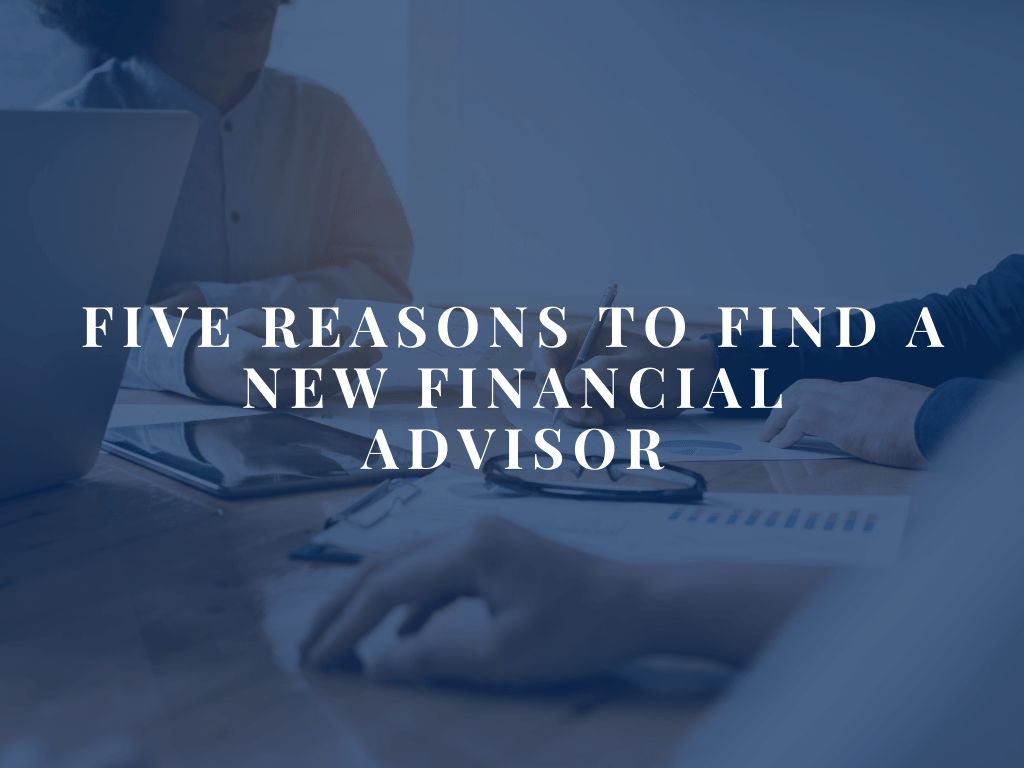 Your relationship with your financial advisor is important. The knowledge and guidance your advisor provides has an immense and measurable impact on your life, family, and legacy. Like all relationships, contact with your advisor may ebb and flow over time. But when your wealth is on the line, a partnership that's anything but solid should be non-negotiable.

There are several reasons why people part ways with their financial advisors. Sometimes the most optimal solution for both parties is to close the chapter and begin a new one. If you find yourself in any of the following scenarios, it might be time to find a new financial advisor.
1. Lack of Clear Communication
Communication is of the utmost importance when it comes to managing money. When you're strategically planning the direction of your finances, it's imperative that you establish a clear-cut communication pattern, one that you can rely on and one that feels trustworthy. Your advisor should accurately interpret your needs, provide guidance based on those needs and develop a game plan accordingly. It may sound like a basic principle, but you shouldn't be leaving a meeting with your advisor feeling unsure or uncomfortable with the strategy they are following.

Poor communication erodes confidence, and when you aren't confident in someone's ability to manage important matters, you cannot trust the performance will improve. If this is the case for you, it may be time to find a new financial advisor.
2. Portfolio Monitoring
When it comes to money management, the proof is in the pudding. Your financial advisor should be prepared to accurately meet your expectations and provide solid answers to questions you pose and concerns that you raise. The market will rise and fall over time. For some investors, it's imperative to have a thorough breakdown on a regular basis with their advisor. Whereas for other investors, while they may not want all the details, they may still want to hear broader rationale around portfolio decisions and to know if they are still on track to meet their goals, and why, given their risk tolerance and timeframe. Your advisor should offer the level of detail you desire around the monitoring of, and activity in, your portfolio.

If your advisor doesn't do this and doesn't offer periodic portfolio reviews, you may consider it a red flag. If this is the case, it may be time to seek a new advisor relationship.
3. Unreasonable Fees
You can and should expect transparency when it comes to your financial advisor's fees. For their part, it should be no problem to offer a complete breakdown of fee structure and a description of services and charges. You should also understand that not all financial advisors charge the same way. Different fee structures include a percentage of assets under management, hourly rates, fixed fees, commissions and performance-based fees. Some advisors may charge a combination. Some advisors may also work with third-party entities, which makes transparency in fees all the more important.
An advisor needs to be able to quantify their value to your accounts. If they're unwilling or unable to do so, or if they're cagey about it, find a new financial advisor. Also, remember that nothing is free of charge.
If you are worried you may be paying too much for investment management, contact Carnegie Investment Counsel. We can analyze your portfolio to expose hidden fees or costs associated with your existing investments.
4. Bad Judgment Calls
Perhaps you're comfortable with taking calculated risks. Maybe you're more conservative and less willing to try new strategies. No matter your approach, your financial advisor should be mindful of your preferences, and your adjustment needs so that they don't leave anything in your portfolio to surprise. If their judgment calls go sour, or if they take risks you're not comfortable with, then the relationship may be more trouble than it's worth. Not to mention, how can you trust your financial advisor's game plan if they consistently fail to deliver?

If you're observing your advisor deviating from your wants and needs, or if they sell you on a decision that negatively impacts your portfolio performance, start looking for ways to transition to a new financial advisor.
5. Not Receiving Attention
Don't lose sight of the fact that your financial advisor works for you. Your advisor should be willing and able to tend to your money matters however they manifest. This is especially true when life delivers unexpected changes, like a shift in job status, the addition of a new family member, a home move or the loss of a loved one. These are key life events in which your advisor should provide their expertise so that you have financial peace of mind.

If your advisor isn't there when you need them the most to alleviate the burden of managing your wealth, you may need to find a new financial advisor who will.

When it comes to managing your money, your financial advisor should provide solutions that are in your best interest while communicating with you seamlessly along the way. They are meant to reflect the interpretations and strategies that will ultimately benefit you and your family. If you're working with an advisor who's inattentive to your needs, gives you any reason for distrust, or isn't available when you need them, the best thing you may do is make a respectful exit. Don't let your finances weaken as a result of a bad relationship.
Need a Financial Advisor?
If you are currently looking for help with financial planning, contact us. We are happy to schedule an introductory meeting at your convenience.