We live in an age of amazing technological promise. One where machines and software programs are developing at an astonishing rate, and where the possibility of encountering real-life robots - like the fantasy versions from 1970's TV shows and film, such as B-9 from "Lost in Space" or C3PO from "Star Wars" - doesn't seem so other-worldly anymore. Today companies as different as Google, General Motors and Tesla are vying to develop self-driving cars, and Virtually Reality, or "VR" for short, is for Real. With self-driving cars literally just around the corner, perhaps it is time to consider the question: are you ready to hand over the keys to your car and trust your life to an Uber machine?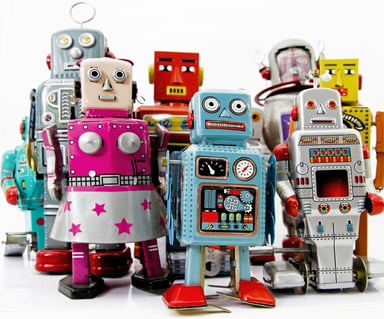 Who needs humans anyways?
Financial robots equivalent to self-driving cars have been around for a very long time now in the investment world, but they are becoming more and more prevalent. In fact, a growing number of companies are promising to manage retirement money using so-called 'robo-advisors'. From the investment company's perspective, once it has built its robot, it costs it very little to operate, which makes the robot very profitable for the financial firm.
But what about from the investor's perspective? Are you ready to turn over your retirement assets and put your financial life in the hands of a robot? Have you already done so without even realizing it?
Incredibly and surprisingly, for a growing number of employees participating in self-directed company retirement plans, such as 401(k)'s and 403(b)'s, the answer to these questions is 'Yes'! Amazingly, by 2018, nearly 50% of self-directed retirement assets are expected to be invested this way – nearly $3 trillion!
But really...who are these robots?
Well, in 401(k) and 403(b) retirement plans, Target Date Fund ("TDF") options are the robots, and the rampant use of TDF robots in retirement plans is threatening to give a whole new meaning to the term 'self-directed' retirement plan.
Target Date Funds are hybrid investment funds that invest in a mix of underlying funds, with a percentage allocation assigned to various asset classes, such as U.S. stocks, global bonds, and emerging market stocks. These funds are sometimes referred to as life-cycle funds or age-based funds, since the weightings of the asset classes in the fund change automatically, and robotically, based on the selected retirement year.
It's a very scary fact, but the Target Date Fund robot claims to be able to do its job while only knowing a single thing about its master: the year the master wants to retire! Nothing else. Not the actual year the master can retire. Not the master's name. Nothing about their career or job prospects or health or expected longevity. Nothing about their family members or spending patterns or other investments. Not only does this robot not care about these critically important facts about its master, it doesn't even care about current interest rates or what level the stock market is trading at today!
What does this mean for my retirement funds?
Meanwhile, each day for the next fifteen years, 10,000 baby boomers are expected to reach age 65, a traditional retirement age. How many of these 50-64 year-olds are expecting their TDF robot to deliver adequate retirement income, and at just the right time? What if they are wrong? What if the robot breaks?
Even if the TDF robot works exactly as it was designed, the actual outcomes experienced will vary tremendously across employees. A recent study demonstrated that an identical 'twin' employee, using the same TDF, accumulated 50% less at retirement than their 'twin' employee, whose only difference was that she started her career in a different year! This staggering result, measuring hundreds of thousands of dollars, is due solely to the order, or sequence, of the returns each received on their Target Date Fund during their respective careers. Sequence of returns risk is just one of many under appreciated risks faced by employees using TDF robots to manage their retirement assets.

Would you like to learn more about TDFs?
There are critical, but underappreciated, implications of the use of TDFs in defined contribution plans for both plan sponsors and participants to consider. Click now to download a FREE whitepaper on TDFs from the perspective of both employer and employee.
A recommendation to rollover plan assets to an IRA rather than keeping assets in a previous employer's plan or rolling over to a new employer's plan should reflect consideration of various factors, the importance of which will depend on your individual needs and circumstances.