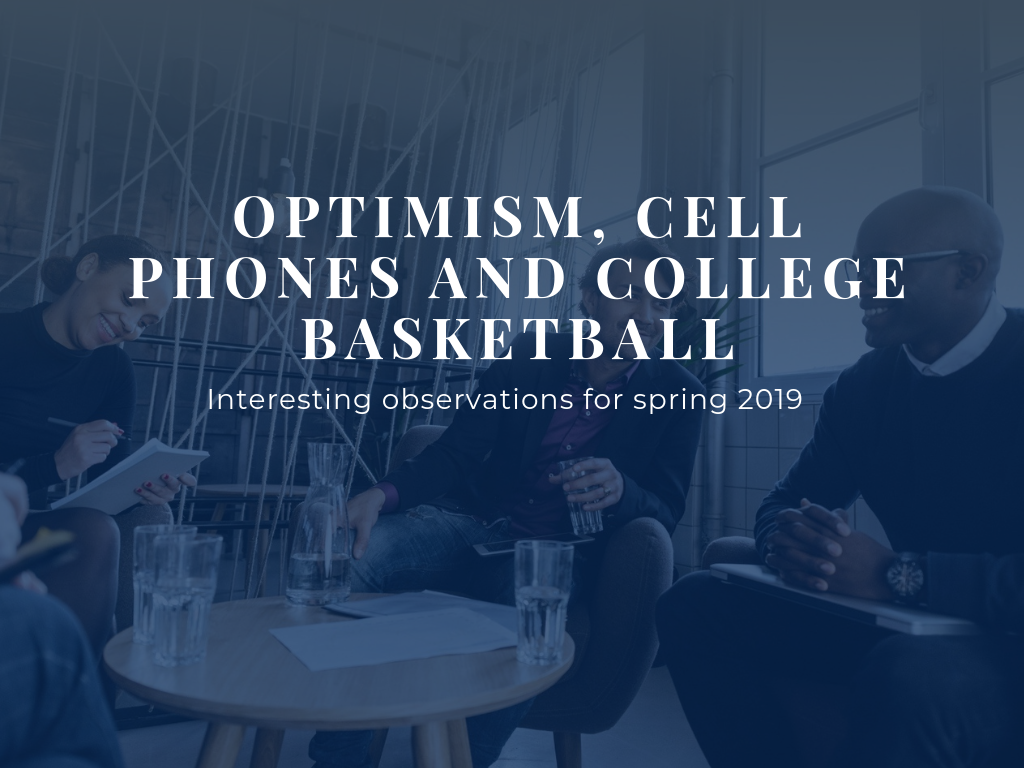 Baseball season is upon us and Spring has sprung so here are some interesting thoughts/observations:
Positive Mental Attitude
A recent study from Frost Bank revealed a direct correlation between optimism and improved financial health. Frost worked with researchers at Carnegie Mellon University to develop a methodology to measure optimism. They found that 62% of optimists had better financial health which was about 7X higher than pessimists who came in at 9%. Optimists were more likely to discuss financial matters with family and friends and were interested in learning more about money management versus pessimists. Below are some financial habits of optimists: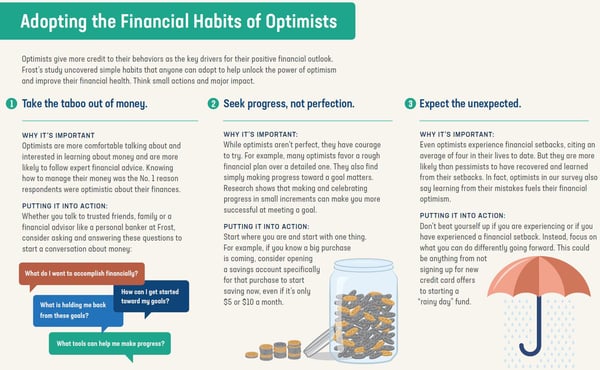 Source Frost Bank
The timing was a little off
Morningstar recently published findings that showed individuals using recent investment performance in hiring and firing mutual fund managers was not very optimal. They compiled data on 15,200 active U.S. equity funds and found that from 1996 to 2018, investors who fired a mutual fund manager for under performance and moved their funds to a similar style fund of a new manager tended to under perform with their new fund. Below is a chart that shows the average annual excess return before versus after hiring/firing: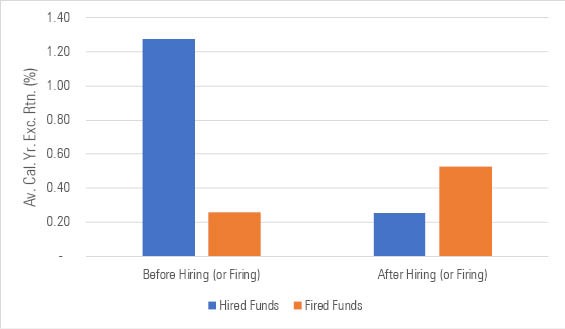 Source Morningstar
As you can see, the fired funds generated higher average excess returns compared to the hired funds. This should not come as too much of a surprise as investors tend to chase performance. Usually the optimal time to invest with a proven manager is when they aren't doing well as past outperformance tends to bring future underperformance. Styles go in and out of favor depending upon market/economic conditions which makes it even more important to analyze other factors such as investment process and cost when making such a decision.
I should've left my phone at home
Darren Rovell of the Action Network (who is an interesting follow on Twitter) tweeted out two photos showing what kind and amounts of cell phone notifications students received during one classroom period. The teacher of this class allowed the students to turn the sound on their phones and they counted the amount of notifications each student received.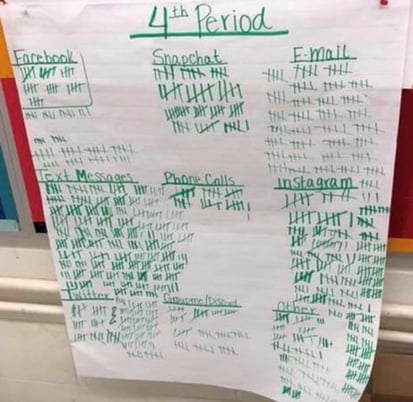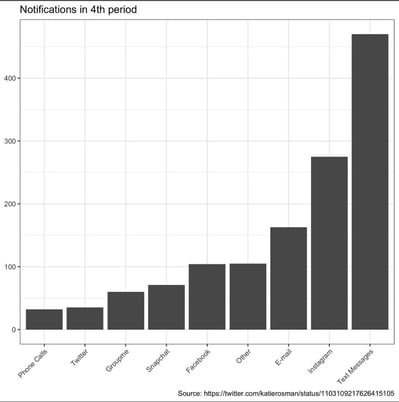 Source Twitter
Texting and Instagram were the two most popular while phone calls and Twitter were the least popular. While this is a very small sample size, I found it most interesting that email notifications were higher than both Facebook and Snapchat.
Let the Madness begin
With the first two weeks of the NCAA Basketball tournament completed, below are some interesting statistics about the annual tournament:
2X more money is bet on March Madness than the Super Bowl
60 million tournament brackets were filled out in 2018, compare this to the 129 million people who voted in the 2016 presidential election
It's easier to win back-to-back Mega Millions drawings buying 1 ticket at a time than it is to fill out a perfect bracket
The value of the tournament's TV rights has increased 4,535% since 1986
There is a 19% and 9% increase in pizza and dessert orders by fans of teams after their team losses vs. fans of teams that win