Autonomous Cars
As I may have mentioned in a previous blog, Teslas are now able to drive themselves on the highway. In just a few short years, the technology has evolved from cars merely having a rearview camera to cars that alert you if there is someone in your blind spot to cars that can drive themselves on the highway. In California, there is fleet of self-driven Google cars driving around the roads every day. Like any new technology, how exactly this will change the world is still speculative, but the changes are likely transformational. This article, while aggressive, shares some potential economic impacts that autonomous vehicles may have: How Uber's Autonomous Cars Will Destroy 10 Million Jobs and Reshape the Economy by 2025

An interesting moral dilemma for self-driving cars is whether to design them save the occupants or the lives of others in a life-threatening situation. For example, let's say a group of six people unexpectedly crosses the street and the car has the choice of avoiding them at the cost of the occupants' lives or hitting them, thereby killing some pedestrians but saving the occupants' lives. Which way should these cars be programmed? It would definitely be weird to know you are in a vehicle that will sacrifice your life to save a greater number of other lives.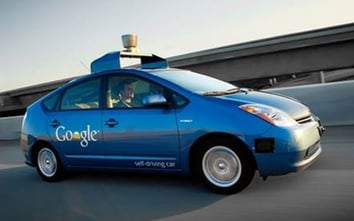 Flattening Yield Curve
Over the past two years, short-term interest rates have been rising steadily while longer-term rates have generally been falling. This of course means that the yield curve is flattening. So what does a flattening yield curve mean? Theoretically, it can mean any one or a combination of the following:
The market is expecting the Fed to raise rates. This will often mean the whole yield curve steepens, but in the current environment, U.S. long-term bonds represent the only place on the globe where investors can find both yield and safety. This creates demand for U.S. debt, which in turn drives down long-term rates. More: Bond Basics: Yield Vs. Price
The expectations are for slower economic growth going forward.
Expectations are for lower inflation going forward even with the expectation of a Fed rate increase. In the past year and a half, energy prices have plummeted, creating a disinflationary environment.
The Fed is emerging from a highly unusual monetary stance in which Fed Funds rates have been near zero. As they transition to a more normal stance, the yield curve is likely to flatten since the level of shorter-term rates is more independent than that of long-term rates. As expectations rise for a rate hike, investors typically sell their very low yielding short-term bonds with the expectation of higher yields and therefore lower bond prices going forward.
Which of these factors do you think are in play? Here is a recent Financial Times article on the subject.
Current Yield Curve Versus Two Years Ago

Facebook to Help Save the World
Facebook founder, Mark Zuckerberg has pledged in a letter to his newborn daughter to donate 99% of his Facebook shares (currently worth $45 billion) to charity over the course of his life. This is the latest in a philanthropic trend of young Silicon Valley billionaires. It is interesting to me that Zuckerberg is only 31 years old and will live to see his good deeds at work. A generation or two ago, this would be unheard of. What seems to differentiate the culture of Silicon Valley versus past pockets of innovation is that making more money is not the main objective. The objective is to change the world with new technology, with the money being a by-product. More and more, these young pioneers are taking that money to further change the world. MORE: Silicon Valley's New Philanthropy


Market Stats