I hope you are well and had a great holiday season. It has been a while since the last blog; instead of covering all the exciting things that have happened since then, I will do my best to keep this short, sweet and not too redundant with what you are reading in the mainstream media.


The Cloud
The move to cloud computing is one of the really big secular trends taking place right now. We are probably in the early innings of this phenomenon and it has far reaching implications on investments, companies and how we live our lives in general (READ MORE: How is Cloud Computing The Driver of Digital Disruption). The slide below from KeyBanc shows a good visualization of anticipated SaaS and IaaS (software and infrastructure as a service) growth over the next five years:


Hot Start to 2019
So far 2019 is off to a very strong start for the stock market (READ MORE: The Best January In 30 Years Could Mean Good Things for 2019). There are not many people who would have predicted an 8 percent January. Through Friday, the market was up 17 of 23 days. The table below shows other times when the market was up this many times or more in the first 23 trading days: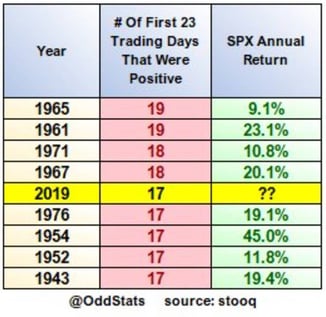 As far as January went, it was the strongest January since 1987 and fifth strongest since the S&P 500 started. They say that "As January goes, so goes the year". The table below shows the top 12 Januaries on record. As you can see, strong Januaries have usually (but not always) predicted a strong year for stocks:

What About December though?
For the S&P 500, December was the second worst ever and the worst since 1931, which was the middle of the Great Depression. Below are the worst ten Decembers in the history of the S&P 500. It is hard to believe that of all the tumultuous periods over the past 90+ years, 2018 ended worse than all but one. One of the reasons for this is the proliferation of ETF and computerized trading. We should expect that going forward, the market will act more like taking the taking stairs on the way up and the elevator on the way down – corrections will likely be very sharp and quick.



Go Browns
For those of you who do not live in Cleveland, we are in a football renaissance. After being THE worst team in NFL history for 20+ years, the phoenix is finally rising from the ashes (or seems to be). Believe it or not, Cleveland was the 2nd best market during this Sunday's Super Bowl for adults 25-54, behind only Boston. LA was #16. This shows the Browns fans are alive and well and ready for next year. The guy below is already the most adored sports hero in Cleveland in a long time, and they haven't even won anything yet.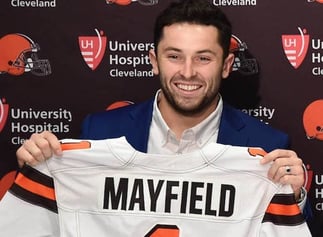 Disruption and Vanity

I recently came across the chart below from Axios. These simple charts tell a big story or disruption and changing consumer behavior: