Dear Blog Readers:
I hope you are having a wonderful summer. I know some of you were worried about not receiving any blogs recently, but fear not, you are on the list and I am still writing them. It has been a busy summer and I was in Europe last week on summer vacation with my family. My kids are soon to be seniors in high school, so sadly, the days of traditional summer vacations may be over. There are plenty of things that have taken place since my last blog, but I will only touch on a few recent observations.
SOCIAL MEDIA CLEANING HOUSE
In the past two days, Facebook and Twitter both released quarterly results and appear to be cleaning house. Both companies said that user growth is slower than the market expected and that they are taking action to improve the user experience, which will in turn be better for the companies long-term. Investors thought otherwise, driving both stocks down almost 20% after their commentaries. It will be interesting to see if the party is really over, or if the cops just stopped by to say "be a little quieter". The chart below shows that yesterday's drop in Facebook sucked more money out of the stock market in a single day than any stock ever has in the history of the stock market. Note that most of the others were during tumultuous times. MORE: For Facebook and Twitter, Reality is Hitting Hard
GDP
The anxiously awaited Q2 GDP figures were released today, showing that the U.S. economy grew at an annualized pace of 4.1 percent in the first quarter. This is indeed a strong result, with some caveats, but the market is not reacting positively. Clearly, the market has already priced in a certain degree of economic strength. More concerning to the market right now are trade issues, inflation, and interest rates. As you can see below, although the market is still in a longer-term uptrend, no progress has been made since the all-time high in January, and is still a little below that level. The Dow Jones Industrial Average, which is more exposed to trade issues, is still down almost 5% from its January high. READ: GDP Grew at 4.1% -- Here's What That Means
S&P 500 (One Year)
Pharmacy Disruption
Last month Amazon.com bought a small company called PillPack. PillPack is an innovative, technology-driven online pharmacy – check it out here: https://www.pillpack.com/how-it-works. This buyout is the latest disruptive move by Amazon in a space ripe for disruption. The chart below shows the pharmacy related stocks over the past three years. Regardless of their seemingly low valuations, this is a perfect example of the "disruptors vs. disrupted" stock market in which we find ourselves. The chart below shows the dichotomy between traditional pharmacy stocks and the S&P 500 over three years:
S&P 500 Versus Pharmacies (3 Years)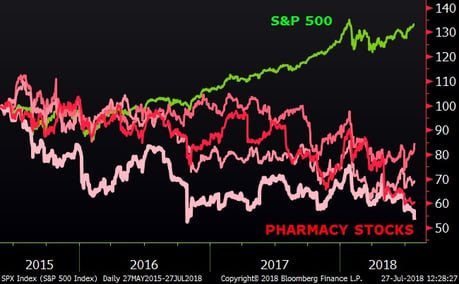 Trivia
There are two nuggets of data I read today while writing this blog. #1 – There are 2.5 billion people who use at least one Facebook App every month…no wonder they aren't growing users at the same pace! #2 – There are one billion people on our planet without access to electricity. With solar energy becoming less expensive, I wonder if this can be addressed via solar energy?