2018 Stock Market Contest
The time has come again for the ever-popular stock market contest. This is always a fun experiment and the winner will receive an awesome prize, along with their name in print if they so choose. CLICK HERE to submit your S&P 500 guess for 2018. As a reference point, the S&P 500 closed 2017 at 2673.61.

Looking back at 2017, the S&P 500 experienced a very strong year. The winning guess was received from Jeff Karp who will be receiving a wonderful prize package in the next few days. Most interestingly, 98.4% of my respondents underestimated last year's strength, including myself. Below is a histogram of the 2017 guesses: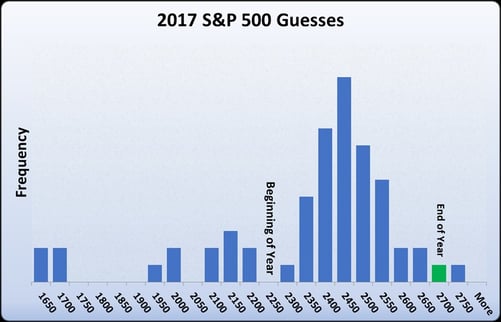 In typical fashion, most of the respondents were bullish with a few bearish people mixed in. As usual, there was a cluster of guesses in the plus eight to eleven percent range. People have been trained to believe that this is the average return of the market. While this may be true, it is NOT the most common result. In reality, the market tends to string a bunch of good years together above that range followed by a year or two of really bad years which brings the average back down. It is a bit like lake effect snow on the east side of Cleveland. We average about 110 inches per year of snow. Although this is roughly an inch per day on average during the winter, guessing an inch will fall on a given day is almost never correct – we either get no snow at all or slammed by snow.


2017 S&P 500 Internals

2017 was indeed a strong year with most stocks moving higher. There were, however, some pockets of significant weakness. The chart below from Bloomberg shows the biggest up and down movers for the year. It is no coincidence that the top of the list is mostly technology, homebuilding and experience-based companies, while the bottom half consists largely of "stuff"-based and energy companies. Few people would have expected to see Boeing up almost 100 percent and three years ago, almost nobody would have predicted that one company (Nvidia) would be on this list for three years in a row. On the downside, who would have predicted two years ago that Under Armour would be among the worst performing stocks for two years straight?

The best performing S&P group for 2017 was Casinos & Gaming and the worst was Housewares & Specialties. 20 percent of S&P 500 constituents were down in 2017. This group was littered with perceived Amazon victims and energy companies.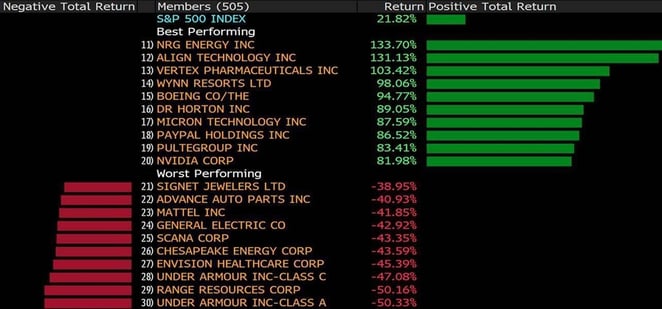 2017 Safest Year for Air Travel
Here is a great stat from 2017: ZERO people died last year in commercial jet crashes. The industry has been trending toward being safer over the years, but to have a year like 2017 is quite remarkable. Hopefully this will be the beginning of a new streak. Read More: Commercial Airlines Had Their Safest Year Ever
Amazon's Investments in Human Capital

The chart below from CB Insights shows a visual representation of Amazon's job openings last year. If this is any indicator of their priorities, Fulfillment and AWS are a really big deal for them going forward. It is also interesting to me that the Alexa team is hiring so many people.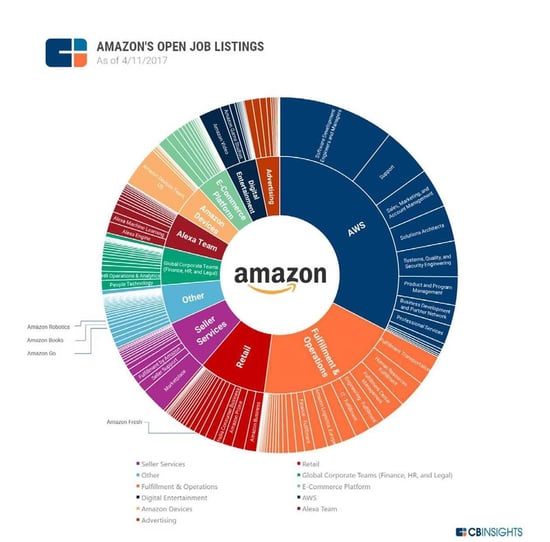 There are plenty of other things to share with you, but I have hit my four bullet-point rule. I hope you and your families have a healthy, happy and prosperous 2018!