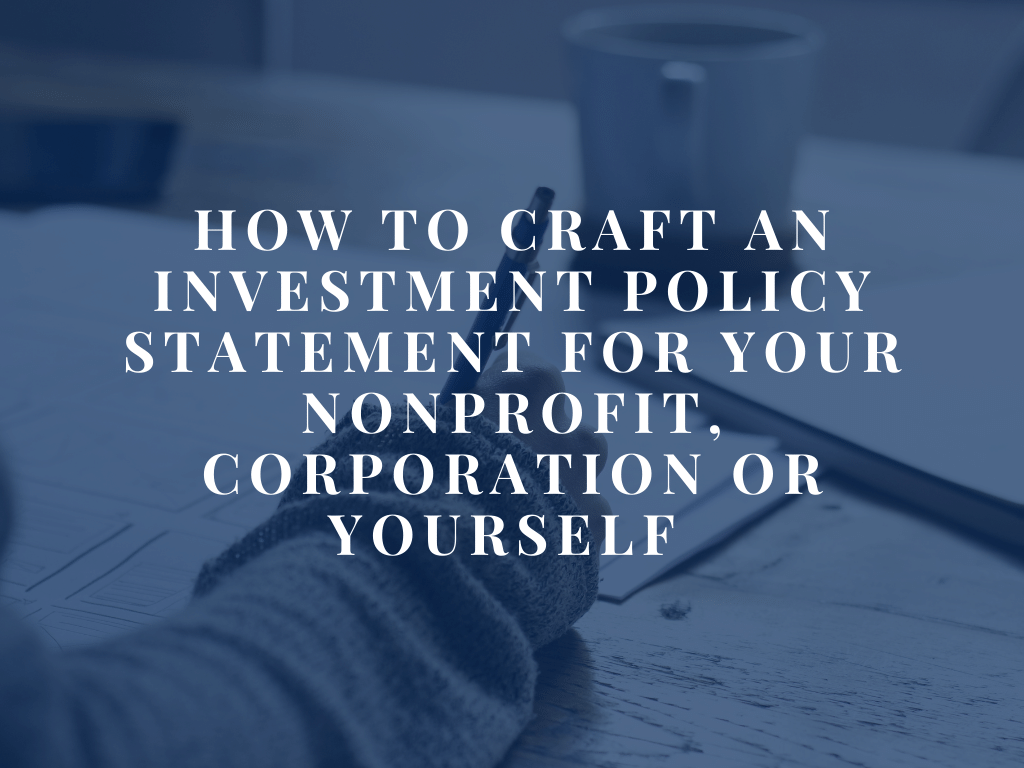 As a portfolio manager at Carnegie Investment Counsel, I am involved with creating portfolios designed to help clients meet their goals. For individuals, corporations or nonprofits, investment policy statements (IPS) are a way to outline goals and objectives. Outside of work, I serve as an investment committee member for my church's endowment. As such, I am sharing my IPS experience as a portfolio manager and as a community member in my church. Let's start with some basics.
What Is an Investment Policy Statement (IPS)?
An Investment Policy Statement is a policy written around the goals and objectives of a client. These statements are beneficial to both individuals and organizations, such as nonprofits. An IPS outlines your investment plan and may include the following:
Objectives

Risk tolerance

Asset allocation guidelines

Spending rates

Securities requirements and/or restrictions

Cash and liquidity requirements (short and long-term)

The system to monitor and maintain investments in accordance with the IPS
What Are Essential Elements of an IPS?
The most fundamental piece of creating a successful IPS is choosing the appropriate goal. Let's say you have an endowment fund for scholarships, and you want to designate a spending rate of 4% of the portfolio principal to grant scholarships each year. Therefore, the question becomes, "How much does that endowment need to earn to be able to fund that 4% distribution each year and still have growth?" And "Can this be achieved without undue risk?"
Board members at an endowment have a fiduciary responsibility to the organization, the donors, and the beneficiaries. At Carnegie, we can work with an endowment board to design an investment policy statement that addresses its objectives, risk management and other guidelines. When a board hires a Registered Investment Adviser, such as Carnegie, the Adviser shares the fiduciary responsibility with the board members.
Establishing restrictions on trading is another important step in creating an IPS. Perhaps you do not want to get into private placement because it is less liquid, has a longer time horizon, and is not readily tradable. If you are a nonprofit, perhaps you may want to avoid investments at odds with your mission, such as tobacco or firearms stock. Maybe as an individual, you don't want to hold international stocks. Another limitation could be a desire to stay away from shorting securities and from higher-risk investments. There is no one "right" IPS for every situation; it is truly custom to your circumstances and preferences. Your investment restrictions depend on the beliefs or goals of you or your organization.
How Often Should Investment Policy Statements Be Reviewed?
Regular review of the portfolio account should be done at least annually with your financial advisor team. When evaluating results, it is crucial to set appropriate benchmarks for the funds to compare the investment returns. As part of these reviews, you should monitor your investment team to ensure it is adhering to your IPS statement and staying within the established asset allocation.

As part of a nonprofit, the investment committee of your board will review the results. The board may hire an investment manager (such as Carnegie) who acts directly as an advisor or oversees and allocates to several different portfolio managers.
Does Every Nonprofit Have an IPS? Every Corporation? Individuals?
Foundations that come to us for our nonprofit financial advisory services are in different stages of creating and using an IPS. Some have very formal plans, while others are still forming them. Carnegie can work with organizations to craft their investment policy statements at any phase of their journey. For example, a newer foundation focused on education began working with us while in the phase of formation. Our Chief Investment Officer Richard Alt sat down with them and drafted an IPS to set parameters and formalize the plan to invest funds.

If you are an individual, corporation, or nonprofit with an existing IPS, it is wise to review it to ensure it is in good order periodically. A preceding board may have written an IPS during far different times, so it is crucial to adjust for any drastic changes.

Another thing to keep in mind is that there are all levels of financial sophistication in board membership for nonprofit foundations or endowments. Boards' backgrounds may be more attuned to what the endowment is for and the cause behind it, such as education, solar power, or constructing homes for low-income families. An IPS can help everyone feel like they are in tune with the goals and the guard rails. In turn, they can be more confident in serving their fiduciary duty as board members and being good caretakers of funds people donate.

An individual client can have an investment policy statement, too—a common IPS goal for individuals' centers around retirement.
How Do You Choose What Goes Into an IPS?
Selections of what goes into an IPS can be broad or narrow; if the document gets too long, it can be unruly. That makes it more difficult to evaluate results, especially for a nonprofit board with varying investment knowledge levels. You want your IPS to be clear, simple to understand, and easy to monitor. You or your team should have no issue abiding by what is in it.

Carnegie offers investment management services for individuals and foundations and nonprofits. As part of our services, we can help craft investment policy statements.
Looking for a Financial Advisor for You?
If you are currently looking for help with financial planning, contact us. We are happy to schedule an introductory meeting at your convenience.