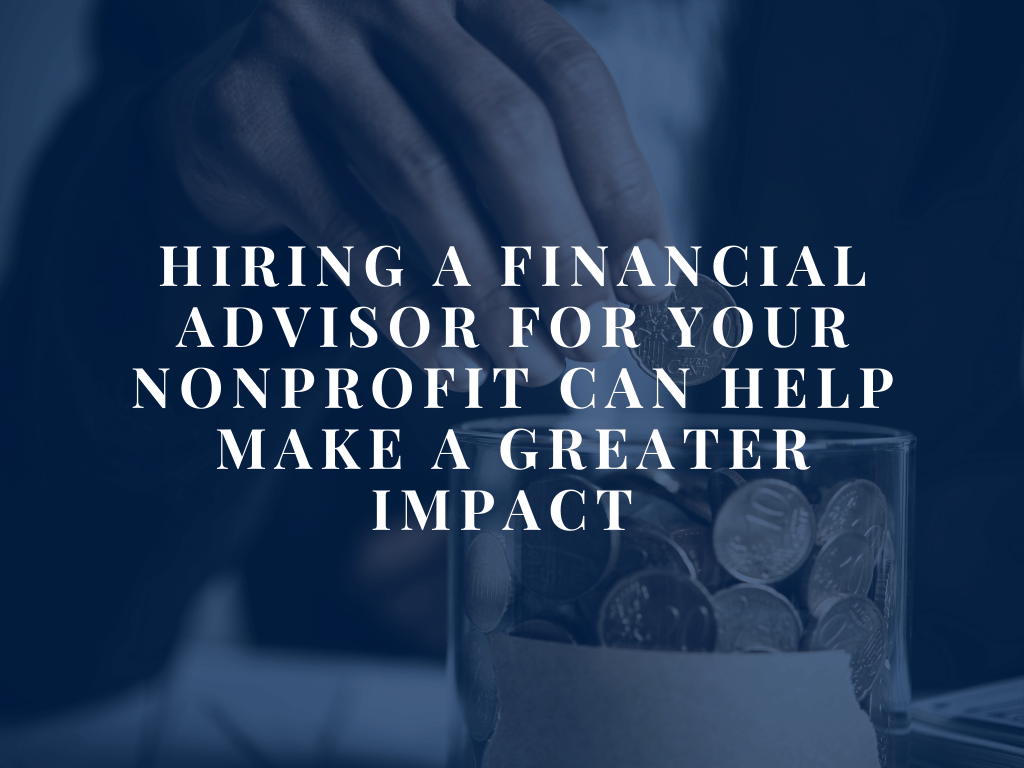 When you work or volunteer for a nonprofit agency, your work is important and valuable. You might even say you are "doing good in the neighborhood!" When you combine your nonprofit mission with strong financial management you can make an even greater impact for those you serve.

Strong financial management is critical to the success of nonprofit organizations and helps them be more effective. This is true now more than ever, with the impact of COVID placing increased demand on financial resources. It helps to enlist the support of a qualified financial advisor to help navigate your nonprofit through volatile times.

So, what's the case for engaging a nonprofit financial advisor for your organization? Here are some key benefits:
Fiduciary Resources
As a leader of the organization, you have a responsibility to operate in a manner consistent with a fiduciary standard of care. Adhering to this standard includes identifying situations where specialized skill sets may be required.
When it comes to managing the financial resources of the organization, partnering with a fee-only Registered Investment Advisor (RIA) gives you support from a resource that is aligned with fiduciary standards of care.
Depth of Resources and Experience
Successful nonprofit organizations are often staffed with a diverse team of talented people with unique skill sets. These people are passionate about the group's values and mission. These remarkable individuals are the very reason why your organization continues to exist and thrive. The same need for passion and specialized skill sets applies to the financial side as well. A deep bench of skilled financial professionals is what your organization gains by working with a financial advisor. It allows you to access and leverage these skills to help carry out your core mission.
Support for Development Efforts
Successful donor development programs are the lifeblood of many nonprofit organizations. How well does your organization communicate the various ways potential donors can support your mission? Does your organization provide current and potential donors easy methods about how to donate and education around the benefits of donating?

Many experienced financial advisors also work with investors who have the capacity to give back to their favorite charities generously. With experience serving both nonprofits and individual investors, a knowledgeable advisor can guide your organization's fundraising efforts related to charitable giving education, planning and execution.

It is essential for your organization to understand the myriad of ways people can offer support, whether it's through direct gifts, donations of appreciated stocks, donor-advised funds, or estate planning.
Credibility That Funds Will Be Used Wisely
By working with a fee-only Registered Investment Adviser (RIA), your organization reinforces the message that gifts will be well-managed and will be used to help carry out the nonprofit's mission: That's the whole point, after all.

In summary, there are many reasons why a nonprofit organization should work with a financial advisor and/or investment manager. Carnegie Investment Counsel is prepared to partner with you to increase the likelihood of financial success, so you can focus more time, energy, and resources on making an impact.
Looking for Investment Management for Your Nonprofit?
If you are currently looking for help with investment management, contact us. We are happy to schedule an introductory meeting at your convenience. You can also use our request a proposal form if you prefer to include documents and more.
Carnegie Investment Counsel is a federally registered investment adviser under the Investment Advisers Act of 1940. Registration as an investment adviser does not imply a certain level of skill or training.