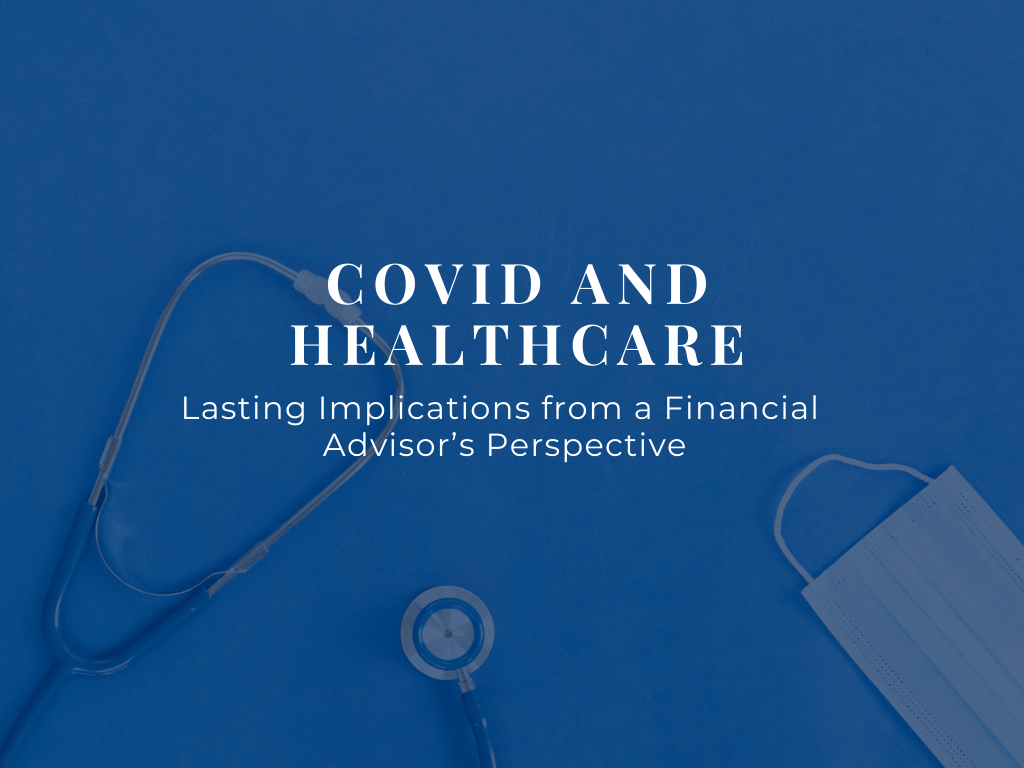 Many among us found ourselves playing armchair epidemiologist at the outset of the pandemic. Casual discussions about rates of community transmission and projectile statistics of a cough in indoor settings, along with a browser tab open consistently to track worldwide COVID tallies, all served as useful distractions.
While the country grappled with this black swan event, healthcare infrastructure strained to accommodate three distinct influxes of COVID-infected patients in just nine short months. As the fourth wave continues to impact parts of the country today, it's a little premature for a full postmortem on how the healthcare sector fared as a whole, but there are reasons to be hopeful.

Taking the Temperature
Most of us have never experienced any form of care or resources rationing in the US medical system or anticipated the abrupt stoppage of non-essential services. The rationing was nothing short of a massive shock to the economy. In the first quarter GDP reported for 2020, nearly 40 percent of the loss of economic activity was tied to the healthcare sector.
If nothing else, COVID exposed vulnerabilities in the healthcare supply chain and in communities with inconsistent access to healthcare. What ensued from the shock were cost-cutting measures by providers ranging from capital spending freezes to less frequent matching contributions to employee retirement plans to furlough of non-essential services staff. While large hospital systems ended 2020 comfortably in the black even before accounting for federal grants, in mid-summer 2020, profitability within the hospital systems was not a given. Higher margin ICU services, a positive mix of private insurers and 20 percent increased Medicare payouts played a significant role in offsetting revenue losses from those high-margin non-essential services. Several for-profit, and even nonprofits, have reported incomes in excess of a billion dollars for the year. However, 2020 was also a record year for rural hospital closures with 20 of them shutting down last year.
With the Delta variant story still playing out, the healthcare delivery apparatus appears to be healing but has experienced some setbacks regionally.
It Took a Village
Images of burnt-out hospital staff next to intubated patients will provide important context for historians, and a chapter or two will surely be dedicated to the nature by which mRNA technology became ready for prime time. Those who have followed the decade-long struggles of Moderna in being able to deliver a commercial product, know that its mRNA technology has not been in question but rather, the challenge has been to keep the immune system from destroying the short-lasting genetic material once injected.
The mRNA vaccines became a possibility only when researchers focused on a separate track of nearly 30 years of research on lipids for drug delivery systems. Lipids research led to lipid nano-particles or LNPs: the true unsung heroes of this pandemic. These LNPs are essentially balls of fat that can be structurally fine-tuned for the application to deliver, shield and release the RNA into the target cell. Given the first LNP drug was just FDA-approved in 2018, the coming together of these different research ecosystems to deliver a vaccine with such high levels of efficacy has been unprecedented.
Early pioneers of both LNPs and mRNA, from MIT to the University of Pennsylvania, are thrilled with the possibilities of mRNA applications for therapies and precision medicine.
High Optimism, Lower Cost of Capital
The heightened inquisitiveness amongst non-medical professionals with all things COVID manifested in investor euphoria. It has led to optimistic enterprise valuations and higher R&D commitments at pharmaceuticals, life sciences and contract research organizations. There were 86 biotech firms that went public in 2020 and another 36 so far in 2021, raising nearly $22 billion. NASDAQ-listed biotech firms accounted for nearly 50 percent of all patents filed related to precision medicine in the last 12 months. Cumulative R&D within these firms totaled north of $68 billion in 2020, a number not possible without pre-revenue investor support and optimism behind many of these firms.
Expensive Research and Unaffordable Healthcare Paradigm
In the past, advancements in pharma have not always translated to improved healthcare outcomes, and some critics may even believe that these potentially pricey advancements have a causal relationship to a general lack of affordable healthcare in the country. This is a topic far broader than this article's scope.
Messenger RNA may be having a moment right now, but there are signs that we have entered a new era in biomolecules, biomachine interfaces and biocomputing. There is evidence of real fusion of AI and machine learning techniques being used in drug discovery, next generation genome sequencing being used in improving clinical trial outcomes and ultimately charting a faster route from lab to shelf. Reducing the R&D cycle may not be the panacea, but COVID certainly has jolted the industry into fostering certain collaborative channels and partnerships that could make a meaningful difference to its stakeholders.
Healthcare infrastructure remains under stress regionally, but it will emerge forever changed from COVID, hopefully for the better. The crisis has already led to innovation and market leadership in different segments of the sector, requiring many to reevaluate what it means to be a healthcare investor. Aside from these emerging investment opportunities, one hopes that tech could finally play a deflationary role in healthcare as well.
Carnegie Investment Counsel ("Carnegie") is a federally registered investment adviser under the Investment Advisers Act of 1940. Registration does not imply a certain level of skill or training. The opinions presented are subject to change without notice in reaction to shifting market conditions. Information provided is believed to be accurate as of the date of original publication and some data was obtained from third-party sources. Although these sources are widely used, and Carnegie deems these sources reliable, Carnegie makes no guarantee as to the accuracy of the information provided by these third parties.
Neither the information nor any opinion expressed is to be construed as a solicitation to buy or sell a security or the provision of personalized investment. Past performance is not a guarantee of future results.
Need a Financial Advisor?
If you are currently looking for help with financial planning, contact us. We are happy to schedule an introductory meeting at your convenience.