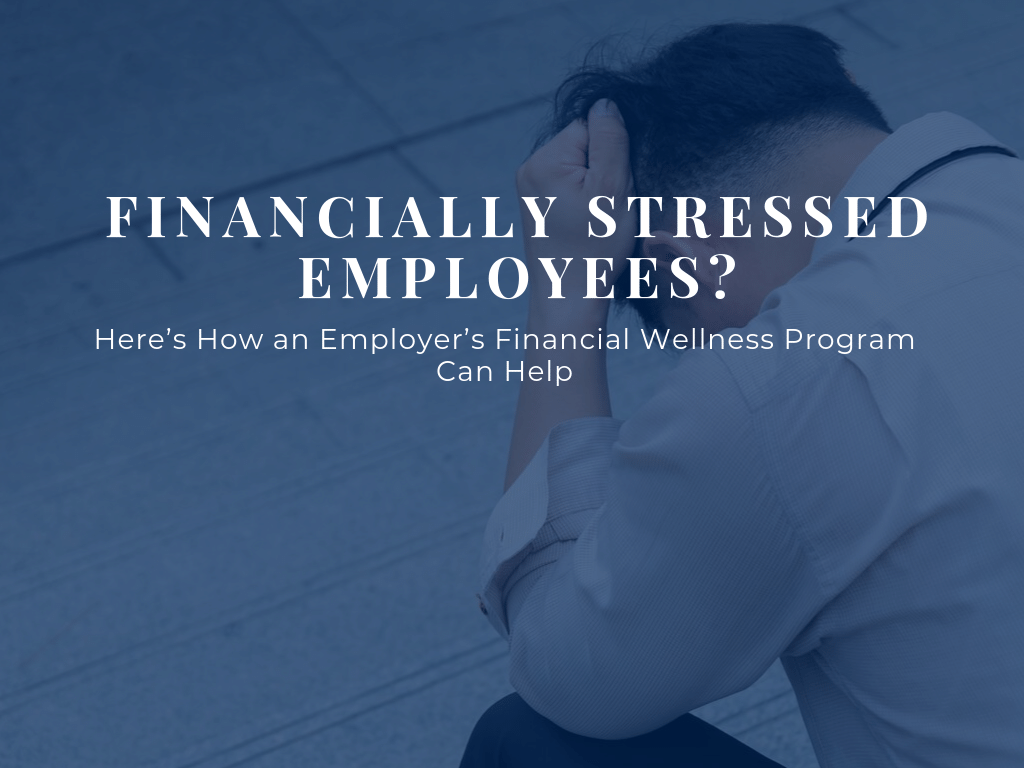 Financial Wellness programs center on the process of learning how to successfully manage financial expenses. Today, many savvy employers now offer financial wellness programs as part of 401(k) retirement benefits. We all know that money plays a critical role in our lives and that not having enough of it can impact health. But did you know it can also impact performance at work?
Over 25 years ago, at the beginning of my career, we used to talk with employees about investments, assets, diversification, and returns when we reviewed their 401(k) benefits.

But in the last seven to eight years, with rising student loans and credit card debt, we noticed a big change. Employees are stressed about finances and overwhelmed by debt.

Our high schools and colleges fail to provide people with the basic principles of money management. Add to that the ever-present consumer messaging of the "buy, buy, buy" economy and people often become swamped. They are turning to employers for help.

It is estimated that financially stressed people may cost employers as much as the equivalent of 15-20 percent of their paychecks in productivity. You may have seen it or experienced it yourself: The lost productivity of worrying about an unexpected bill to fix a broken water heater, perhaps, or a sudden roof repair. Financial stress can even affect safety, according to a study of the transportation industry we conducted with the University of Pittsburgh. (Financially stressed workers are less productive on the job)
Benefits of an Employer's Financial Wellness Program
Today, too many people are going to work every day with financial worries on their shoulders. While some employers may feel providing a paycheck is enough, many more are stepping up to create much-needed financial wellness programs as part of 401(k) retirement benefits. These programs can help:
Improve productivity, because employees are less distracted by financial worries
Increase physical health, as people with the highest levels of financial stress are prone to sickness
Boost employee retention, as people are not job hopping for higher wages or adding second jobs to pay the bills
Enhance dignity and increase positive feelings as people get their finances in control
Improve recruiting ability to attract more employees
Reduce absenteeism and presenteeism (The term for when an employee is "present" but not fully functioning due to illness or other condition)
Enhance employee morale
Increase employee engagement
Improve safety in some industries where safety and attention are a concern, such as the transportation industry
At Carnegie Investment Counsel, our financial wellness programs for employees offer a "wellness schedule of initiatives." Plus, our programs offer holistic planning, as well as in-person and virtual education services. We also have a retirement help center access just a phone call away.



References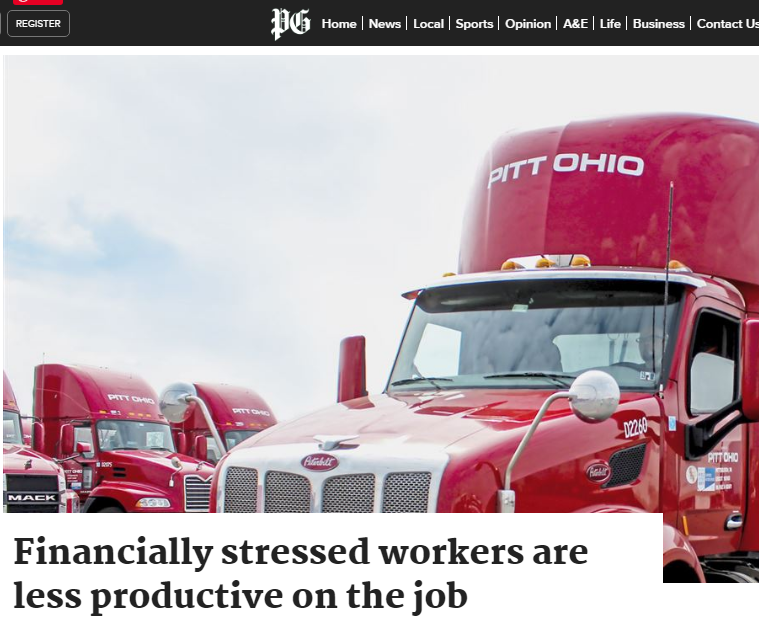 Pittsburgh Post Gazette: Financially stressed workers are less productive on the job
https://www.post-gazette.com/business/career-workplace/2019/07/25/Financially-stressed-workers-are-less-productive-on-the-job/stories/201907250005
Research leads Pitt Ohio to create emergency savings plan for drivers, employees: https://www.ccjdigital.com/research-leads-pitt-ohio-to-create-emergency-savings-fund-for-drivers-employees/
Learn what a financial wellness program can do for your employees.