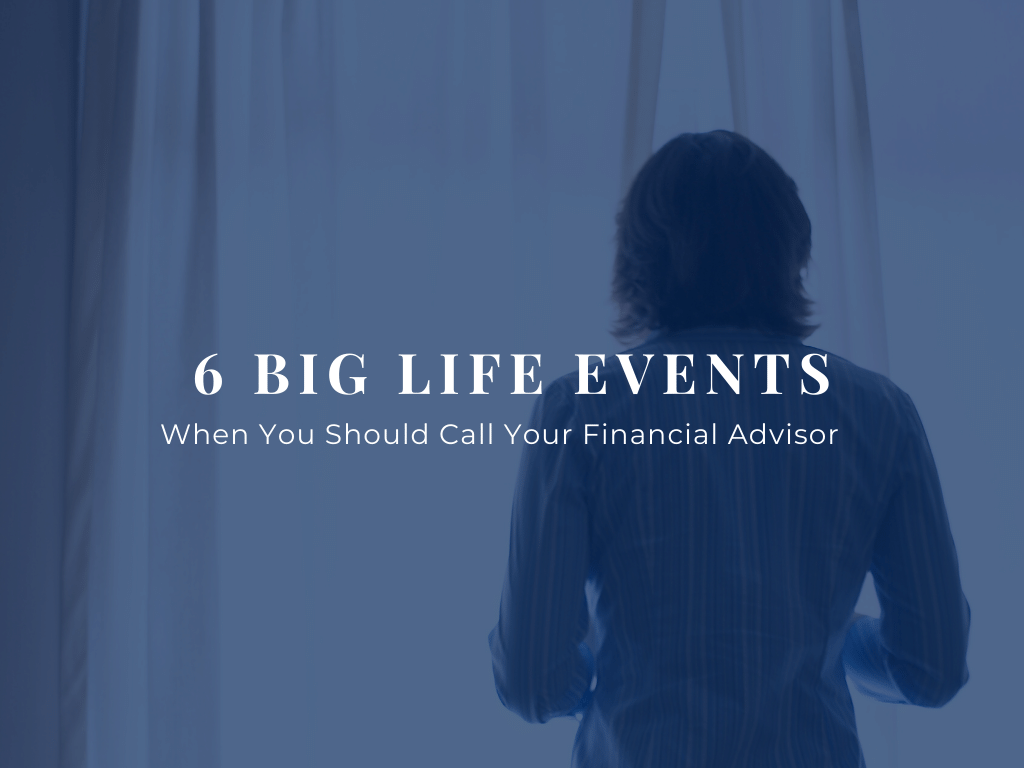 Our feelings and finances are often intertwined. As advisors, when we meet with clients, most of the time we spend more time discussing the personal side of finance than the dollars and cents.
With many of us, money represents more essential things in life such as safety, stability, lifestyle, generosity and legacy. With so many emotions tied to money, some people may be tempted to make financial decisions based on emotions, not logic. When you hire an investment manager, it's our responsibility to think long term; to listen, to understand and to look at the big picture. It's our responsibility to manage the day-to-day ups and downs of the marketplace.

In this age of faceless online products and robo-investing, part of the service we provide is being here to talk to you, by phone, by video chat or in person (someday). Our service is not just punching numbers. We want to understand where you are, when things are changing and your latest goals. We take it as an honor to be your financial partner to help you meet these challenges.

Today, more than ever, with fears driving the market fluctuations, it's important to stay calm and lean on your network, including your financial advisor, to separate fact from emotion.

Most of all, I like to remind people, when you hire a portfolio advisor, you are getting more than a once-a-year review of your statements. We are here to be your personal financial advisor and provide personalized financial guidance and support through all market conditions.

Marriage, birth, death, divorce, planning for college, moving into a retirement home or even public health events like the COVID-19 situation are all significant life changes fraught with emotion.

We have been down many of these roads before with clients and can help. If you're going through any of these big life changes, your financial advisor really wants to hear from you.
1. Feeling uncertain about the market with the COVID-19 situation
Today's uncertain times have many people feeling confused. This is why you've hired Carnegie as your investment advisor, to shepherd your assets through difficult times. We concern ourselves with the economic impact, so you don't have to. By utilizing our combined experience, we strive to make sure every client has the correct balance through this uncertain period. Reach out to your financial advisor to discuss your concerns or particular circumstances at this time.
2. Moving to assisted living or a retirement home
After you are retired for a few years, you may feel like you have your finances down pat. You may know your monthly expenses and maybe even have paid off your house. When you move to an assisted living facility, emotions and costs tend to change dramatically. Skilled care can be very expensive. Your financial advisor can help you determine ways to preserve your nest egg for as long as possible during a transition such as this.
3. Starting retirement
Many people spend years saving for retirement. When retirement finally comes, it is a more significant transition than many people realize. You may be moving from the accumulation to the decumulation phase. Also, the safety net of a paycheck is gone. Talking with your advisor at this time can help you navigate the challenges of spending too much or insecure feelings of not having enough.
I like to share with people the 5 percent rule of thumb. For this rule, take your retirement savings total and multiply it by 5 percent. That's roughly the maximum amount you should be spending per year. This method also anticipates spending a little less when times are lean and a little more when times are flush. Each individual's goals and dreams are different, and that's exactly why this is a great time to give us a call.
4. Dealing with your adult children's life changes
Emotions and investing go together. Taking care of others at the expense of your own retirement security does not help anyone. Once you retire, there are no other streams of income to tap into. (The lottery is not an answer.) The goal of not becoming a burden to your family may take precedence over distributing cash now. Your advisor can assess your financial situation with you and let you know when you can help others in your family financially and when you really shouldn't.
5. Marrying or divorcing
Both marriage and divorce require significant financial planning. Either of these situations provides the perfect reason to call your investment advisor and assess your situation. We can take a long view of both of your financial circumstances and craft a plan to carry you forward towards your short and long-term goals. You are not alone.
6. Facing the empty nest
Saving for your children to go to college can be a big, all-encompassing goal. Suddenly, they are on their way to college, and you have an empty nest. This can also be a big transition emotionally. We understand. It also is an appropriate time to give your financial advisor a call to review your portfolio.
Truly Personal Financial Service
We want to understand what you are going through. Whether you're funding your nieces' and nephews' college tuition, traveling the world or wondering if you have enough to live comfortably, your goals matter to us. As your "financial caregiver," I want to hear about your changes or challenges. If there is a situation you would like to talk about, I encourage you to err on the side of calling too much.
Build Your Support Systems
A recent article I read shared that to get through life's big transitions, it is essential to build a network of family, friends and resources. Look to those who will not judge, but encourage you to express your feelings. The article also shared that some of these times could prompt you to seek professional help in the mental health area. I want to add that this is a great time to draw on your financial professional for unbiased financial advice as well.

We are here for the good times and not so good. We want to hear from you. We have heard that some people hire us because they know that in times of stress, they might react emotionally and possibly make poor choices in their portfolio. At Carnegie, we align with your overarching objectives and continuously monitor progress, ever adjusting to optimize for success.
Need to Meet With a Financial Advisor?
Schedule an appointment today to learn more about how Carnegie can help with financial planning and wealth management.