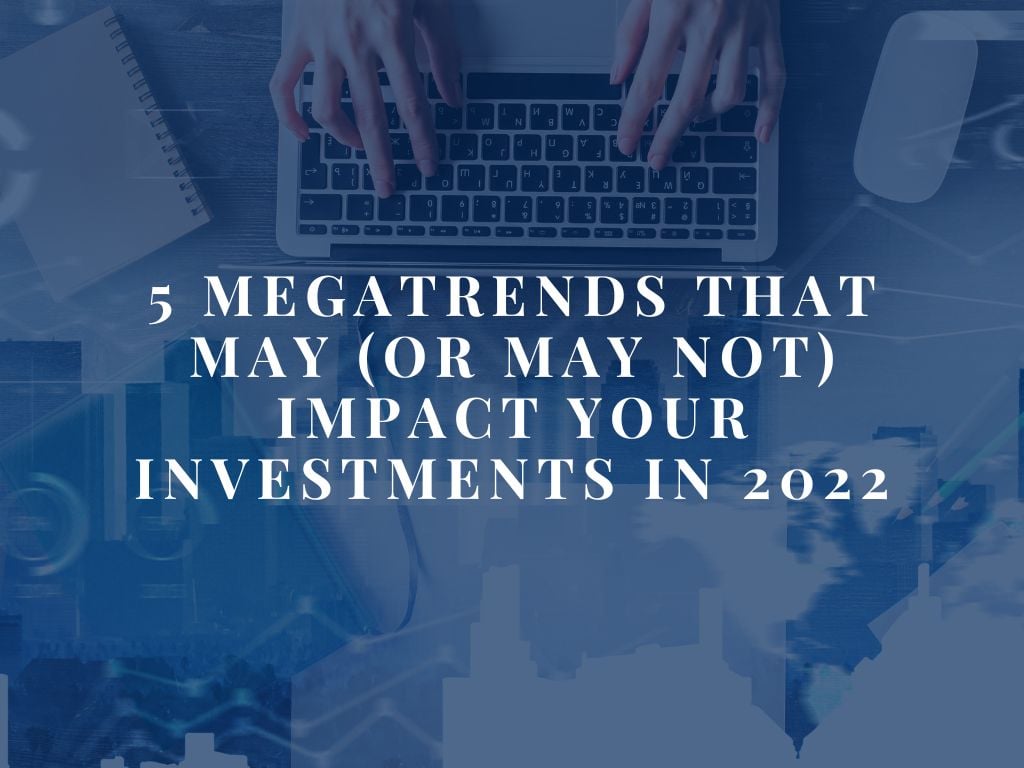 Trends come and go, but some don't leave before impacting your investments first. The problem is parsing through all the trends and figuring out which will or will not impact your portfolio. Of course, long-term investing is founded on principles that go beyond merely chasing the latest trend. But that doesn't mean ignoring trends completely. At Carnegie, we believe in striking a balance by remaining aware of trends, but not being shackled to them. With that in mind, here are five megatrends and the impact we expect them to have on the market.
1. Electric Vehicles
Previously a relatively niche market, electric vehicles have now become more mainstream with manufacturers such as Ford and Volkswagen producing their own. Even still, fully electric cars account for fewer than one percent of cars on the road. Part of the problem is that though the modern iterations of electric vehicles far outperform their predecessors of even a few years prior, they still cannot currently compete with the practicality of gas-powered cars.
As demand for more accessible electric cars grows, we would expect to see an increased demand for lithium and copper, which are used in electric car batteries, as well as an increased demand for charging stations. While the market will likely have fluctuations in response to news from individual automakers, the megatrend we would expect to see impact the market more consistently is the production of these ancillary products and services relating to the powering and charging of electric vehicles.
2. Technological Advances in Farming
Farming has seen an explosion of technological advances that are revolutionizing the industry. From autonomous farming, such as self-driving tractors, to SMART Spray, which decreases the amount of fertilizer needed by up to 75 percent, technology is providing opportunities to increase efficiency. We anticipate that the increased efficiency this new technology creates will translate to the market by decreasing labor costs, increasing output and addressing environmental concerns.
3. 5G Powered AI
Implementation of 5G will have such a huge technological impact that we'll likely see the transformation of industries and even society as a whole. One area where 5G could prove most impactful is in relation to artificial intelligence (AI). The amount of information required by AI is often more than a 4G network can handle. For example, a self-driving car powered by AI must handle the communication of a massive amount of information and therefore benefits dramatically from 5G.
5G will absolutely have an impact on the market. The question is which companies will remain profitable long enough to survive until we see the full implementation of 5G.
4. The Power Grid
In the face of climate change, green marketing has become a major trend that may impact investing. Everything from cars to beauty products use claims of eco-friendliness to sell products. When considering the impact of climate change on the market though, one of the best places to look is the power grid.
Climate change has created more extreme weather patterns, which have put an additional burden on the power grid. Brownouts in California and ice storms in Texas illustrate these issues. At the same time, to help address climate change, there's a push to move away from getting our power from natural gas and fossil fuels. Investors looking to take advantage of the shift to a more effective and climate friendly power grid should look to identify companies that have products or services that will support more updated power grids.
5. Quantum Computing
Quantum computing is expected to revolutionize multiple industries due to its power to efficiently solve problems that conventional computers cannot. Who will achieve quantum supremacy first is almost impossible to know, with companies such as Google, Microsoft and Intel all spending billions on quantum research and development. What we can make more accurate predictions about are the industries most likely to see an impact from quantum computing. Those include the three following:
Drug development. Quantum computing could lead to quicker and more efficient discovery and development of new drugs.
Finance. Quantum computing could improve financial modeling, trading speed and data analysis.
Climate change. Quantum computing could help create and improve solutions for addressing climate change, which could help countries in meeting the United Nations' Sustainable Development Goals.
Watching Trends That May Impact Investments
At Carnegie, we believe in creating a unique portfolio that addresses the trends impacting your investments while also keeping in mind your long-term goals. Would you like more information? Contact us for a consultation.
Additional Resources:
NYTimes.com, "Electric Cars Are Coming. How Long Until They Rule the Road?"
Gao.gov, "What is 5G and Why Does It Matter?"
Thebalancesmb.com, "What Is Green Marketing?"
Scientificamerican.com, "California Faces Summer Blackouts from Climate Extremes"
Texastribune.org, "Texas Winter Storm 2021 Stories"
Forbes.com, "Four Ways Quantum Computing Could Change The World"
Need an Investment Advisor?
If you are currently looking for help with investment planning, contact us. We are happy to schedule an introductory meeting at your convenience.