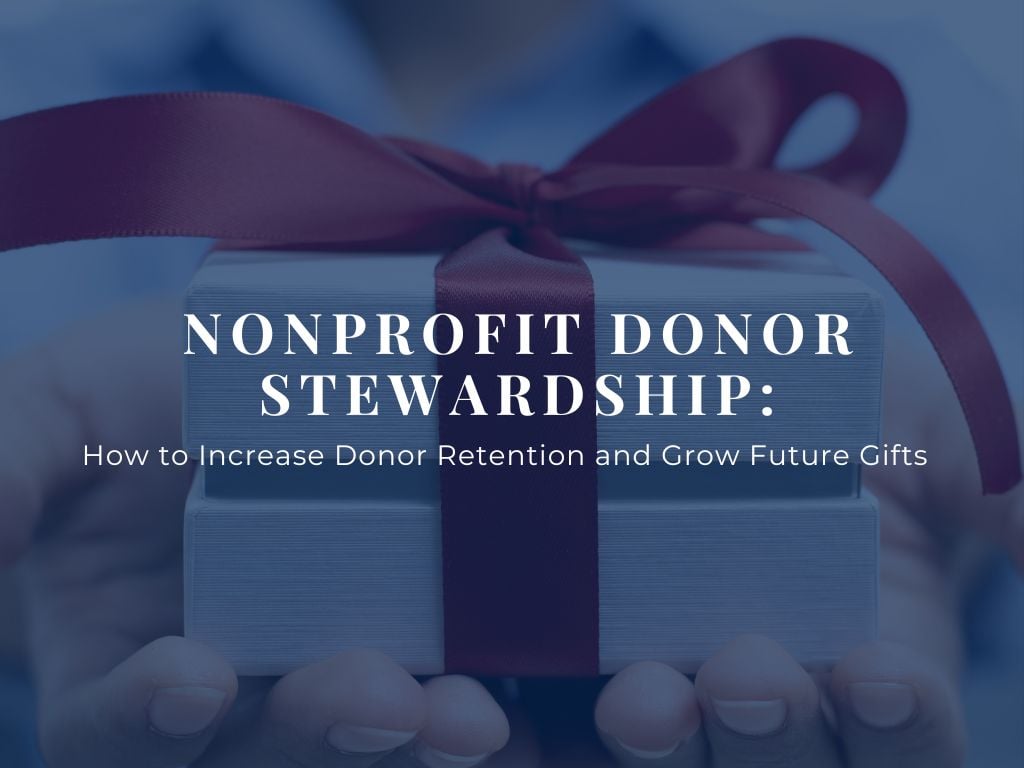 You invest a lot of resources in acquiring new major donors:

Hosting events
Implementing marketing campaigns and ads
Spending immense amounts of time building relationships, meeting with donors, following up with them and engaging with them
Creating and printing informative materials, such as brochures, website content, email nurture campaigns, success stories and so on
Attending outreach events and community presentations
And the list goes on.
But once your hard work pays off and a person makes a donation, what happens next? Most organizations will send a form thank you letter on letterhead, or maybe a handwritten thank you card. However, once that thank you is sent, most organizations immediately direct their energy back on acquiring new donors. This results in the newly converted donor being left in the shadows, forgotten about and never engaged with again.


Shifting Focus
Although there is a high investment associated with connecting with and converting new donors, many nonprofits do not keep track of donors after their initial donation. According to AFP, the overall donor retention rate in 2020 was 43.6 percent, which had dropped 4.1 percent from 2019. This means that only 43.6 percent of donors who donated to a nonprofit in 2019 donated again to the same nonprofit in 2020.
Donor stewardship is key to a nonprofit's success. By engaging with donors, nonprofits increase giving rates, donor loyalty and donor satisfaction. This thoughtful engagement creates a higher revenue for your organization and less work in the long run for your development team. Read on to find unique ways to steward major donors.
In this article, we explain:
What is donor stewardship?
Why is donor stewardship important?
How to create a stewardship plan
Why is it important to have a stewardship plan customized for endowment and major donors?
In addition, our next blog post in this series will cover 12 ways to steward endowment and major donors.
What Is Donor Stewardship?
Nonprofit donor stewardship is the process of thanking donors for their gift and cultivating a relationship to ensure future donations. Just because a donor makes a gift once, does not mean they will support your organization again. It takes communication and engagement to build a relationship and foster a connection.
A great donor stewardship program recognizes that donors are more than just a number: They are a partner with you on your mission. Make the donor feel valued and appreciated and they will want to support your mission again. They should be updated on how their gift is impacting your mission with specific examples, stories and statistics.
Why Is Donor Stewardship Important?
The relationship-building process that continues after a donor makes a gift to your nonprofit is just as important as communication before the gift was made, if not more so. With the average donor retention rate at 43.6 percent, all organizations could benefit from improving donor relationships. This will increase their donor retention rate, leading to more gifts given at a higher level.
By properly stewarding donors, organizations boost donor retention rates, reduce the need for new and costly outreach efforts, increase donor satisfaction and build a dedicated base of support invested in the mission. Engaging with donors through "soft touchpoints" helps the donor feel more connected with the nonprofit. With each interaction, the importance of supporting the mission is reinforced.
The goal of donor stewardship is not only to retain current gifts, but also to increase the size of future gifts. In some cases, donors may make a smaller gift as a test before making a larger gift. However, if they aren't pleased with the response to their first gift, the large gift is less likely to occur. In addition, conversion of annual donors to major donors through meaningful touchpoints like a nonprofit stewardship plan has exceptionally high ROI.
How to Create a Stewardship Plan
To ensure a properly executed stewardship process, every organization should create a stewardship plan. A stewardship plan documents how donors will be thanked and engaged with to ensure a positive long-term relationship and continued support. If stewardship is not documented or planned out, it will most likely not get done. And before you know it, it has been a year since a donor's last gift and you haven't engaged with him or her once. In that case, we can almost guarantee that donation is not coming to your organization again.
A stewardship plan can be simple. It should outline every way the nonprofit will show appreciation and engage with the donor before it is time to ask again. At the core, a stewardship plan should contain three key factors:
What action should be taken taken
When the action should be taken
Who is designated to take that action
Clearly defining roles and responsibilities will save you headaches in the long run. It's also important that all departments talk to each other within the organization.
The finance team should handle the transfer, deposit or restriction of the donation.
The program coordinator should provide necessary outcomes, stories and purchases needed.
Your nonprofit investment advisor should provide oversight (on major gifts).
The development team should clearly understand what and when they need to engage with the donor or coworker.
When every team member knows what they need to do and when tasks need to happen, the organization becomes a well-oiled appreciation machine that continues to attract larger and larger gifts.
Do you have a nonprofit investment advisor that works with you and reports on your endowment fund? Contact Carnegie Investment today to speak with an advisor who specializes in the unique investing needs of nonprofits.
Why Is It Important to Have a Custom Plan for Endowment and Major Donors?
Pareto's Principle states that roughly 80 percent of outcomes result from 20 percent of causes. This also holds true for many nonprofits' revenue streams. According to QGiv, 88 percent of dollars raised by nonprofits come from just 12 percent of an organization's donors. But a low donor retention rate can lead to these donors failing to give again in the future. This highlights the importance of thanking and engaging with your top supporters to ensure donor retention.
What's more, major gifts are often given years after the first donation was made. Major gifts result from establishing a relationship with and nurturing the donor's connection to the mission year after year. In other words, major gifts typically require a lot of time and attention to come to fruition.
So once a major gift is made, you want to match the level of attention their commitment signifies. Donors want to feel appreciated, included in the mission and sure of the impact their gift is making. By showing appreciation and engaging with major donors, you are strengthening the bond they have with your mission and increasing the likelihood of a future gift.
The idea of creating a custom stewardship plan for major donors can be difficult for organizations that are already stretched thin. But remember, this doesn't have to be very time-consuming. Keep the plan simple. Make sure donors are being updated appropriately based on their gift size and frequency. Emails are a great way to update a mass audience all at once, and you can often easily segment or add a personalization (like their name or last gift campaign) to email messages.
The work upfront it takes to plan and create the templates will be the hardest part. Once a clear outline is made, responsibilities are documented and the necessary templates are created, (i.e. thank you letters, emails, phone scripts, etc.), much of the hard work is done. Then all you need to do is make sure the steps of your nonprofit donor stewardship plan are followed and share all the love and appreciation you have for your supporters.
Do you have a nonprofit investment advisor that works with you and reports on your endowment fund? Contact Carnegie Investment today to speak with an advisor who specializes in the unique investing needs of nonprofits.