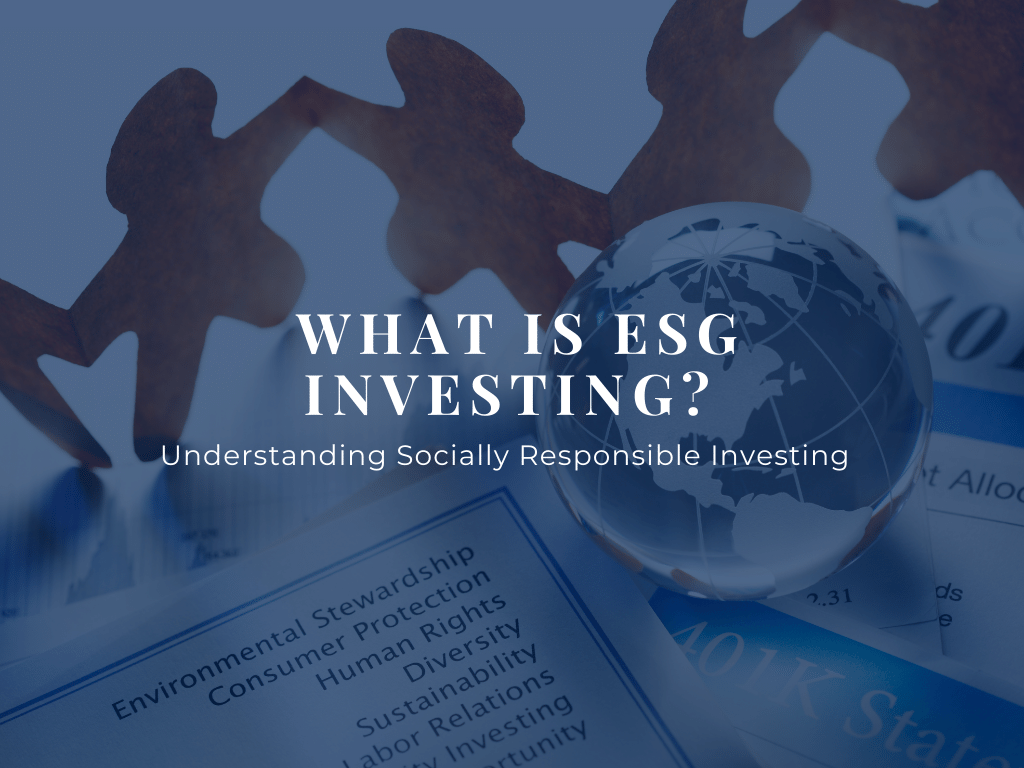 "ESG" has been an investment buzzword over the last two years. It is a subjective, somewhat amorphous concept. It can be easily described as investing in companies that enable an investor to do good financially while doing good in the world.

"Doing good" in the world involves weighing "ESG": Environmental considerations, Social considerations and corporate Governance considerations.

Environmental consideration weighs a company's production and usage of carbon-based fuels, air and water pollution, use of wind and solar energy, production of toxic wastes and even design and use of packaging.

Social consideration weighs the firm's efforts and success in employee diversity, employment opportunity, workers' treatment, internal discrimination policies and pay equity.

Governance considerations include examining management's alignment with shareholder and broader stakeholder interests, executive compensation, board diversity, level of independent board oversight and participation, and voting control.
Factoring ESG into Investment Management
On a practical level, what does integrating ESG into investing look like? What is socially responsible for one individual may not be for another. This is something that does not get mentioned by academics or people marketing "ESG funds." A straightforward example would be an investment in the producer of alcoholic beverages. For some people, a glass of wine is one of life's great pleasures and part of their culture. An investment in a winery would be far from objectionable. For other people who might have dealt with alcoholism or whose religion bans alcohol, an investment in a winery might seem, at best personal hypocrisy.
Reviewing ESG Factors
In general, how do investment advisors review for ESG factors? Carnegie utilizes several outside research firms in order to score companies according to widely recognized standards. Overlaying this research with your particular values allows us to tailor a portfolio for you.
A first step is to have an in-depth discussion with your portfolio manager regarding your personality, beliefs and values and then reviewing individual companies, business sectors that are in alignment.
Do High ESG Scores Impact Returns?
Carnegie considers ESG information as fundamental factors (on par with considerations of company financial ratios) in the selection of individual investments. While there is no data as of yet to corroborate claims high ESG scores mean better returns, we often find that companies with good governance that act as good citizens reflect high-quality management, which is a key to future success.

Obviously, companies with strong environmental commitments avoid enforcement and litigation issues. Their products also may hold greater appeal to some consumers. A good example would be organic, preservative-free baby food.

Companies with diverse managements and boards tend to be better judges of consumer wants and demands. A good example would be personal care products meeting the needs of people of color.
When Should You Consider ESG Factors?
If you are reading this article, you are probably thinking about the environmental, social and governance implications of the stocks you own outright or in funds. This is not surprising as the interest in environmental, social and governance investing is growing rapidly. You may be drawn to the socially responsible side of ESG investing to create a portfolio that aligns with your values. Or you may be approaching ESG factors to evaluate risks and opportunities and create more sustainable portfolios.

Whatever your reason, your advisor is well-versed in ESG investing and would welcome the opportunity to discuss your goals and your values and how to incorporate these in your customized portfolio.
Looking for a Financial Advisor for You?
If you are currently looking for help with financial planning, contact us. We are happy to schedule an introductory meeting at your convenience.
Disclosure: This was prepared by Carnegie Investment Counsel ("Carnegie"), a federally registered investment adviser under the Investment Advisers Act of 1940. The information is provided as of the date indicated and believed to be reliable. Carnegie assumes no obligation to update this information, or to advise on further developments relating to it. This is prepared for informational purposes only and should not be construed as personalized tax or investment advice. Carnegie does not provide tax advice or services.