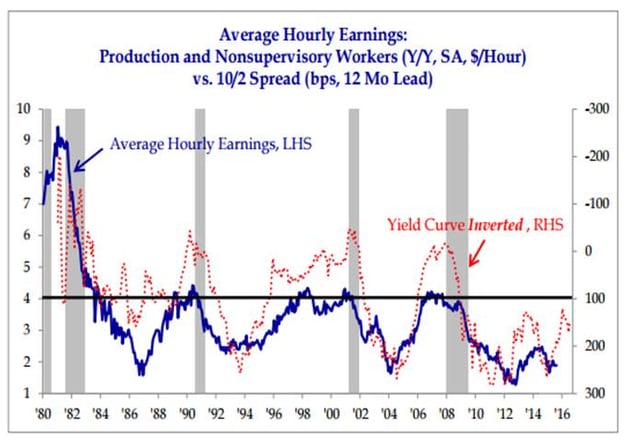 Correction or Bear Market?
One of the biggest questions facing stock market investors going forward is whether the recent weakness is a healthy correction like 2011, or the beginning of a bear market, like 2001 or 2008. Obviously no one knows the answer to this, but below are a couple of charts that look back at data during previous recessions and bear markets. In the first chart (below) provided by Strategas, the blue line shows wage rate growth over time. As you can see, wage inflation of 4+% preceded every recession since 1980. Currently, wage inflation is a mere 1.9%.
The chart below shows the S&P 500 in white and Consumer Confidence in green. As you can see, these two series are usually highly correlated, with consumer confidence dropping before a recession and in unison or before the stock market. In today's case, while we have experienced a fairly sharp stock market decline, consumer confidence has remained strong and even increased in the face of market weakness.